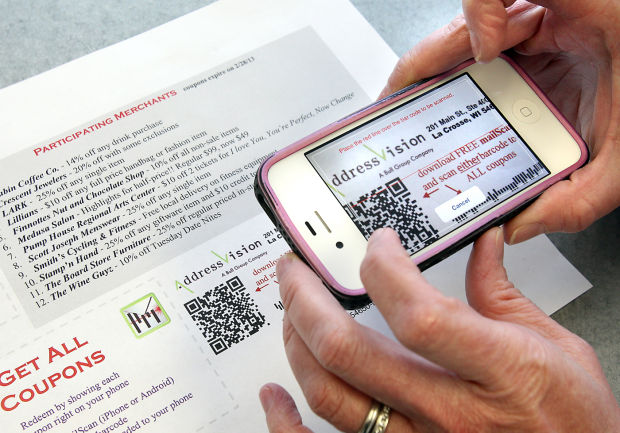 Thousands of area residents will find some innovative deals in their mailboxes next week as a La Crosse company rolls out a high-tech use for an old-fashioned medium.
In a test partnership with Downtown Mainstreet Inc., Address Vision is sending out postcards with offers from a dozen local merchants.
Bring in the card and you can redeem one of the coupons. But scan the barcode with your smart phone, and you'll have all 12 to use throughout the month.
Called mailScan, the technology is designed to enhance the value of bulk mail by bringing it into the digital age, said Christina Kiani, program director for Address Vision.
"Direct mail still has a real value for marketing," Kiani said. "People look at it more than email."
But instead of tossing it on the kitchen counter — or worse, the trash — Address Vision hopes the digital coupons will draw potential customers into stores, where they simply have to show the coupon on their phone to get a deal.
Address Vision is a software company that develops processing systems for high-volume mailing companies and postal services worldwide, including the U.S. Postal Service. Founded in 1984 as PostalSoft, the company was known as Firstlogic until its acquisition in 2007 by the French company Bull.
Given that investment in mail, Kiani said the company wanted to come up with a technology that would add value for its high-volume mail customers and help the U.S. Postal Service promote its product.
"These kinds of promotions are out there in an effort to make mail more valuable," Kiani said.
Besides bringing in customers, mailScan also offers additional benefits to marketers, who can access information about the people who scan the barcodes. Even if the customer never makes it into the store, they know who's looking at their ads.
The test mailing will go to about 6,000 residents of La Crosse and La Crescent who match the demographic likely to have smart phones and shop downtown, Kiani said, and will be the first real-world test of the technology.
Merchants, whose only cost will be the discounts they offer, were interested in the chance to try out a new venue.
Cathy Bauer, co-owner of Cabin Coffee Co., is offering a 14 percent discount on any drink.
She typically relies on non-traditional marketing techniques — hosting meetings or going out to special events — to bring in new customers and is intrigued by the social media aspect of the mailing as well as the chance to learn who is looking at her ad.
"That was probably more important to me than the actual participation in the coupon," Bauer said.
Diane Deml, marketing coordinator for The Board Store, said the business uses direct mail occasionally, but only to existing customers. She's hopeful this mailing will bring in some new people for 25 percent off in-stock furniture and that the electronic feedback will tell her if there's a group of potential customers they're missing.
With first-class mail volume on the decline, the USPS is looking to packages and direct mail as its main growth sectors, said spokesman Pete Nowacki, and mobile barcodes are one of the new tools adding value to that mail.
One such application: The furniture maker Ikea has used the barcodes to offer customers a virtual tour of its stores.
"It's kind of a way to make direct mail more valuable for the sender and the recipient," Nowacki said. "That's something we're looking at all the time — ways to not necessarily battle with technologies but lock arms with them and find ways to make the two work together."
Get local news delivered to your inbox!
Subscribe to our Daily Headlines newsletter.