Three years ago, Amanda Zieba was one of six authors given a very specific writing assignment: a feel-good book centered on hot chocolate, a northern state and Christmastime.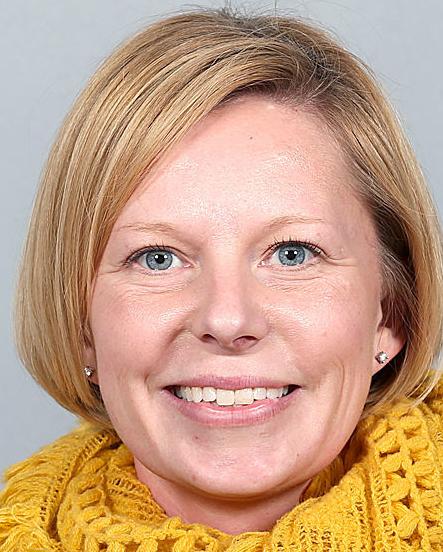 Zieba, 35, of Holmen had plenty of experience writing — she already had several youth books under her belt — but had yet to delve into adult fiction, much less a romance.
But when "Champion Chocolatier," centered on 30-year-old candy shop owner Emmy, debuted in 2016, it proved Zieba's most successful book yet, and on Monday the sequel, "Reality Bites," inspired by Stoddard's Food Network baking champion Jen Barney, made a decidedly sweet debut.
A former middle school teacher of 12 years and current part-time Intro to College Writing instructor at Western, Zieba self-published her first young adult book, "Orphan Train Riders," in 2013, and four more books targeted to tweens and teens, with themes of science fiction, fantasy, history and geocaching, as well as a youth writing workbook, followed.
"I saw a need in my classroom for books for reluctant readers intimidated by the big fat books," Zieba said.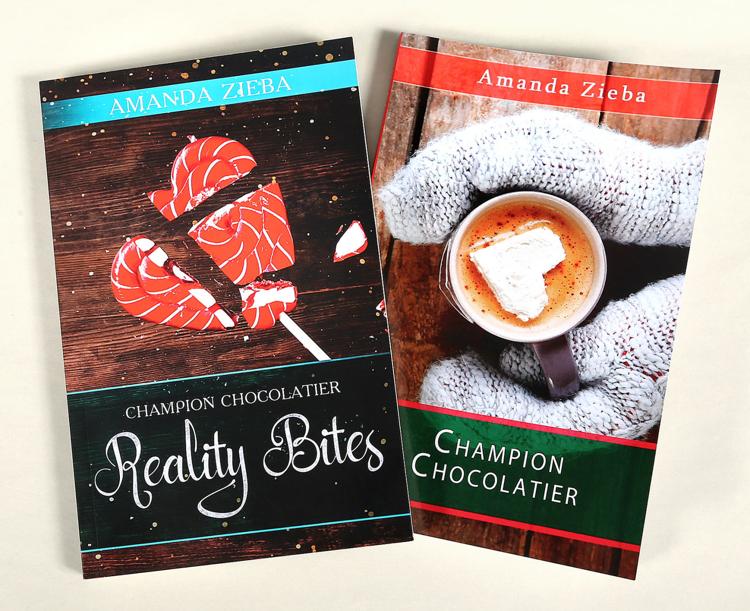 Though she chose to self publish after an agent asked her to extend the length of her young adult books, which Zieba felt was counterintuitive to making them accessible, she later signed with the small publisher who gave the guidelines for "Champion Chocolatier."
Despite her inexperience writing for the adult set, the fiction novel came easily, despite her initial hesitation.
Set in Duluth, where she, husband Matt and sons Kameron, 9, and Riley, 6, vacationed, "Champion Chocolatier" stars big-hearted Emmy, an unsatisfied hotel employee who enters a contest on a whim and wins ownership of Sweet Shores Chocolate Store for four months. If the business turned a profit under her leadership, Emmy could keep it.
"She doesn't even like chocolate, but she needs something different," Zieba said of the character. A self-described "dreamer and idea girl," Zieba sees much of herself in Emmy.
"It's think its fun to live vicariously through someone who takes this leap of faith," Zieba said. "Everyone says she's crazy, but she believes in herself."
With a charming setting, a love interest with "rugged outdoorsman appeal," plenty of girl talk and a few stumbles giving way to delicious success, the book is "very Hallmark," Zieba says.
"If you like Hallmark movies, you'll like these books," Zieba says of "Champion Chocolatier" and "Reality Bites." "It's light and fluffy. It's entertaining. I feel like there are enough bad things in the world, so all my stories are overwhelmingly positive."
Readers devoured "Champion Chocolatier," which sold more than 500 copies and netted four dozen five-star reviews on Amazon.
Reviewer Kelsey Glebke noted, "If you love Nicholas Sparks you will love this book," while others expressed their love for the main character, Colleen W. writing, "It's official, I want to be Emmy!" Not initially intended to be a series, the feedback, and a chance meeting with Meringue Bakery owner Jen Barney, convinced Zieba to take the story further.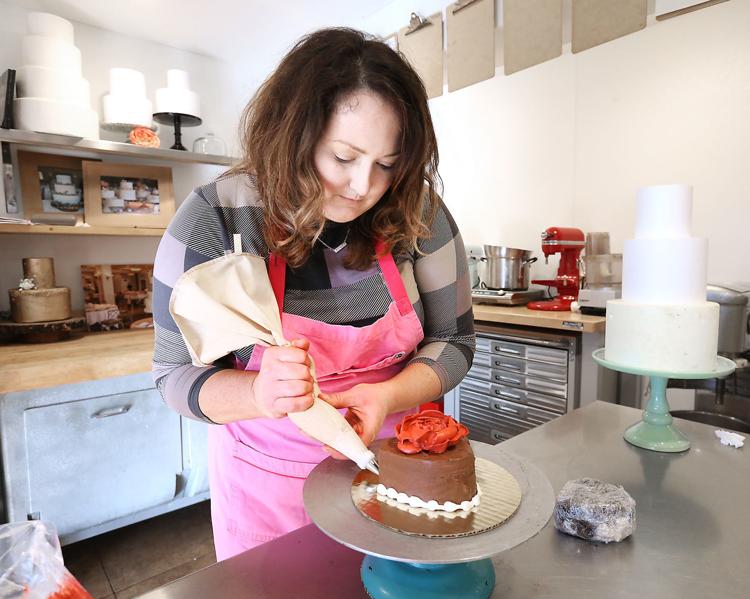 In summer 2017, before Barney's star making — and $50,000 prize winning — turn on the Food Network's Holiday Baking Championship aired, Zieba and the local baker connected at an entrepreneurs networking session.
"Jen is just a genuinely nice human being and just so humble and generous," Zieba said. "She's so easy to root for. Jen works so hard and deserves all the success that comes her way. I could see the connection between her and Emmy."
The two teamed up to sell copies of "Champion Chocolatier" packaged in a goody basket with Barney's homemade hot cocoa and marshmallows, selling more than 150 sets. Barney, who had completed filming of her first Baking Championship appearance, was fully on board when Zieba requested permission to bring Emmy's character on a baking show, using Barney as her muse.
"I am more than honored she was inspired by my story," said Barney, who loved "Champion Chocolatier." "She's a pretty awesome author."
While assembling their next round of baskets at Meringue Bakery, Zieba paid diligent attention to the kitchen process, quizzing Barney on the logistics and nuances of baking and attending the baker's speaking engagements.
Zieba watched each episode of "Holiday Baking Championship" as they aired, making notes of the music, the drama and the commentary, and pored over Barney's blog posts and media coverage.
"Reality Bites," which Zieba completed in just four months and self published after the publisher of the first in the series folded, takes Emmy to the Vanderbilt Valentine's Day Candy Making Competition in North Carolina.
The hunky outdoorsman, Eddie, is back as Emmy's supportive boyfriend — he gives her a spoon charm pendant for good luck. Other characters introduced are a daunting producer named Dixie and a colorful cast of contestants, including "baker Barbie" Callie Ann and sweet-natured Silvia.
Attitudes run from sweet to sour, Emmy making friends and facing fears as the competition plays out. Reality TV fans will relish the "backstage" peek Zieba offers as well as the inside scoop on the devious side of production — Emmy, relatively new to the candy business, discovers she was cast as "the comedic relief." But in the Hallmark spirit, readers can rest assured the story will end as sweet as spun sugar.
"'Reality Bites' is a fun romp of romance," wrote Amazon reviewer Kathryn Brown Ramsperger. "...full of heart and soul."
Last spring, Zieba dropped down to part-time teaching to focus more on writing, with aspirations to be a full-time author. She recently signed with Milwaukee-based publisher KWiL, hoping to bypass some the of "stigma" she has faced with self publishing.
"There's a hurdle to prove yourself as a quality writer," Zieba said, with chain stores declining to carry her books. "I do believe the books I'm putting out now are industry standard...It's awesome to open up my Facebook and see messages that people loved my book. The feedback makes me feel really great."
Zieba is in the planning stages for the final book in the Emmy trilogy, to be followed by another series set in La Crosse. Barney takes great delight in seeing her new friend succeed.
"I'm so proud of her," Barney said. "She wanted to pursue the dream and she's doing it."
"Champion Chocolatier" and "Reality Bites" are available on Amazon.com. For more information on Amanda Zieba, including upcoming book signings, visit amandazieba.com.