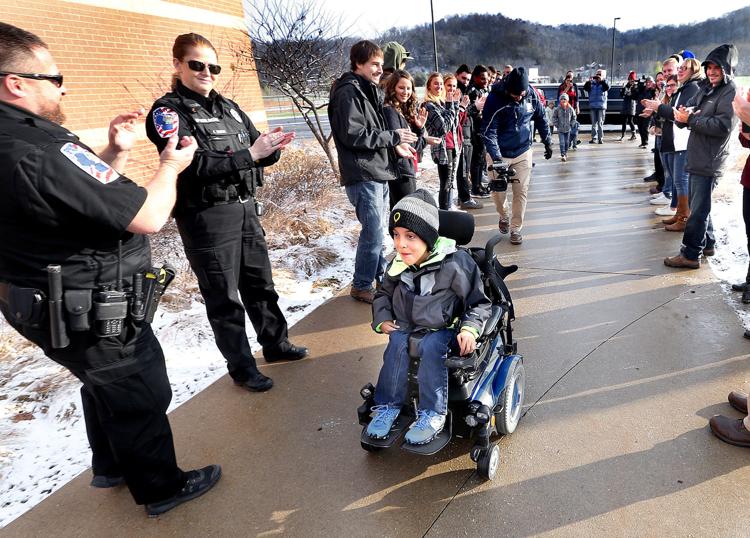 HOLMEN — Logan Kelm has switched allegiances since we met him three years ago, when he was proclaimed a CMN Hospitals Hero.
But Logan, who was honored for his elevation to the national stage with a limousine ride with a couple of his buddies to Prairie View Elementary School in Holmen and an all-school assembly Friday, has switched superheroes teams from the Transformers he favored in 2015.
Logan scoffed at Optimus Prime, the Transformers superhero he once aspired to be, saying he now is an Avengers fan — specifically of Iron Man.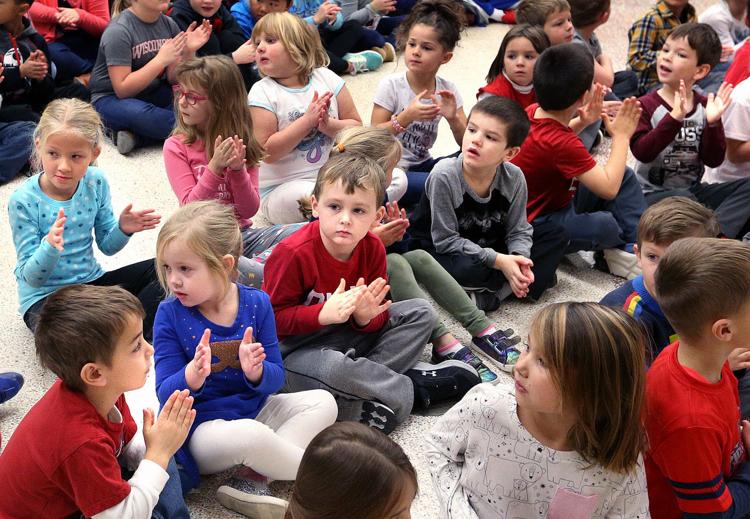 Iron Man can take on Transformers with ease, he said. When asked the secret, Logan flashed his habitually whimsical smile and confided, "because he can fly."
That ability will serve Logan well as a national CMN champ, as that role will script him and his parents, Andrea and Eric, and his siblings to travel throughout the country for #ChildrensHospitalsWeek and fundraising campaigns for CMN Hospitals.
How many miles? Logan paused thoughtfully and said, "I have no idea."
The family, which also includes Mason, 11; Avrie, 6, and 20-month-old Bryce, an aspiring Minion, is happy to do so, Andrea said.
Since Logan was diagnosed with Merosin deficient congenital muscular dystrophy at a young age, "CMN has helped with big things and little ones," Andrea said. "To be able to give back is huge and humbling."
The muscular disorder puts Logan at risk for heart issues, respiratory illnesses, scoliosis, joint contractures and other health issues that can burden the family.
The Kelms mentioned seemingly small things that are major helps, such as meal and fuel vouchers, covering hotel expenses during trips to the Twin Cities for several of Logan's surgeries beyond the specialty care he receives at Gundersen in La Crosse.
"Without those vouchers, you'd forget to eat for a week," Eric said.
CMN also helped pay for the 350-pound wheelchair Logan needs to get around because he is not able to walk. He maneuvers the chair with the adept touch of the top competitors at the La Crosse Fairgrounds Speedway, weaving in and out of traffic to avoid pileups en route to the finish line.
CMN also helped pay for the $30,000 conversion to the family's van to accommodate the wheelchair, as well as ramps at their home to ease Logan's ventures out, Andrea said.
"Even something as easy as a toilet seat (that will accommodate Logan's needs) costs $1,500, but insurance won't touch it because it isn't medically necessary," Andrea said, but CMN chips in because of its practical necessity.
Having already traveled to Salt Lake City for a CMN event, Andrea reveled in the "opportunity to connect with moms and for Logan to connect with other kids" also facing challenges and develop camaraderie with them.
In addition to the Avengers and playing Pokémon, another of Logan's favorite activities is making people laugh, as is obvious from the mischievous, knowing smile that is his trademark.
Long term, he fancies himself an inventor. Commenting on his condition, he says, "I just roll with it."