Students in the Holmen and West Salem school districts spent much of Thursday planting apple trees their own children will find appealing someday.
The appeal will be high, because the trees will produce the coveted dwarf Honeycrisp apples, but the process will take time.
The trees will start producing fruit in about three years, and they are projected to have a productive life expectancy of 30 years, said Mike Gasper the Holmen district's Nutrition Services supervisor who guided the creation of the orchard near on an old cross-country course behind Viking Elementary School.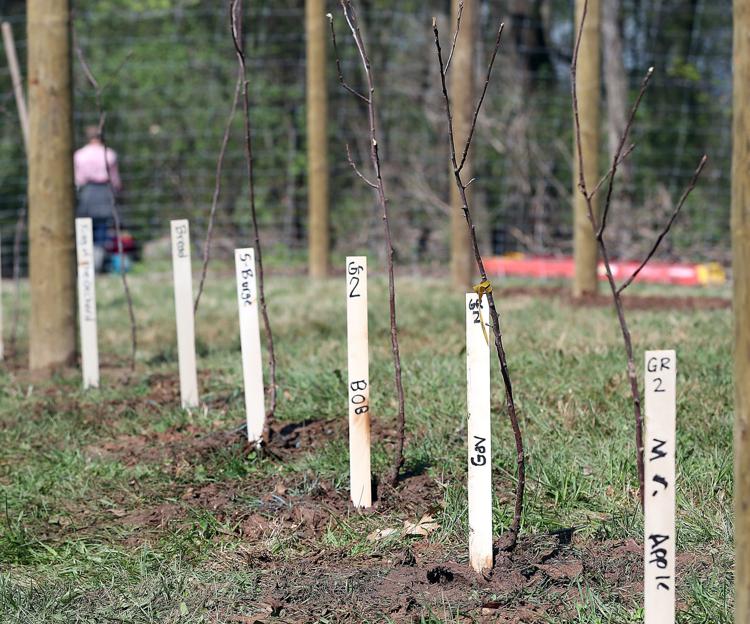 "Their kids will be able to eat apples from the trees they are planting," Gasper said, chuckling.
The daylong project to plant the 60 trees enlisted 400 Viking students to do the heavy lifting, and each class is tasked with caring for three trees — pruning, watering and other upkeep, he said. The students named the trees they planted.
Carolyn Dry of Winona, Minn., donated the trees for the two districts, which were just a small portion of the overall contribution of trees that were distributed throughout the state — mostly to correctional facilities, Gasper said.
"It seems like a natural extension of our other Farm2School initiatives and also fits in well with our new Agriculture Science Academy," Gasper said. "What could be better than students producing food for other students and learning at the same time?"
The orchard will be a learning laboratory for the academy, a career-based option geared toward high school juniors interested in agriculture as a career, he said.
The mature orchard's bounty of 250 to 300 bushels of apples will be used in the school lunch program, Gasper said.
Pies are rare in the lunch line, but the apples will be served in a variety of ways, including whole, sliced, in cobblers and mixed with yogurt, he said.
In West Salem, the orchard is between the new varsity softball diamond and the varsity soccer field, a central location chosen to make it easy for classes to visit. It is expected to be used by classes ranging from elementary school units on farming to high school ecology and biology classes.
"Offering students opportunities, right here on our own campus, to be part of the sustainability of our own food supply is an extraordinary gift," said Kerri Feyen, the West Salem district's nutrition director.
"The Coulee Region Farm2School program continues to be an important part of this district's culture, so anytime we have a chance to make these connections, it is a win for everyone," Feyen said.
The estimated 7,500 apples that are expected to be harvested from the West Salem orchard will be used in the daily school nutrition program, as well as to stock local food pantries.
Besides the donated trees, the initiative was made possible with a combination of local funds and partnerships that also include the La Crosse County Nature Connections program, Coulee Region Farm2School, Sacia Orchards and Christen Farm Nursery, among others.
The Nature Connections program, funded by the La Crosse Community Foundation, is intended to provide opportunities to improve people's health by increasing their exposure to nature and combating the national trend in which children don't spend enough time in nature.
Get local news delivered to your inbox!
Subscribe to our Daily Headlines newsletter.