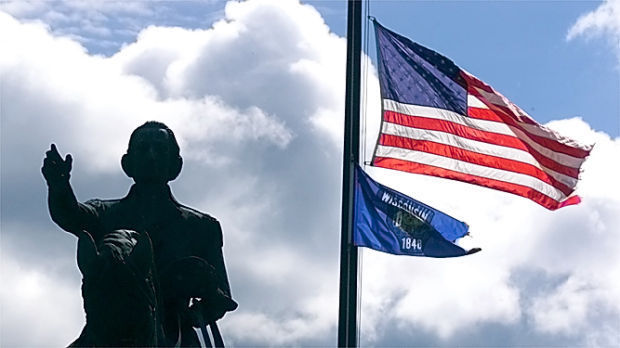 The city of Arcadia bought 54 acres of agricultural land in 1989 that eventually became Memorial Park. Ashley Furniture founder Ron Wanek designed and helped fund the expansive Soldiers Salk, which was dedicated in 1991.
The 500-meter walk, with each meter representing one year of a particular war, is lined with memorials from each of America's wars and conflicts, starting with George Washington on a horse representing the American Revolution.
Tributes to the War of 1812, the Spanish-American War, Civil War, World War I and II, the Korean War, the Vietnam War and the Persian Gulf War are just a few of the statues, many of which were created by Wanek. Other statues include memorials to prisoners of war and soldiers missing in action, as well as a Patriots Memorial and Angel of Mercy monument.
A more recent addition to the walk honors the Global War on Terrorism with a monument to 9/11 that features a twisted steel beam from the World Trade Center.
Statues of America's five-star generals — Ulysses S. Grant, John Joseph "Black Jack" Pershing, Dwight D. Eisenhower, Douglas MacArthur and George S. Patton — tower over the park's 2,000-seat Millennium Amphitheater. In the park's center pavilion, more statues depict the history and founding of Arcadia.
Memorial Park is a favorite spot for summertime festivals, such as Arcadia Broiler Days and Ashley for the Arts.