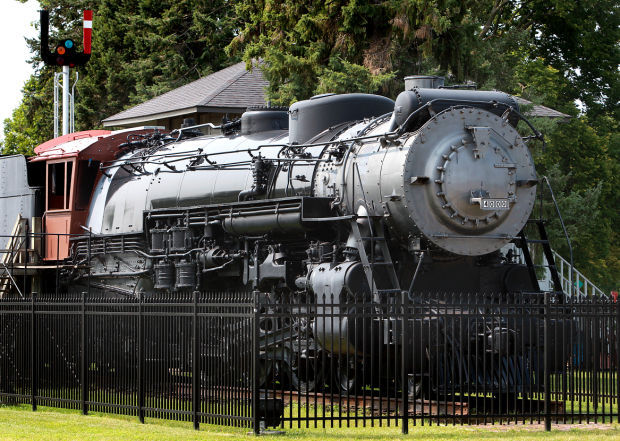 La Crosse was once served by five railroads. While that number is down to two, the La Crosse Shortline Railroad display at Copeland Park is a tribute to the city's rail history.
The display began in 1963 when the Burlington Steam Locomotive was placed in the park. The coal-fired engine was built by The Baldwin Locomotive Works in 1930 for the Chicago Burlington & Quincy Railroad, one of only a dozen type S-4 locomotives built.
At nearly 40 feet in length and weighing nearly 396,000 pounds, the locomotive was streamlined in stainless steel to look like a diesel electric in 1937 and was renumbered 4000. Called Aeolus after the keeper of the winds in Greek mythology, she was used as backup on the Zephyr Line. It is said she once pulled a passenger train 112 mph between Cochrane and La Crosse. The steel shroud was removed in 1942 and the locomotive was renamed Big Alice the Goon after the heroine in the "Popeye" comic strip. The locomotive was taken out of service in 1955 and donated to the city in 1961.
Also on display is the Milwaukee Road Caboose No. 0359, built in 1883 and retired in 1961. The unique wooden caboose features a cupola and windows on all four sides.
The Grand Crossing Interlocking Tower was built in 1928 and was used at the mainline crossings near Logan High School. The tower contains levers once used to switch the rail lines. It was the last manually operated station in the state. The tower was replaced by automation in 1991 and moved to Copeland Park by The 4000 Foundation, which works to restore and maintain the Shortline display.