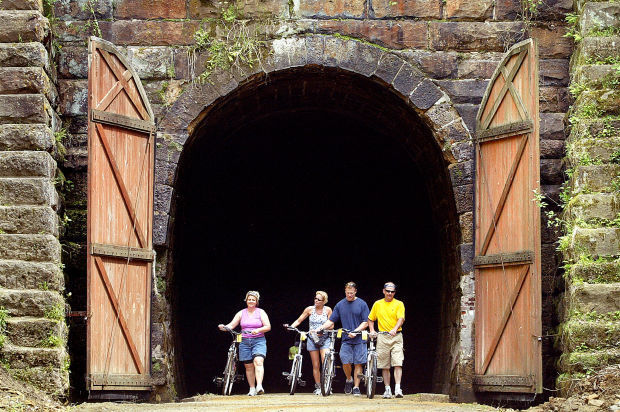 Completed in 1873, the Chicago Northwestern Railroad was the second rail line to the burgeoning city of Sparta, where the population doubled in less than two decades.
It formed a 126-mile link between Madison and Winona, Minn., and required three tunnels — each carved by hand through seeping rock — to pierce the bluffs and keep the grade below 3 percent.
The longest, Tunnel 3 between Elroy and Sparta, took three years to dig.
Workers built homes and settled near the eastern at a mail stop known as Summit. It's a ghost town now, with just the stone foundations remaining.
Without the railroad, communities like Wilton, Kendall and Norwalk might not exist.
But times changed, and in 1964 the trains stopped running.
A handful of visionaries saw opportunity for the abandoned corridor, and two years later the Elroy-Sparta Trail opened as Wisconsin's first Rails-to-Trails project.
Winding through Juneau and Monroe counties, it now links some 60,000 annual visitors to more than 100 miles of contiguous limestone trails between Trempealeau and Reedsburg.
Each fall, hundreds of runners line up in Norwalk for the Rails to Trails Marathon, which takes them nearly to Sparta and back.
At 3,810 feet, Tunnel 3 is just under ¾ of a mile, long enough that you need a flashlight.
If you're lucky, you can pick one up at Tom Cordner's refreshment stand, which sits in his backyard by the tunnel's west entrance and is generally closed.
"It's just something I do for a hobby," said the retired furniture maker who grew up in the same house when hobos camped nearby. "There's no profit in it. I just like to talk to people."