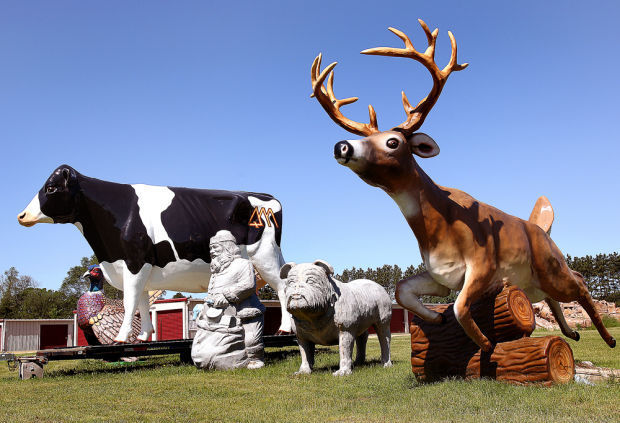 A field two miles east of Sparta on Hwy. 21 has become the birthplace and dwelling place for super-sized roadside attractions — a dream-like, cartoonish landscape where real and mythical creatures mingle with people historic and fictional, where massive, disembodied heads sprout among sports mascots, giant fish and footwear and food items.
This is the "mold yard" for Fiberglass, Animals, Shapes and Trademarks Corp., or FAST Corp., a company that, despite a few name changes, has put Sparta on the map since the 1950s for turning out custom fiberglass figures that, whether viewed as impressive or kitsch, definitely catch the eye.
"The traditional roadside Americana," said Darren Schauf, general manager since 2007 and the son of company owner Jim Schauf. The yard contains more than 600 indestructible molds and figures that have accumulated over the years on the off chance the company might need to replicate them someday. These fiberglass creations produced in Sparta can be seen in all 50 states and several other countries, and business remains strong, Schauf said.
A major part of the business in recent years has been water park slides. Other recent projects included a 12-foot San Francisco 49ers football helmet for the Levi's Stadium and a 19-foot, seated Dalmatian dog an organization will use as a fundraiser by selling its spots, each with a light the owner can trigger electronically.