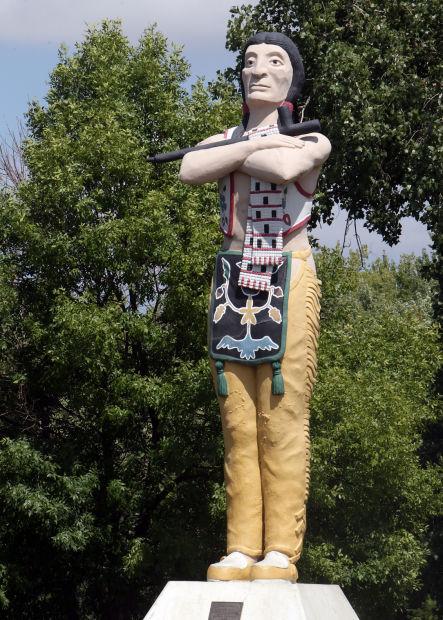 Some believe the site where three rivers converge is a spiritual place; a source for great energy. It is at this point in Riverside Park in La Crosse where a 25-foot high statue has stood since October 1961.
Hiawatha, also known as the Big Indian, made his debut as part of the first La Crosse Oktoberfest. The statue was created by Anthony Zimmerhakl, a La Crosse schools art teacher, who worked on the sculpture for four years, layering cement on wire mesh in the back yard of his home. He was helped by his two sons.
The statue has been the focal point of many photos by visitors to La Crosse over the years, located near the La Crosse Area Convention and Visitor's Bureau and near the entry point where the La Crosse Queen boat is docked. It's also been the source of controversy, especially in 2000 when the city was debating whether it should restore and paint the statue that was showing signs of age. Some said the statute perpetuated Native American stereotypes.
A newspaper article at the time of the statue's unveiling said local Native Americans — called Winnebagoes (now Ho-Chunk) — wanted the statue to be named Decorah after one of their great chiefs. But Zimmerhakl said he based the sculpture on Hiawatha, the 16th century chief who is credited with bringing together the Iroquois Nation.
After much debate and public discussion, in the end $35,000 was spent to refurbish and repaint the statue, $16,935 from private funds and $18,605 from the city's budget. Representatives of the Ho-Chunk Nation were consulted with the colors used to repaint the statue.