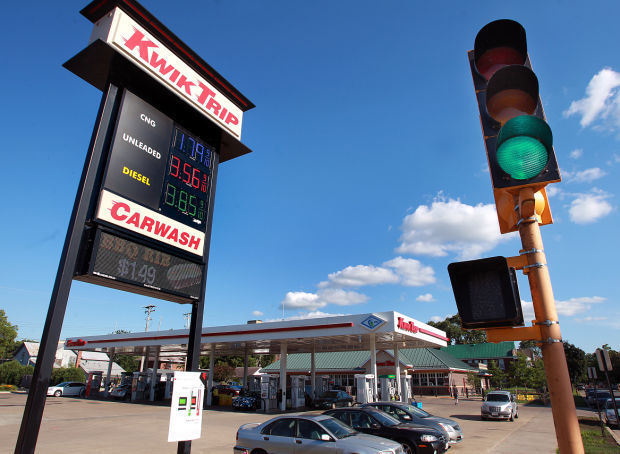 It's not on every corner, but just about.
With very few exceptions in the city of La Crosse, you're never more than a mile from one. They fuel our lives — and our lifestyles — serve as landmarks and meeting places. Heck, they even help solve murders.
If you work in the La Crosse metro area, there's a nearly 1 in 20 chance you work for Kwik Trip. It's practically a given that you've shopped there.
Each store gets about 1,500 customer visits per day. Multiplied by the 14 stores in La Crosse, that's half the city's population. Every day.
The stores' ubiquity — and notoriously sharp security video — have made them a valuable tool for police, and not just for catching shoplifters. In the past decade, police have nabbed a bike thief, car thief, embezzler and murderer with the help of Kwik Trip security video.
The first Kwik Trip opened in 49 years ago in Eau Claire, and the chain has been in La Crosse since 1971. Today, with 465 stores in Wisconsin, Minnesota and Iowa, it's one of the nation's 30 largest convenience stores.
Along the way, the business has been at the forefront of industry innovation.
Founded by Don Zietlow and two partners, the privately owned company shares 40 percent of pre-tax profits with its employees.
Starting with sandwiches made in the back of its Losey Boulevard store, Kwik Trip embraced the concept of making its own goods and is today considered the most vertically integrated convenience store chain in the nation, said spokesman John McHugh.
At its La Crosse headquarters, Kwik Trip bakes its own bread and pastries, prepares pizzas, salads and sandwiches, bottles its own milk, water and sports drinks. It even imports and ripens bananas.
It has pushed the envelope of the convenience store model, offering competitively priced staples — bread, milk, produce — on the premise that most people visit the grocery store only once a week or so.
In recent years, Kwik Trip has become a leader in alternative fuels. Its stores were some of the first in western Wisconsin to offer compressed natural gas under the canopy.