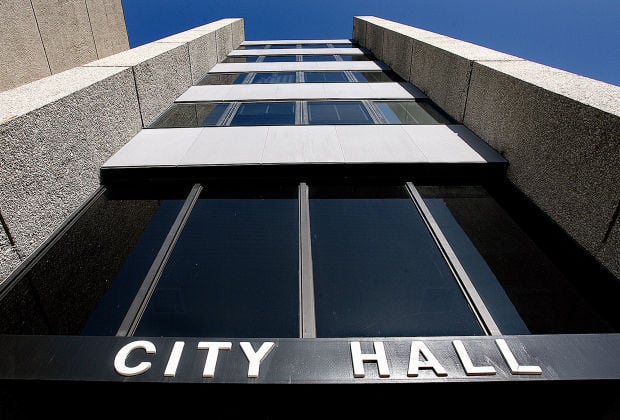 La Crosse City Hall, 400 La Crosse St., gets decidedly mixed reviews today, but it was heralded as "a dignified landmark" when dedicated on the Fourth of July in 1970.
It was part of a movement in the city during the 1960s and early 1970s to shed the perceived staid, Victorian-era look for something more modern — "progressive and building for the future," then-Mayor Warren Loveland said at the time. The city then had its offices in a brick, castle-like building at Sixth and State streets that dated back to 1892 and, officials said, no longer met the community's needs.
That same time period would see a new county courthouse in 1965 and a new library at 800 Main St., plus the new main fire station at 726 Fifth Ave. S. and Viterbo University's Fine Arts Center in 1971.
Voters in a 1966 referendum approved of swapping the old City Hall for new by a 4-to-1 margin, according to press accounts. With some cost overruns and other complications, it would take four years before the seven-story $2.8 million building opened in May 1970.
Architect Harry Schroeder of Hackner, Schroeder, Roslansky and Associates said they wanted to create a City Hall that had "some feeling of dignity, something that the people in the community could take pride in, a nice-appearing, landmark-type of building." He touted the sand-blasted concrete walls "imported specially from Racine," the anodized aluminum windows, the walls of "washable vinyl."
Today, the compliments are harder to come by. One former local historian who led downtown tours referred to the architectural period that gave rise to City Hall as "brutalist style." Others lament the loss of the former City Hall, razed in 1970, and the other classic buildings that made way for "progress."
Those who work in City Hall say the building today seems designed to be cold, perhaps even intimidating.
"In my mind, it's not very welcoming once you get inside," said council president Dick Swantz, noting the lobby has little direction to guide the public and the council chambers leave the audience looking at the backs of officials' heads.
"It's not very architecturally appealing," said Dale Hexom, former city public works director.