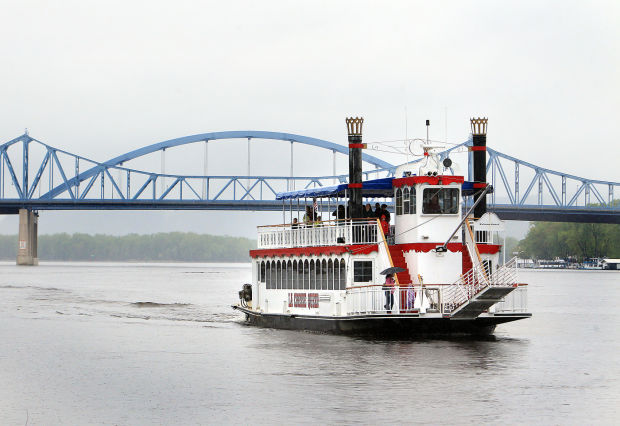 La Crosse Queens have been rollin' on the river almost as long as vocalists have been singing the 1970s rock hit "Proud Mary."
The big wheels churnin' these days are on La Crosse Queen VII, which continues its predecessors' Mississippi River cruises dating back to the first Queen in 1976.
Moored at the north end of Riverside park, the 149-passenger stern-wheeler runs more than 500 cruises of one to three hours a season, as well as private charters, said manager Kathy Jorstad.
The replica of the regal riverboats that plied Old Man River in the late 19th Century is one of the few authentic paddlewheelers in the country. Unlike similar craft, which have paddle wheels for show but rely on propeller power, the Queen has a split stern wheel powered by diesel engines that are its only means of propulsion.
The Queen offers a variety of day and evening cruises — some just sightseeing, while others feature pizza, or appetizers, full dinners or even customized accoutrements and menus for private charters such as wedding, birthday and corporate events, Jorstad said.
The Queen's six ancestors probably are churning waters elsewhere these days.
"The boats usually don't retire," Jorstad said. "You get a new one and sell the old one to somebody just starting up or who is looking for another boat. I think the La Crosse Queen IV ended up in Fairbanks, Alaska."