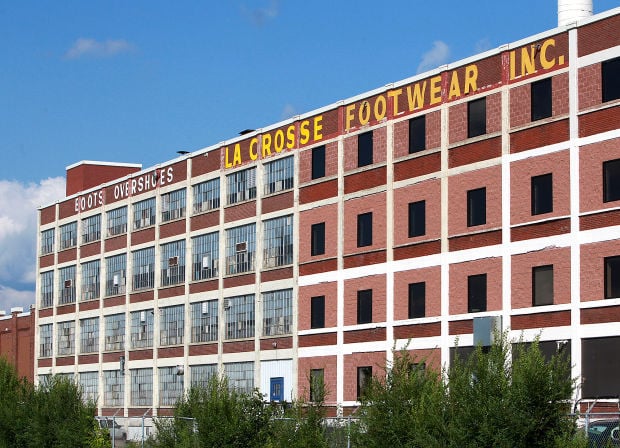 The LaCrosse Footwear building, an industrial behemoth for more than 100 years that once provided 2,000 jobs, continues as a landmark on the city's North Side — repurposed with a variety of businesses.
LaCrosse Footwear, which began as the La Crosse Rubber Mills Co. in 1897, manufactured rubber horseshoes before switching to making rubber-coated fabrics and raincoats and, eventually, canvas and rubber footwear.
Within a decade, its workforce jumped to 400 people producing about 850 rubber-coated garments a day.
The company installed the city's first sprinkler system in its wooden factory, reportedly located on land once owned by Buffalo Bill Cody.
It constructed the first of several concrete buildings in 1913, launching a series of expansions across its 10-plus acres. By 1930, it was the city's largest employer, with 2,000 workers.
In the 1950s, production featured a full line of rubber footwear, as well as sporting boots, tennis and basketball shoes and novelty shoes, according to a company history.
In 1983, the company was producing 2.2 million pairs of footwear a year, and sales hit $27 million. Sales reached $30 million a year later, $50 million by 1989 and an all-time high of $108.3 million in 1994.
Renamed LaCrosse Footwear Inc. in 1987, the company closed the facility in 2001, moving its headquarters to Portland, Ore. It was sold to Tokyo-based ABC-Mart Inc. for $138 million in 2012.
After remaining idle for four years, the buildings on St. Andrew Street have enjoyed a renaissance since The Fenigor Group LLC bought the complex in 2005.
Fenigor, owned by several members of the Hass family, removed more than 2 million pounds of obsolete factory equipment. It added ramps to bring cars, boats and other vehicles in for storage.
Continuing renovations have provided office space for several businesses, as well as housing enterprises such as the Boot Hill Pub, the Pearl Street Brewery, La Crosse Mail and Print Solutions, and Western Wisconsin Cares, among others. The latest addition is housing.