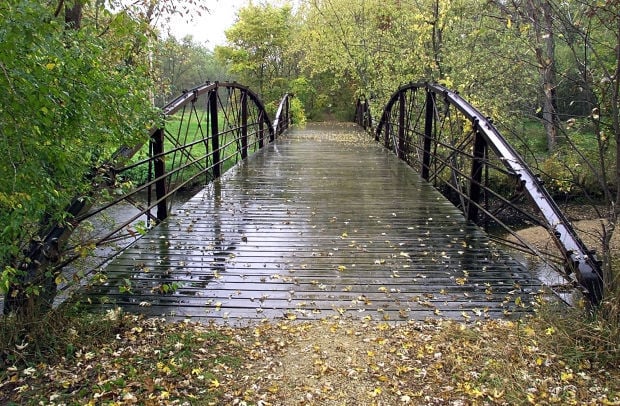 Tucked away in the nearly 4,000-acre Van Loon Wildlife Area northwest of Holmen, a series of historic bridges span the Black River lowlands.
Known as Old McGilvray Bottoms Road, the rare, century-old bridges are preserved in time, thanks to the conservation efforts of the local community. Five of the seven original bridges still stand; one came down in 1954, anther was replaced in the late 1990s by a historic bridge purchased from Pierce County.
Before the bridges were built, a Scottish immigrant named Alexander McGilvray ran a ferry service across the Black River. He operated for about 40 years, but heavy logging traffic made the ferry service difficult to maintain. La Crosse County built a wooden bridge to serve as a crossing in 1892, but the area's frequent floods rotted the wood.
Charles M. Horton and the La Crosse Bridge and Steel Co. came to the rescue, erecting a series of steel bowstring arch truss bridges along McGilvray Road from 1905 to 1908 at a cost of $14,950, shortening the trip between rural Trempealeau County and the city of La Crosse by eight miles.
The bridges stood strong through the rising and falling waters of the Black River for 65 years until a flood in the early 1970s finally washed out a large culvert, damaging the road and bridges and halting vehicular traffic. In 1975, town of Holland officials transferred the bridges and the 9,000-foot-long road to the Wisconsin Department of Natural Resources.
The bridges became listed on the National Register of Historic Places in 1980, but they fell into disrepair, with bridge No. 6 collapsing and bridge No. 5 rotting beyond repair. The road closed to pedestrian traffic in 1986, and by 1989, the state Legislature granted $84,000 to take them down.
That's when the community stepped in, collecting 800 signatures asking the Legislature to reconsider. The money that had been allocated to remove the bridges was put toward repair and restoration, combined with DNR resources and funds raised by Friends of McGilvray Road. With the help of the La Crosse Preservation Alliance, the organization earned close to $400,000 selling T-shirts and art prints by local wildlife artists.
The Friends of the McGilvray Road continue to maintain the trail and its bridges so all may enjoy the beauty, nostalgia and history of this La Crosse area icon.