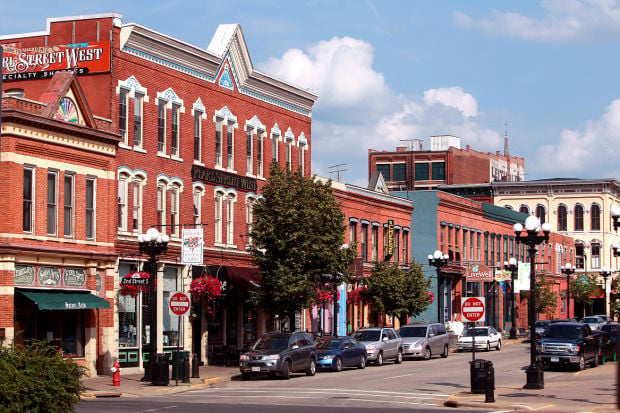 At two blocks in length, Pearl Street is the shortest street in downtown La Crosse. Today it's one of the best examples of downtown renewal but it also has one of the river city's most colorful histories, especially the west block.
In that sometimes seedy past, the block at one time or another contained a bordello, a massage parlor, an adult book store and several bars. A railroad depot was located at the southeast corner of Second and Pearl. GIs were told the block was off limits because of the houses of ill repute.
Instrumental in the block's turnaround from rough-and-tumble to visitor-friendly was Terry J. "TJ" Peterslie. When Peterslie got out of the Army in 1971, he rented a vacant building at 215 Pearl St., lived out of the back and sold clothing from the front in what eventually became T.J.'s Apparel. In 1974 he bought the building which dates to the 1860s. Peterslie and his wife, Michelle, started expanding on the block, renovating the downstairs portions of the buildings and painting colorful murals on the boarded up windows on the second floor.
The Harborview redevelopment project that resulted in the La Crosse Center across Second Street also helped improve the area. John Satory bought his building to house Satori Arts Gallery in 1990. He told a Tribune reporter that year that the building is attractive and historic and also because he thinks he can save other buildings just by being there. "They'd like this whole block ripped down," he said. But "people are going to have a hard time getting me out of here."
The Peterslies opened The Pearl ice cream shop in 1993, and in 1996 the block was one of the first to receive the antique-style street lights and brick sidewalks that became a key part of the downtown revitalization. The development of the Holiday Inn Express also solidified the block.
The other end of the block is anchored by Kroner's Hardware, which has been at 321 Pearl since 1898, along with other established businesses, ending at the northeast corner of Fourth and Pearl where the Bodega is located.