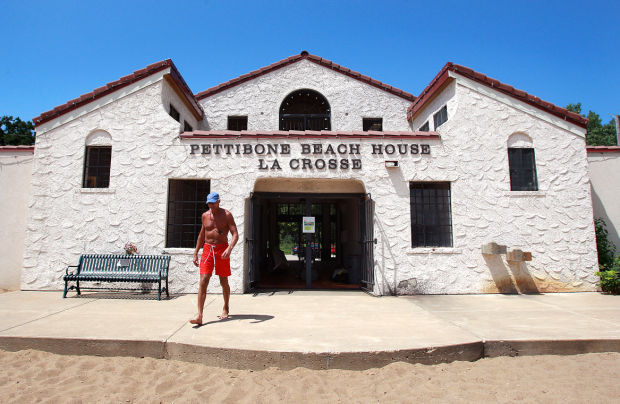 The lure of a sand beach and a cool river has drawn large crowds to Pettibone Beach for generations, especially in the days before air conditioning. The beach was actually part of Minnesota in 1901 when A.W. Pettibone bought the park that today carries his name and gave it the city.
In the middle of the bathers and the sand stands the distinctive Pettibone Bathhouse, an architectural treasure that opened in 1926. The bathhouse — which replaced a frame building from 1904 — was designed by La Crosse architect Otto Merman in the Spanish mission style. It was built by Theodore Molzahn Co. for about $29,000. High quality materials — such as Tennessee marble — were used in the construction.
River pollution that caused the death of a 16-year-old boy who contracted meningitis after swimming at the beach in 1931 led to the closure of the bathhouse. It remained closed for much of the decade because of low water levels and pollution caused by raw sewage being dumped into the river. Vandals broke windows and stole fixtures. The bathhouse was finally reopened in 1939 — two years after the city started treating sewage — after building repairs were completed.
In 1982, area high school students helped install bricks taken from old city streets into the former locker room area used as courtyards. Some plaster work was also done over the years, but by the turn of the century, the building had holes in the roof and was in a general state of disrepair.
In 2001, the city allocated more than a half-million dollars for a renovation, and in June 2002 the restored facility was rededicated. The late Betty Hyde is credited with being a strong advocate for the restoration.