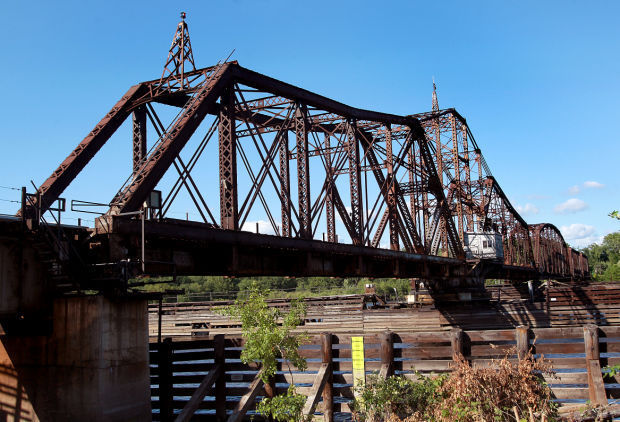 There's little room for error threading a raft of barges three football fields long through L4-B. About 23 feet on either side, to be exact.
Spanning the main shipping channel of the Mississippi River between La Crosse and La Crescent, the Canadian Pacific swing bridge has provided an essential rail link between eastern markets and the west for more than a century.
Erected in 1902, it replaced an 1876 bridge that had been key to the Chicago, Milwaukee and St. Paul railroad's efforts to connect the three cities. Built with concrete and steel rather than iron and stone, it incorporated the most sophisticated designs of its time, according to a 2006 report by Hess, Roise and Co.
Construction took a year and claimed one life, 26-year-old Fred Rickleff, who was crushed under a steel beam.
The swing span pivots on a 26-foot diameter drum that sits atop 52 steel rollers, which bear its weight when open. Complicated as it sounds, the design was favored because it was less expensive than bascule lift bridges, and had fewer moving parts.
Originally powered by a steam engine, it's now turned by electric motors fed by an underground cable and operated by Canadian Pacific crews, who staff the bridge around the clock during the river shipping season.
The railway won't say how often it swings open, but Army Corps of Engineers records show that during the past year 1,686 commercial and passenger vessels passed through lock and dam 7 just 2.5 river miles upstream.
Providing an opening just 151 feet wide for modern barges that measure 105 feet across, the bridge has long been considered a navigation hazard.
It's on a list of nine such bridges the U.S. Coast Guard has designated for replacement or modification, though Congress has yet to allocate funds for its replacement.