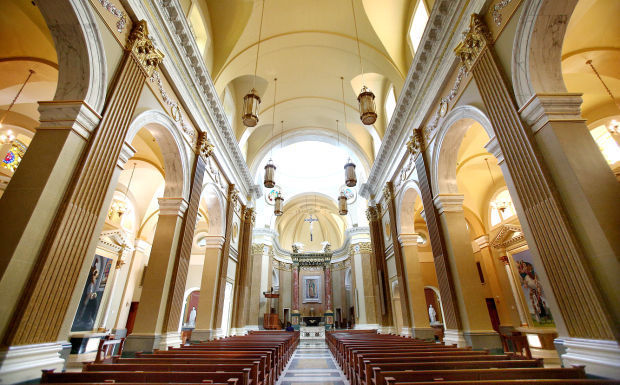 The Shrine of Our Lady of Guadalupe may be a bit young to have reached iconic status, but the copper dome on its church has become a beacon on a hill in south La Crosse that attracts nearly 70,000 pilgrims a year.
"There are daily stories of inspiration from here," says executive director Leif Arvidson.
Then-Bishop (now Cardinal) Raymond Burke proposed the shrine in the late 1990s, drawing mixed reviews as an extravagance because of its initial price tag of $25 million.
But the shrine has drawn visitors from all 50 states and more than 75 countries across the globe since its Pilgrim Center and Mother of Good Counsel Votive Candle Chapel opened in 2002. The ornate Shrine Church, built at a cost of $29 million, opened in July 2008. It seats 450 and has a copper dome 45 feet in diameter.
The complex, which started off on 70 acres donated by the Robert and Lucille Swing family, now includes 103 acres, much of it hilly woodland surrounding the shrine buildings, with a trout stream meandering through the valley below
Main features besides the church, the votive chapel and the Pilgrim Center are a Memorial to the Unborn, the Flores Mariae Gift Shop, the Culina Mariana Café, devotional areas, Stations of the Cross and a rosary walk.
It features a half-mile, uphill meditation trail from the Pilgrim Center to the church. The Mother of Good Counsel Votive Candle Chapel has a 12-by-14-foot pyramid of 576 votive candles.

The shrine at 5250 Justin Road, just off of Hwy. 61/14, also is home to the international headquarters of the Marian Catechist Apostolate. The shrine, which has a Latin Mass daily, attracts not only carloads of worshipers but also busloads of tourists.