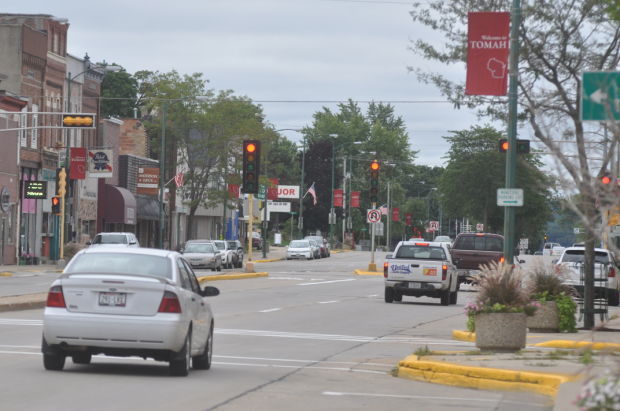 The spacious street that graces downtown Tomah owes its size to a visionary civil engineer from La Crosse. Wisconsin law stipulates that city streets must be a least 60 feet wide, but there were few such rules on the books on June 4, 1857.
It was on that date that the plat for the village settlement of Tomah was approved. Requested by Tomah founder Robert Gillett and completed by engineer William Spear of La Crosse, the plat not only called for the very wide main street but that all connections running north and south be at least 70 feet wide and cross streets be 60 feet. All of this decades before the automobile and truck were even invented.
According to the 1912 book "History of Monroe County" by Randolph Richards, there was much community debate about paving the street in the early 1900s. Finally in 1908 the city agreed to pave the street with bricks and create the boulevard.
With its green boulevard planted with flowers, the road into Tomah was appealing. "… for nowhere in the country can be found a handsomer street; outside of the business district the boulevarding of the center, with its closely clipped lawn and artistic setting of shrubbery makes a beautiful appearance in the summer months."
Gillett's plat had 10 acres reserved on the southeast corner of where he was going to build. That never transpired, but today in that vicinity is a park that bears his name. Recently the downtown beautification group Our Town Tomah announced that the original Maid of the Mist fountain in Gillett Park will be replaced, thanks to a grant from the Toro Foundation.
Superior Avenue, which is part of Hwy. 12, is also known as Gasoline Alley, the comic strip started by Tomah native Frank King. The strip is still published in the Tomah Journal newspaper.