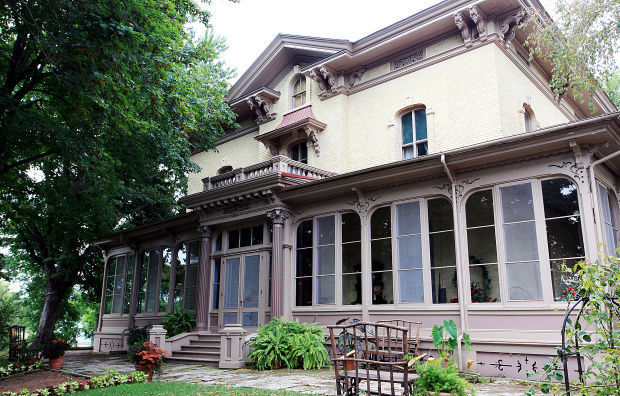 The history-rich community of Prairie du Chien dates to 1673 when explorers Marquette and Jolliet arrived on their journey down the Wisconsin River and were the first Europeans to see the Mississippi River.
Perhaps nowhere is that history so prominent or as well known as the Villa Louis, a Victorian estate on St. Feriole Island that was home to three generations of the Dousman family. The present house was built in 1870 by Hercules Dousman's son H. Louis, who contracted with a Milwaukee architect for an Italian Villa style home.
It was built on the site of an earlier home on a mound above the flood waters. Louis and his wife Nina took over the family estate in the mid-1880s. The property was expanded with stables, barns and race track for breeding and racing trotting horses. Nina remodeled the house in the style of the British Arts and Crafts movement. Louis died suddenly in 1886. Nina remarried, moved to New York and later divorced. The family returned to live in the home in 1893, mainly using it in the summer.
The Dousman family stopped regular residency in 1913. Two granddaughters of Hercules Dousman restored the home in the 1930s and allowed the city to operate it as a museum — after the Wisconsin Historical Society turned down an offer to own and operate the house. That offer was accepted in 1950 and it became the state's first historical site in 1952.
The Dousman heirs donated many furnishings and accessories original to the house, along with extensive documentation. That was used as the basis for a $2 million restoration of the estate that began in 1994 to restore the building to its Arts and Crafts interior. The exhaustive restoration along with the home having 90 percent of its original furnishings makes the Villa Louis one of the most authentic examples of 1890s living in the country.