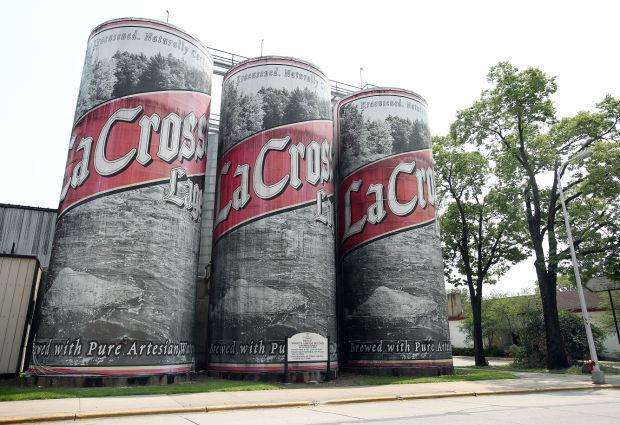 We love our beer, a product that is synonymous with the city of La Crosse.
Nothing says beer more than what is billed as the World's Largest Six-Pack, a landmark along south Third Street that made its debut in 1969 and was painted in 1970 to look like six giant cans of Old Style beer.
In those days the G. Heileman Brewing Co. was a regional brewer with an eye towards expansion. It was the last remaining of what were once 15 breweries in the city, which in 1884 produced more beer than any other place in Wisconsin.
Filled with fully-kraeusened beer made from pure artesian well water that some folks say flows underground all the way from Canada, the tanks were repainted several times before Heileman was purchased by Stroh Brewery Co. in 1996. Stroh went out of business in 1999 and sold most of its brands — including Old Style — to Pabst.
The brewery became the City Brewery in 1999 and the 54-foot high tanks were painted over in 2000, with the Old Style labels still faintly visible. Four of the visible tanks were wrapped in La Crosse Lager labels in 2003.
You have free articles remaining.
Register for more free articles.
Stay logged in to skip the surveys.
The tanks have been featured on postcards, travel sites and have been the location of many posed photos over the years, the perfect setting for "I went to La Crosse and all I got was a single six-pack."
Some foamy fun facts: The tanks can hold 22,220 barrels of beer, which equals 688,200 gallons or 7.3 million cans, which lined up would stretch for 565 miles.
Boasting beer drinkers may like to brag about how many tanks they could finish off in their lifetime, but the math is against them.
It's not physically possible to drink your way through a tank, much less more. One would have to drink 12 ounces of beer every hour and live to be 120 years old just to finish one tank.
Any claims to the contrary are simply lots of beer talk. Case (or make that six-pack) closed.