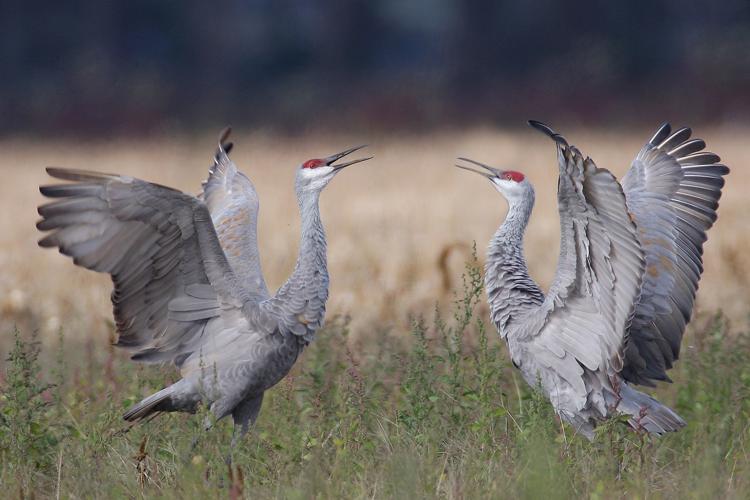 When searching for cranes, you count with your ears as much as your eyes.
The annual Midwest Crane Count began at 5:30 a.m. Saturday, when the sky is still dark and the bluffs a charcoal smudge in the distance.
The first 30 minutes are spent listening. Alan Stankevitz, of La Crescent, Minn., identifies the sounds in his square-mile counting area, mostly likely for my benefit. There's the bright twitter of a woodcock, the reverberating call of a winnowing snipe, the cheery refrain from cardinals.
As the sky lightens, distinct voices begin to layer and overlap against the drone of cars on county roads and highways.
By 6 a.m., "everyone's talking," Stankevitz said.
Between the cross-talk, Stankevitz's ears pick up a new sound: the looping arpeggio of two sandhill cranes vocalizing together. It's a unison call, used to strengthen the bond between mating pairs and mark territory, though the male and female produce different pitches on different beats within the call.
Stankevitz uses the volume and direction to get a sense of where the call came from.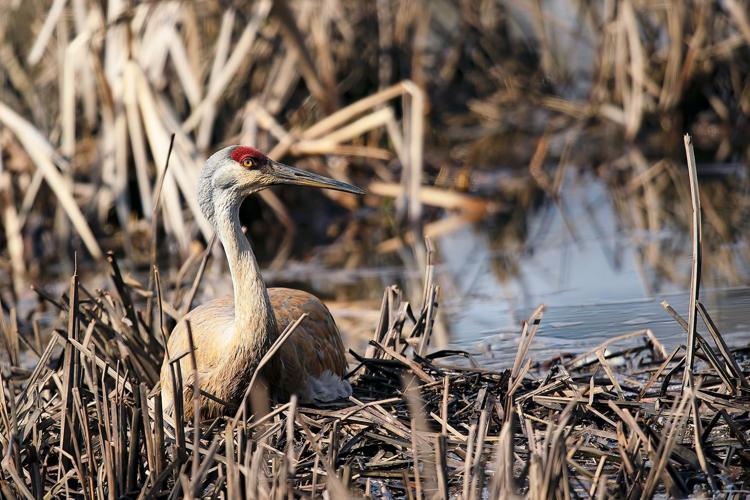 It's so distant my inexperienced ears miss it completely. I am distracted by a pair of Canada geese dominating the conversation as they chase each other across a pond-sized puddle in a flooded field.
Stankevitz's ears perk again. "A different pair. It was louder. I think we're going to have to make a trip that way."
The annual Midwest Crane Count, organized by the International Crane Foundation in Baraboo, Wis., is as much a celebration of the sandhill crane's comeback and the importance of habitat preservation as it is a monitoring program that helps researchers track changes in sandhill crane populations and distributions. The annual event, now in its fourth decade, involves volunteer crane counters across six states counting cranes at the same time on the same day.
Before the Migratory Bird Treaty Act signed in 1918, sandhill cranes were hunted to near extinction in the 18th and 19th century. By 1936, Wisconsin had only 25 documented breeding pairs.
Populations have since rebounded to at least 60,000 greater sandhill cranes in the eastern population, the type native to Wisconsin. They have since expanded into east-central Minnesota, though Minnesota also has lesser sandhill cranes and Canadian sandhill cranes.
Last year, 934 participants in Wisconsin and 64 participants in Minnesota counted 11,072 and 322 cranes respectively. Greater sandhills, as their name implies, are the largest sandhill sub-species, reaching up to 5 feet tall and 14 pounds, with wingspans of 6 to 7 feet.
Despite their abundant numbers, large stature and the distinct red patch on their foreheads, there's no guarantee you'll see a sandhill crane during the count.
Stankevitz, the Houston County crane count coordinator, has been counting cranes in the area for about 12 years. He, like many longtime crane counters, knows where local pairs like to nest year after year when they return from wintering in the southeastern corner of the U.S..
Stankevitz takes me to a nest site in his counting area he has been watching for days. The female laid its first egg about April 5, its second during last week's snowstorm.
You have free articles remaining.
Register for more free articles.
Stay logged in to skip the surveys.
With their dusty brown and gray plumage, sandhill cranes have a knack for blending in with the cattails and tall grasses, especially when they're hunkered down and silent. Even with binoculars and the sightlines Stankevitz tells me to follow, it takes me a good 10 minutes to find the crane — when it turns its head so I can see its piercing red eyes.
The mate is out foraging somewhere, Stankevitz noted, adding that this particular pair has had terrible luck raising chicks. Last year, an April snowstorm forced them to abandon their nest. A predator, maybe a raccoon, made a meal out of their eggs the next day.
In other years, the chicks hatch but then something gets them, Stakevitz said. "Every year our hearts get broken. I tell them, go find another nest site because this is not a good one."
At the next counting site, Stankevitz scans his binoculars across waterlogged fields, paying special attention to grassy islands that might contain sandhill cranes. We move to a spot 100 yards ahead to see what's beyond the tree line, only to hear the loud call of a crane we missed in the area we had just left.
After two hours of counting, about 14 crane counters gather at a local cafe in La Crescent to exchange notes and highlights over breakfast.
Candace Havely, of Waterloo, Iowa, drove in the night before to take part in the Houston County count, as she has in previous years. Sandhill cranes are her favorite bird. "I don't know what it is about them. It's a visceral reaction."
Havely said she was pleased to see one fly in about 6:30 a.m. "I tried to scope for it through all the cattails."
Joan Mitchell has turned the annual crane count into a family tradition with her granddaughter Bianca, niece Melissa Meyers, and Meyers' children, Malcom, 13, and Emily, 10.
Malcolm spotted a crane, as well as crane tracks, during the count, and Emily logged the time, direction and type of each call they heard into a dedicated crane counting notebook.
They had practiced the night before by reviewing recordings of what the different calls sounded like, Melissa said.
Audrey Alfson, from Houston, Minn., said she heard six pairs of cranes, as well as a breathy sound she didn't recognize. "I enjoyed this morning. It's just a magical time to be outside when the world is still waking up."
Alfson noted that the cranes were quieter than usual this year. "They're probably thinking it's fricking cold."
"If it hadn't snowed, maybe there would be more cranes," Stankevitz said. Last year, he counted a bonanza of about 20 bachelor cranes in a field.
"I think they're all confused," said Humphrey Kearns, from Houston County. "Their usual nest sites are gone. They're sitting in all this water."
Kearns said he liked the social aspect of counting cranes, as well as the opportunity to see and hear so many animals. "There's so many animals moving around here. It stirred my heart."
And there's the citizen science aspect of counting cranes.
"I didn't grow up around cranes," Kearns said. As a child in Indiana, even deer and geese were rare. "Fifty years ago, we were on the verge of losing these animals we now think of as pests."
By monitoring wildlife and natural resources, Kearns said, "we can make an impact on how society progresses."