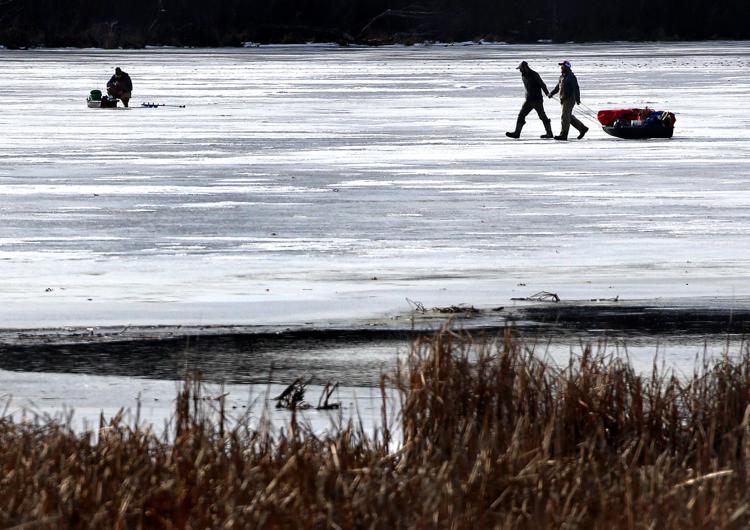 Lakes, ponds and rivers might not be as speckled with ice fishermen and snowmobiles like a typical Wisconsin winter, as the state and region have experienced milder-than-usual weather.
But those outdoors fans still interested in venturing out on the ice should be wary of conditions, regardless of weather.
During the weekend two men were killed after their snowmobiles broke through the ice in northern Wisconsin. One man survived.
Both the Minnesota and Wisconsin Departments of Natural Resources write on their websites that ice is never 100 percent safe, and neither department actively monitors ice conditions in the region.
According to the Minnesota DNR, ice thickness can be measured using equipment like an ice auger, chisel or cordless drill to carve out a small area of the ice, then using a tape measure to see how thick the ice is.
You have free articles remaining.
If the ice measures below four inches, it's not safe to be on, the DNR's ice safety chart said. Between five and seven inches of ice is able to hold a snowmobile or ATV, and a foot of ice or more is strong enough for a medium-sized truck. The Minnesota DNR still advises against vehicle use on ice.
But thickness is not the only safety factor to consider when venturing onto the ice. The Wisconsin DNR website states that you should not go out on frozen inlets or narrow passages because the currents might be stronger, wearing on the ice, and that you should look for clear, non-snow-covered ice.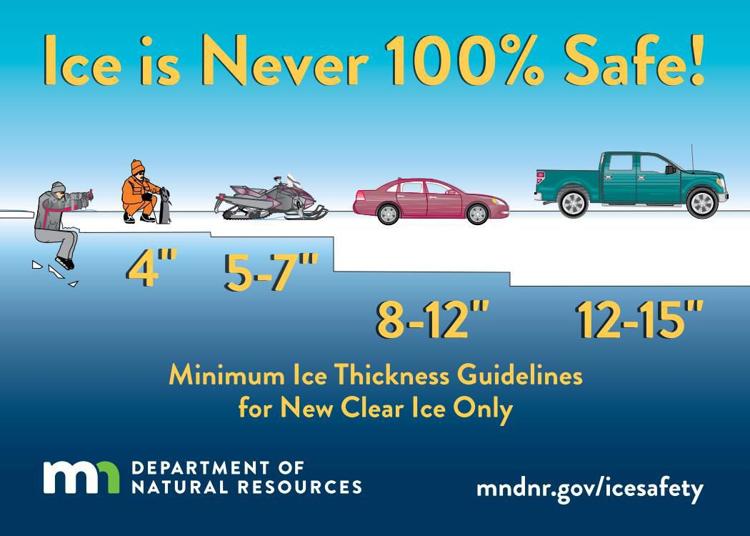 White ice, or compacted snow that will appear white, is not as strong as regular ice, the Minnesota DNR warns, and the thickness guidelines should be doubled when weighing safety.
Ice thickness should be remeasured every day, and every 150 feet, as temperatures, currents, snow cover and wildlife might impact conditions quickly throughout the body of water.
The Wisconsin DNR states on its website that local bait shops, resorts and fishing clubs often monitor ice conditions and that those going out on the ice should check with them daily.
The Minnesota DNR reported five ice fatalities last winter.
Both states' DNRs suggest wearing warm clothing and packing rescue gear, like ice picks, in case of submersion, and emphasize abandoning any vehicle in case of emergency on the ice.