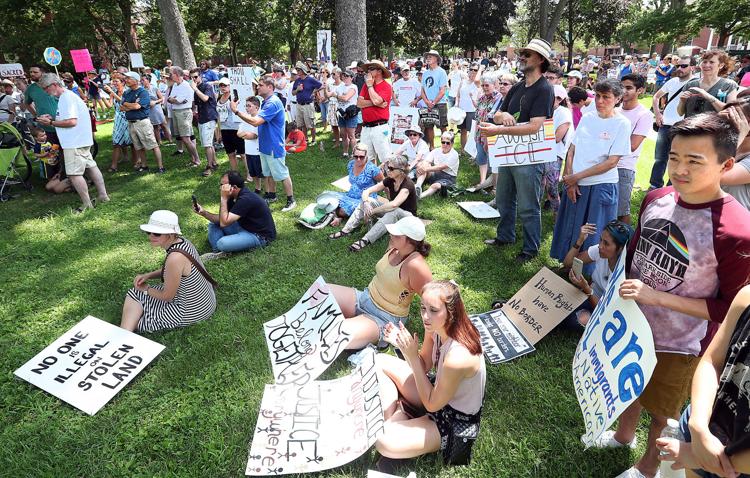 Children in cage-like structures, wrapped in foil blankets. Toddlers clinging to whomever they can find. Infants with tears streaming down their cheeks. The images splashed across the news are heartbreaking, but the sounds are what haunt Karen Sherman at night.
"The soundtrack from the children crying was enough to make me go to bed crying and wondering, 'How can we do this to our children?'" Sherman said.
Wearing an American flag print T-shirt and "Familias Unidas" floral crown, Sherman clutched a sign protesting President Donald Trump's immigration policies. She was one of about 450 people who marched from City Hall to Burns Park on Saturday at part of the nationwide Families Belong Together Rally. Simultaneous protests of family separation and detention, the travel ban against several predominantly Muslim countries and zero tolerance immigration practices were held across the nation, with an estimated 630 cities participating and the main march occurring in Washington, D.C.
Organized by MoveOn.org and NextGen Wisconsin, the La Crosse rally was one of six held in the state and featured several speakers from local organizations, including the La Crosse Immigration Task Force, Cia Siab and the YWCA. Richelle Zimmerman of the Wisconsin Child Welfare Professional Development System and Gundersen Health System pediatrician Mark Neumann discussed the effects of parental separation on child emotional development, and Chuck Berendes, coordinator of migrant, immigrant and refugee assistance for Catholic Charities gave a brief synopsis of immigration law, saying, "What we're currently seeing is a kind of a recurring theme of embarrassment."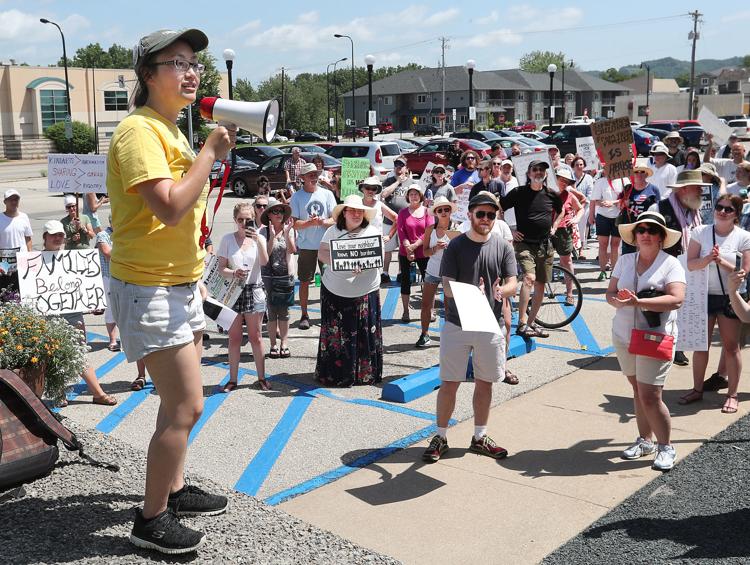 Encouraging attendees to take their concerns to the ballot box, NextGen representatives helped register voters for the November elections, and MoveON.org circulated petitions, and marchers hoisted signs reading "GOP: Greed Over People" and "No one is illegal on stolen land."
Planned before the June 20 reversal of U.S. policy to separate immigrant parents from their children — around 2,340 minors have been separated from their mothers and fathers since May — the rally decried the lack of procedures in place to reunite those families and the damage those separations have caused.
"Reversing the policy means it was put in place — we already created these traumatic experiences," said New Horizons employee Andrew, who asked his last name not be used. "It's going to continue to cycle, but each small victory in response to the hate that spreads, we get smarter."
Formerly involved in Centro Latino, Andrew spoke of his experiences with local undocumented immigrants, who at times are scared to go to work for fear of ICE investigations or who must look for factory or farming jobs outside the city. The immigration debate is founded on money and racism, he contended, targeting "black and brown" individuals and letting undocumented caucasian individuals enter the country without consequence.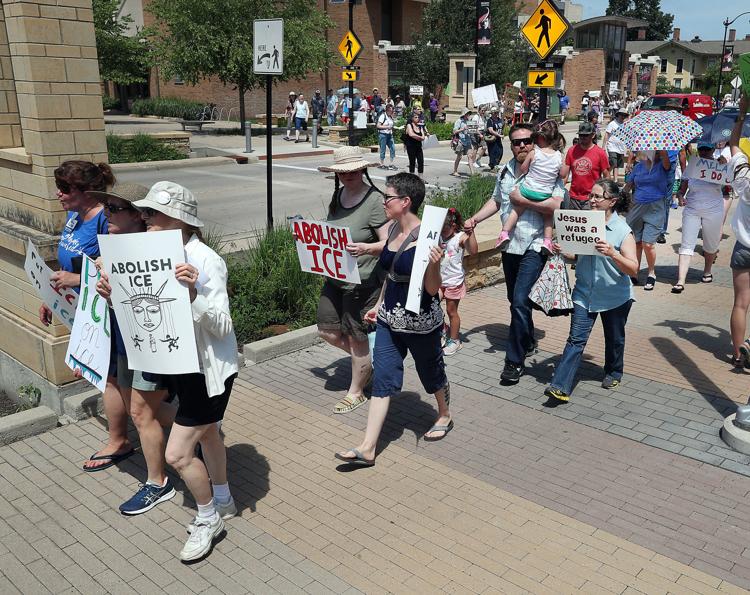 Ahmad Jandal, 17, whose parents were born in Saudi Arabia and Palestine, was joined by his father, brother, uncle and young cousins at the rally. Jandal said the La Crosse community has been "tremendous" in supporting his family and other Muslim community members but felt strongly about the injustice of the Muslim travel ban and the consequent cultural misconceptions and prejudices. The policy to prosecute all illegal immigrants, including those fleeing violence or seeking asylum, saddened him.
"People are being completely denied and left to die," Jandal said.
The Rev. Laura Gentry of Our Savior's Lutheran Church in Lansing, Iowa, says her church practices inclusivity, welcoming all because "God welcomes all," and attended the rally in support of immigrants. Noting the division of Christians on the issue, she said she is respectful of her congregation members who disagree but refuses to be silent, calling it a matter of justice.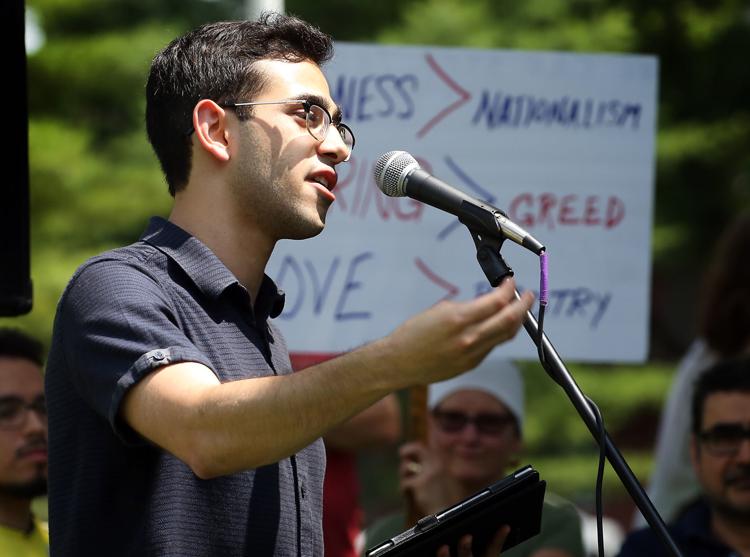 "We're concerned about the biblical impact," Gentry said.
UW-La Crosse students Andrew Jarrett and Matlyn Farber expressed horror over a news segment showing a teen begging not to be deported, having fled gang violence in his native country. Jarrett called out Trump for using stereotypes to justify policy, and Farber said Trump was acting out of self-interest in ending the separation of families at the border.
"Just the way he talked about the issue is very egocentric," Farber said. "He acted like he was a hero for doing this mandate even though it was his (policy) in the first place."
A federal court on Tuesday forbid the Department of Homeland Security from continuing to separate families, and requiring reunification of those already affected within 14 to 30 days, depending on the age of the minors, with communication between parents and children established within 10 days. Rally participants called for further steps ending family detention and policies that criminally prosecute families for bringing their children to safety.
Sherman was cautious about the reversal of the administration's family separation policy, noting the lack of of a solid plan to reunite families, especially in the midst of chaos at the border and in detention facilities across the country. However, she was encouraged by the number of people standing up both locally and at rallies nationwide.
"We can be patriotic and not agree with policy," Sherman said. "We are all human, and we should all be treated equal, no matter race, age, creed or religion. We don't need to build walls. We need to tear them down."