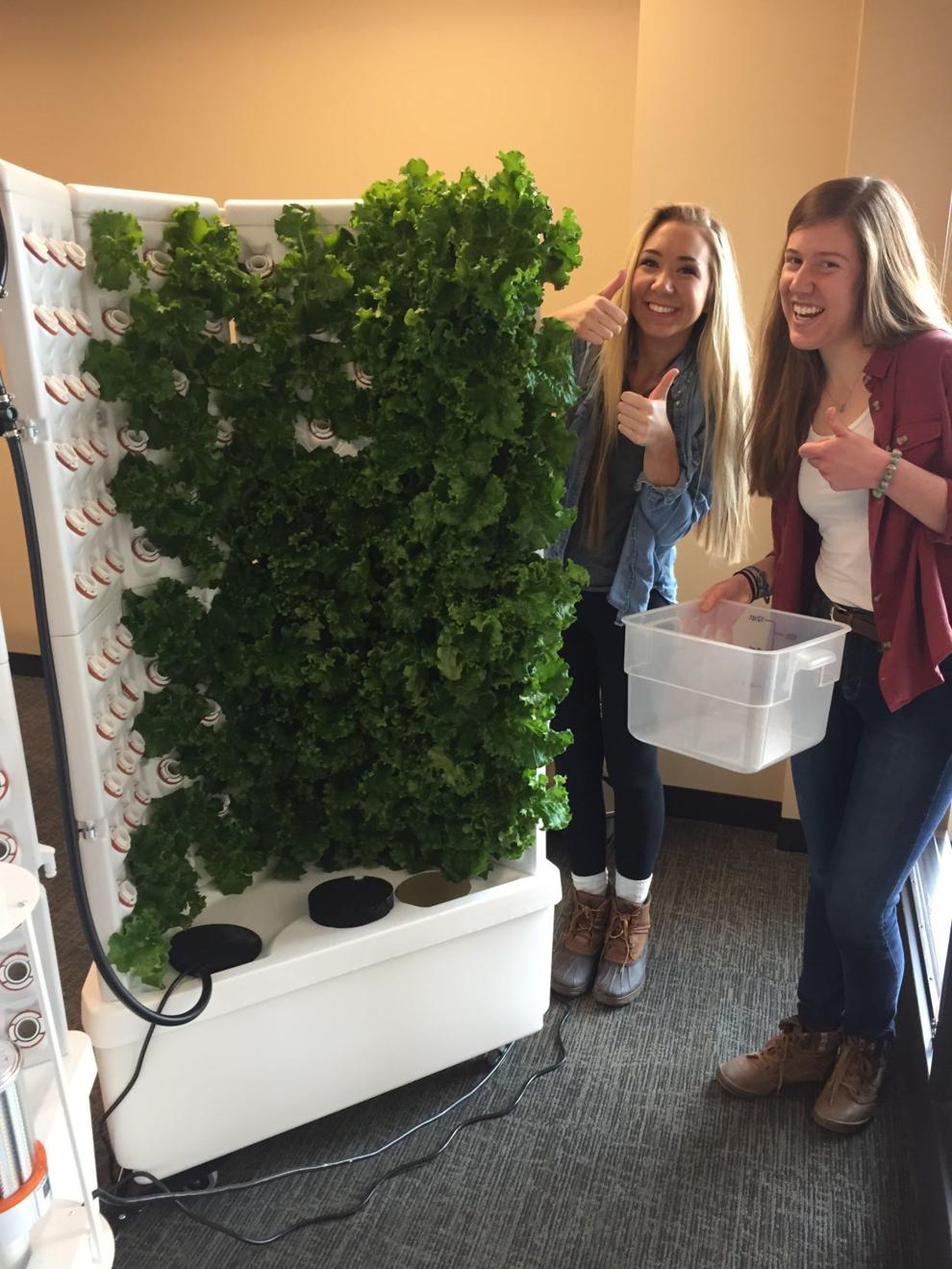 Hannah McDaniel has always been interested in gardening and sustainability, and as a Viterbo University nutrition and dietetics student she of course knows the importance of fresh produce in a healthy diet.
Working on Viterbo Univeristy's new vertical hydroponic garden then made perfect sense. Hydroponics is the practice of growing plants with a nutrient solution.
"I'm researching the feasibility of using hydroponic gardens in food pantries," said McDaniel, a junior from Naperville, Ill., whose career goal is to work in an eating disorder clinic. "Most food pantries rely on donations and fresh produce isn't always available. I'm learning a great deal about sustainable agriculture and innovative forms of food production."
Fellow student Sarah Prill would like a career in sports nutrition. She is working on the garden as part of a project for one of her courses, Supervised Practice in Community Nutrition Research.
"I am attempting to use the hydroponic garden to increase vegetable consumption in Viterbo students," said Prill, a junior from Barron. "College students tend to have particularly low vegetable consumption due to a combination of tight finances and lack of convenience. With the hydroponic garden, we can address both of those barriers. Throughout the spring, we plan to offer a free salad bar every other week or so with the vegetables we've grown."
Hydroponics is a growing trend in sustainable agriculture, and this is reflected in the Viterbo nutrition and dietetics program curriculum. Hydroponics allow fresh vegetables to be grown almost anywhere, eliminating the fuel consumption of long distance transportation.
"I've read about hydroponics in the past, but getting the chance to actually set up and run a hydroponic garden for an extended period of time is a completely different learning experience," Prill said. "As advancing technology brings costs down, I think that hydroponic farming will become a more common form of food production. Hydroponic gardens have the potential to become a staple in community nutrition programs from schools to food pantries, especially in colder climates and urban areas. Having the opportunity to work with one now gives us valuable experience ahead of the curve."
Viterbo professor Carol Klitzke got the idea for the hydroponic garden after attending the Midwest Renewable Energy Association Energy Fair in Custer, Wisc., last June. After receiving strong student interest, she went ahead with the project. The hydronic garden was purchased from a company called Fork Farm of Menasha, Wisc., with money from a fund established by alumni and designated for nutrition and dietetics education.
The garden was set up in early December, and after a learning curve and experimentation to achieve the ideal nutrient mix and water PH level, the first crop of lettuce was harvested Feb. 5. The growing time for lettuce will now be approximately four weeks. More than 40 students ate a free salad bar lunch the next day.
"You should have seen the student's faces," Klitzke said. "I think they felt a lot of satisfaction from growing and eating their own food. The event was very festive."
Seeds are germinated in a tiny greenhouse, and then plants are transferred to the garden. The garden will also be used in the future to grow things such as basil, herbs, and tomatoes, some of which the students will put to cost effective use during the Viterbo Student Dietetics Association's annual Viterbo Days spaghetti dinner in October.
"It's amazing to see how quickly the plants grow," Prill said. "The best part is seeing how excited the students and faculty get about the garden. People are always stopping by to check it out, and we love seeing their faces light up when we show them what's growing."