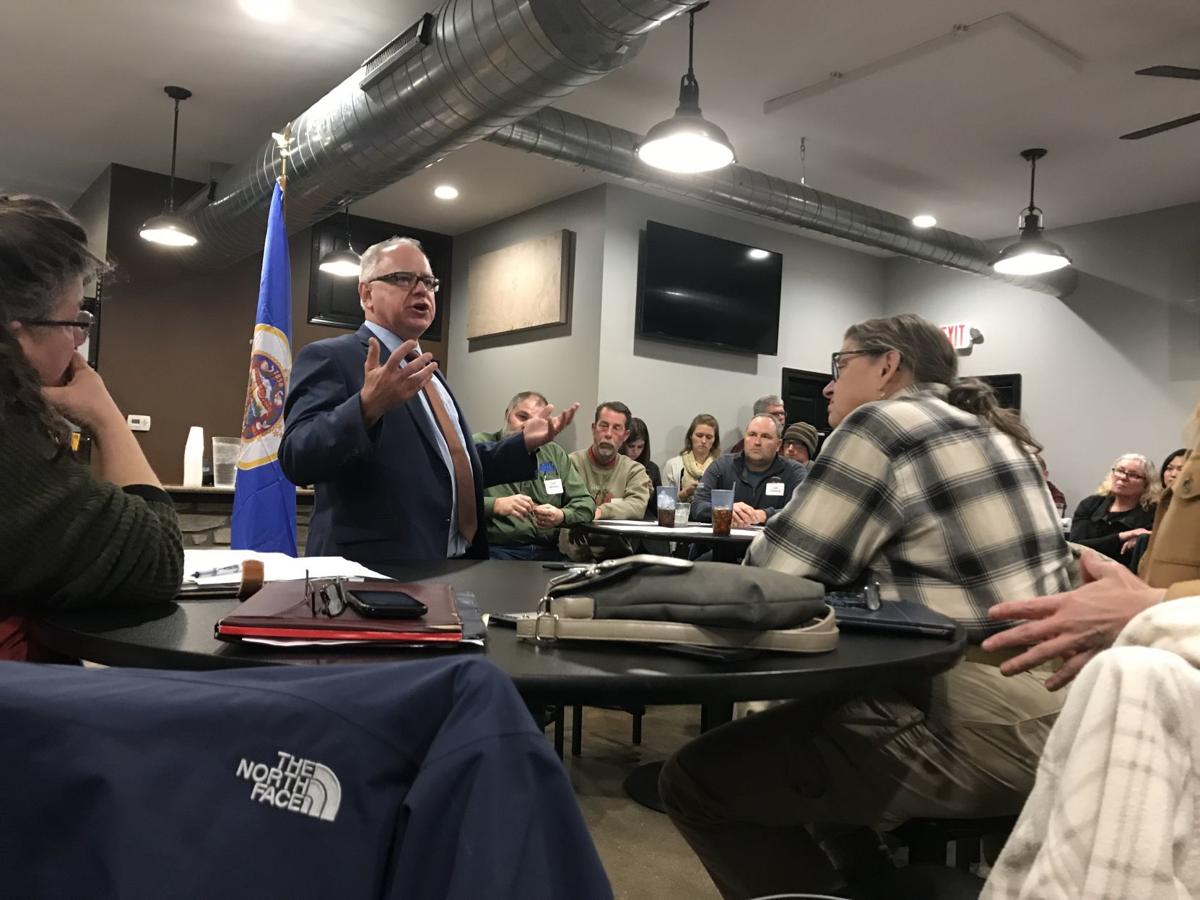 LA CRESCENT — Tim Walz, the people's governor.
That's how Minnesota's governor-elect described himself during an appearance in southeastern Minnesota on Thursday, saying public engagement will be critical as the state works to address failing schools, crumbling roads and soaring health care costs.
"Whether you work in law enforcement, commerce, education or conservation … there is a role to be played in making your voice heard," Walz said to about 50 community members assembled at the Sports Hub bar and grill. "I hear people say that it's like spitting in the ocean, but it's not. This is how change happens."
Walz, who spent the past decade representing southern Minnesota in Congress, said he will lean on citizen committees and task forces when making key decisions, and give local governments the freedom to implement legislation as they see fit.
But, he said, there are some things on which almost everyone can agree:
There are too many inequities across the public school system — inequities that are crippling rural, low-income school districts.
Communities, especially small towns, shouldn't have to choose between keeping a police officer and fixing a road.
And something needs to be done when people are skipping the doctor or going without their medication for no other reason than the cost.
According to Walz, these and other problems will be addressed when lawmakers begin seeing them as priorities — and begin funding them that way.
"A budget is a moral document of the values we have," he said, adding that investing in communities also makes economic sense.
For Minnesota to compete, he said, "we're going to need an educated and healthy workforce."
On Thursday and throughout the election, Walz stressed his vision of "One Minnesota," pushing back against the notion that the Twin Cities and Greater Minnesota are fundamentally different.
He and Lt. Gov.-elect Peggy Flanagan have vowed to stitch the state back together, saying there is no better time to do it, given the political polarization nationally.
Walz' time in La Crescent, part of his administration's "One Minnesota" listening tour, was a small first step.
"I said I'd work my tail off for you with the premise that federal government will remain broken, and we'll have to pick up the slack," he said. And that will require bipartisanship. Minnesota has the only divided legislature in the country, with a Democratic House and a Republican Senate.
"I don't see that as a detriment — I see that as an opportunity," Walz said. "When one side has control to push things through, the other side will often undo it all when they take back control. I'm looking at this as an opportunity to pass some long-lasting legislation."
It's likely that some of those laws will address two other hot-button issues: climate change and recreational marijuana.
Walz said Minnesota should "follow science and have a long-range vision" for protecting the environment, and said he would encourage environmentalists and business leaders to find common ground.
"Few people would say they're not in favor of clean water, and few people would say they're not in favor of economic development," he said.
In August, Walz announced on Twitter his support for legalizing marijuana — a move that enthused some and troubled others, especially those who fear that minors will see marijuana and other drugs as more socially acceptable.
Walz has touted the potential tax benefits of legalization, as well as the chance to rectify racial injustices in the legal system.
"I discourage my teenager from using marijuana every day," Walz said Thursday. "I'm not blind to the societal cost this could have … but prohibition doesn't seem to be working."
Get local news delivered to your inbox!
Subscribe to our Daily Headlines newsletter.