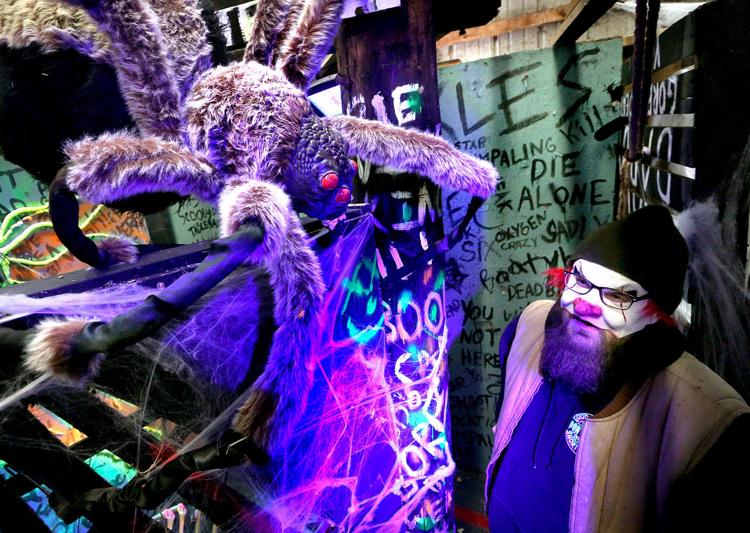 An insect invasion is never pleasant, but the plague of pests at the Onalaska Jaycee's Haunted House is downright dreadful.
Fear seekers will find themselves caught up in a web of scares at the 38th annual Jaycee's Haunted House, themed "Infestation" and filled with creepy crawlies of monstrous proportions. Guarding this lair of terror is Penelope, a towering arachnid spanning nine feet in diameter, flocked by a posse of spiders much smaller in stature but equally eerie.
Insects and arachnids aren't the only things offering up scares in the 2018 incarnation of the Haunted House, which debuted Friday and opens again Saturday at 7 p.m.
After nearly four decades of conjuring up scary scenes and ghoulish costumes, the volunteers behind the Coulee Region's famed Halloween destination continue to up the ante, filling the Clearwater Farm barn structure with new sets and technology that continue to scare up the customers.
Held at its current location on Green Coulee Road since 2004, the Haunted House is both a Halloween season highlight and charitable fundraiser, with admission fees from the some 3,000 to 4,000 annual visitors distributed to local charities and organizations.
In past years, Clearwater Farm, PAWS for Independence, New Horizons and the Onalaska Police Reserve have received donations on behalf of the Jaycees. Haunted House-goers are also invited to bring two nonperishable food items in exchange for $2 off their admission fee, and in 2017 around 2,500 pounds of food were collected for local food pantries.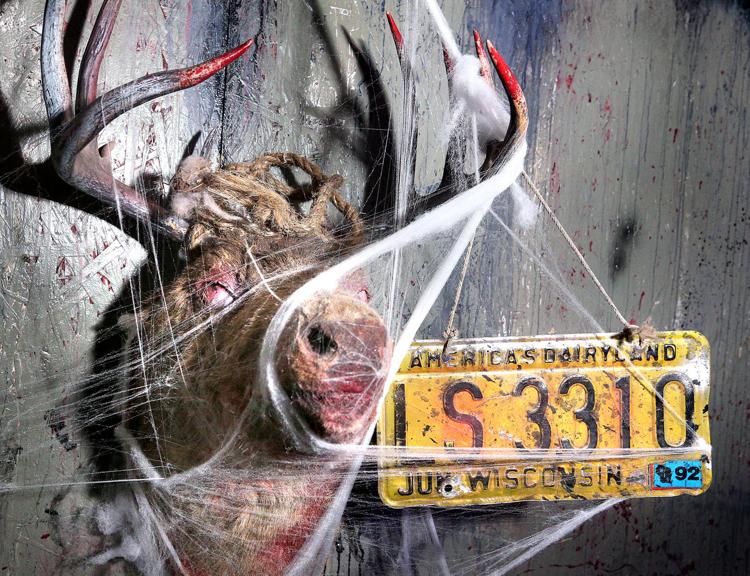 About three dozen teens and adults have a hand in creating the Haunted House each year, with about 15 core volunteers starting plans four months in advance. Drawing inspiration from everything from pop culture to album covers, volunteers create visuals and soundtracks that keep the scares coming throughout the duration of the tour. "Infestation" spans 13 sets and several hallways with little reprieve in between.
"We're in your face and we like overstimulation from start to finish," said Micheal Cole, a director for the Jaycee's Haunted House. Cole has been involved with the Haunted House for the past 18 seasons, coming on board at age 17. Finding the adults often took the reins when he was younger, Cole encourages the teen volunteers to contribute both ideas and labor.
"I've tried to make it the place I wanted it to be when I started," Cole said. "The kids have the creative input to be themselves, learn a couple of skills — usually by accident — and have fun. There are a lot of friendships that develop at the haunted house ... and the kids get started earlier in community service."
The efforts and enthusiasm of the volunteers don't go unnoticed by fear fanatics, who line up well in advance for tours and leave with reactions ranging from giddy to mouths agape.
"We have everything from people laughing the entire time to curling up in a ball and crying," Cole said. "Sometimes they don't make it all the way to the Porta Potty."
Last year, not even a torrential downpour could keep one group of dedicated thrill hunters away, choosing to huddle in the rain for 45 minutes for their turn.
"They said it was worth the wait," Cole said.
Those who toured the house last October will recognize the continuation of the 2017 "FreakHaven" theme, where toxic waste overtook the town.
The devastation picks up with an infestation of snakes, rodents and insects, from which the "Freaks" are seeking solace when a snake-charming preacher by the name of "Asa Spades" and his posse appear with a plan.
Characters including the "Devil's Advocate" and the self-explanatory "Exterma-pig" dole out masks the Freaks believe will protect them from dangerous toxins used for insect eradication.
In fact, the masks are a ploy for Asa Spades and crew to take control and brainwash the Freaks into carrying out nefarious deeds.
A roster of new characters, electrical props and hydro effects will help bring the chaos to life, and Cole promises plenty of bang for the charitable buck.
"There's no doubt people are going to walk through the house and know there is an infestation going on," Cole said.
The Haunted House opens at 7 p.m. Saturday, with ticket sales starting at 6:30 p.m.
Children are invited for a "Lights On" tour from 11 a.m. to 2 p.m. Saturday during the Clearwater Farm Spooktacular event, which includes games, crafts, photo booth and farm animal viewing. The cost is $5 per child.