The donations to Toys to Tots have changed a lot over the past 85 years — Shirley Temple dolls have been replaced by Barbie, Bratz and now Baby Alive — but the joyous reactions of the recipients have stayed the same.
Founded by La Crosse resident Fred Kramer in 1934 and anointed Toys for Tots when the local Jaycees came onboard the next year, the annual holiday gift drive brings in about 1,200 stuffed animals, action figures and board games for local youth who might not otherwise have a wrapped package under the tree.
The inaugural year, Kramer turned an initial budget of just $300 into enough goodies to fill 1,300 baskets by partnering with the local Majestic Theater to collect toys in exchange for a matinee and asking the La Crosse Fire Department to spruce up used toys for distribution.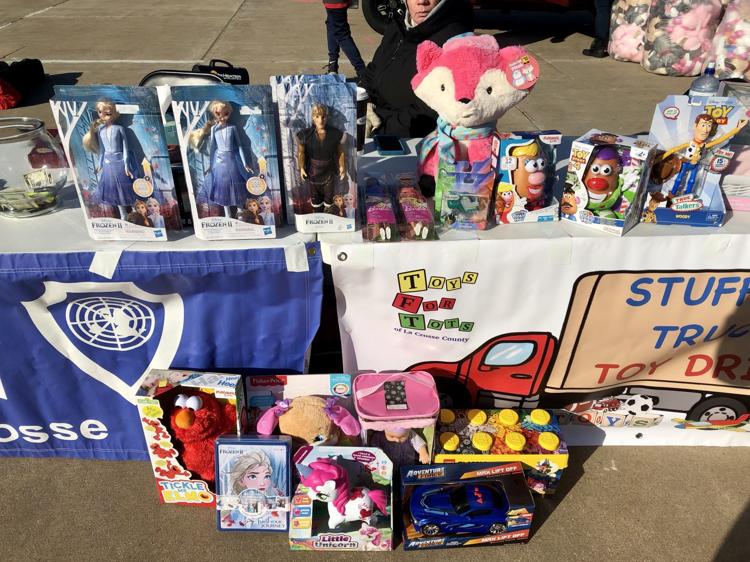 In recent years, the Jaycees have employed a "Stuff the Truck" method to stock up on puzzles and action figures, parking a River States Truck & Trailer loaner in front of the La Crosse Center during the annual Holiday Fair, which draws thousands.
Families had a chance to register their kids for toys at The Salvation Army both prior to and the day of the drive, with items collected the day of and in donation barrels placed throughout the city to be distributed Dec. 14 at the Family & Children's Center.
You have free articles remaining.
"The number of families is growing every year, and the support from the community is getting bigger and bigger," said five-year Jaycees member Lyndsey Langer.
By 11 a.m. Saturday, the Jaycees had already collected enough toys for 350 to 400 families, or 1,200 kids, with "Frozen" movie merchandise, Nerf guns, superhero figurines and pretend kitchen wares among the most popular picks for Christmas 2019.
The Jaycees spend about 800 hours facilitating Toys for Tots, signing up parents and noting their toy requests, distributing drop-off barrels, shopping for kids DVDs using monetary donations and filling black bags with $50 worth of toys per child. Each registered child will also receive a stuffed animal, with PetSmart dropping off seven bursting-at-the-seam garbage bags of plush unicorns and teddies early Saturday.
"The parent will tear up and get excited when they get a bag," Langer says. "They don't know what's inside it but they're so grateful. There's nothing more rewarding than seeing that."
The gifts are bundled in opaque bags so parents can sneak them home for wrapping, crediting Santa for the bounty if they wish to preserve the magic of the season.
"(It's about) bringing a smile to their face," said two-year Jaycees member Jason Jones. "It's our theory that no child should go toyless on Christmas."
Toys for Tots donation barrels are located at more than four dozen local businesses and organizations, including Walgreens, United Healthcare, Red Balloon Daycare, Anytime Fitness and Bauer's Market. New toys can be dropped off through Dec. 5.