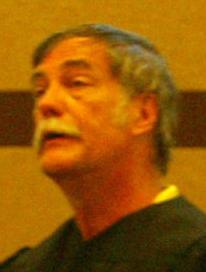 Judge John Brinckman will not be running for reelection on the Coulee Region Joint Municipal Court, citing health and family-related reasons.
Brinckman, who just turned 64, originally filed as a candidate for reelection last month, but after evaluating another four-year-term, decided he wanted to dedicate that time to his family and remaining healthy.
"There's a lot of different aspects to my not running," Brinckman said, noting that he suffered severe injuries in a car crash last year and a few years prior in an exercising incident.
"It's been a good time for me," Brinckman said,"I want to spend more time with my daughter, so I just changed my mind, and I said, you know what? Mark is gonna do a good job."
Brinckman gave his full support to his only opponent, Mark Huesmann, an attorney out of Holmen and longtime friend of his.
You have free articles remaining.
"I know that he can handle the job very well," Brinckman said.
In 2018, local officials called for Brinckman's resignation after a highly disputed amount of untouched case boxes were found in the court's basement, but the vote to remove him did not pass.
First elected to serve Municipal Court Judge of Onalaska in 1987, Brinckman noted how much had changed over his time, including the adoption of several other municipalities and four building changes.
The court handles traffic citations and city ordinances in Onalaska, Bangor, Holmen, West Salem and the towns of Campbell and Shelby.
"It's been a real learning experience in many different ways," Brinckman says of his more than three decades as a judge. "I try to encourage people to think about their actions and not make the same mistakes again in the future."
"It's been a real learning experience in many different ways. I try to encourage people to think about their actions and not make the same mistakes again in the future." Judge John Brinkman,

of his more than three decades on the bench
"It's been a real learning experience in many different ways. I try to encourage people to think about their actions and not make the same mistakes again in the future."

Judge John Brinkman, of his more than three decades  on the bench