Ten days before Sherwood Wing's 24th birthday, an armistice officially ended the carnage of World War I, which killed an estimated 20 million people and wounded 21 million others.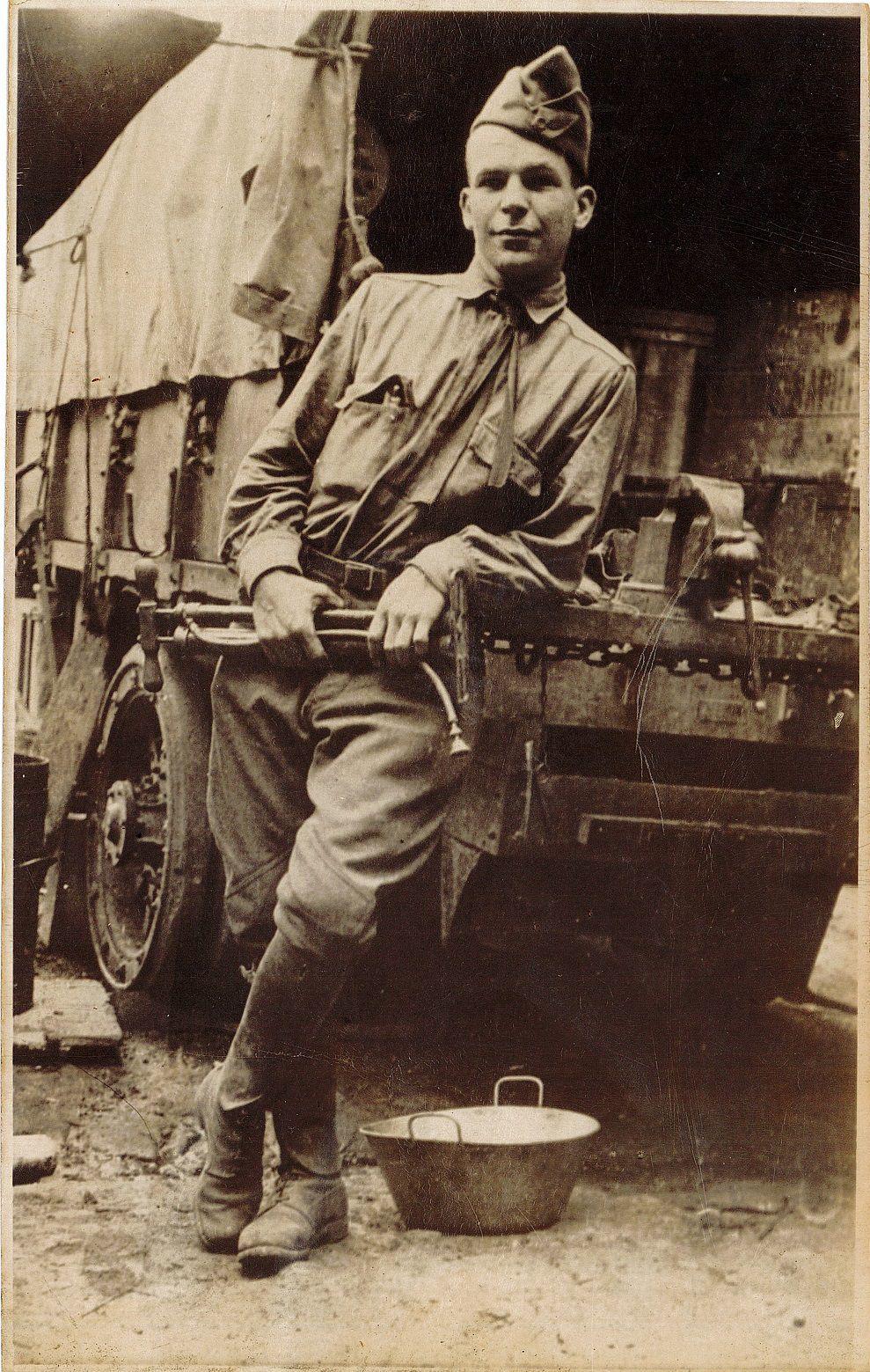 As a young man in La Crosse, Wing volunteered in July 1917 to join the American Red Cross in Paris as a member of the American Volunteer Motor Ambulance Corps, arriving in France as a volunteer driver months before the U.S. Army landed and carrying out his duties with little regard for his own safety.
In January 1919, two months after the Great War ended at the 11th hour on the 11th day of the 11th month in 1918, Wing was awarded the Croix de Guerre by Marshall Phillipe Pétain, commander in chief of the French Army.
Wing's Croix de Guerre, France's medal for heroism in combat, was accompanied by the citation "A driver mechanic of remarkable courage and zeal. He has not hesitated to frequently render himself in the lines of the ambulance service in the division, giving proof of absolute disregard of danger under the most violent bombardments."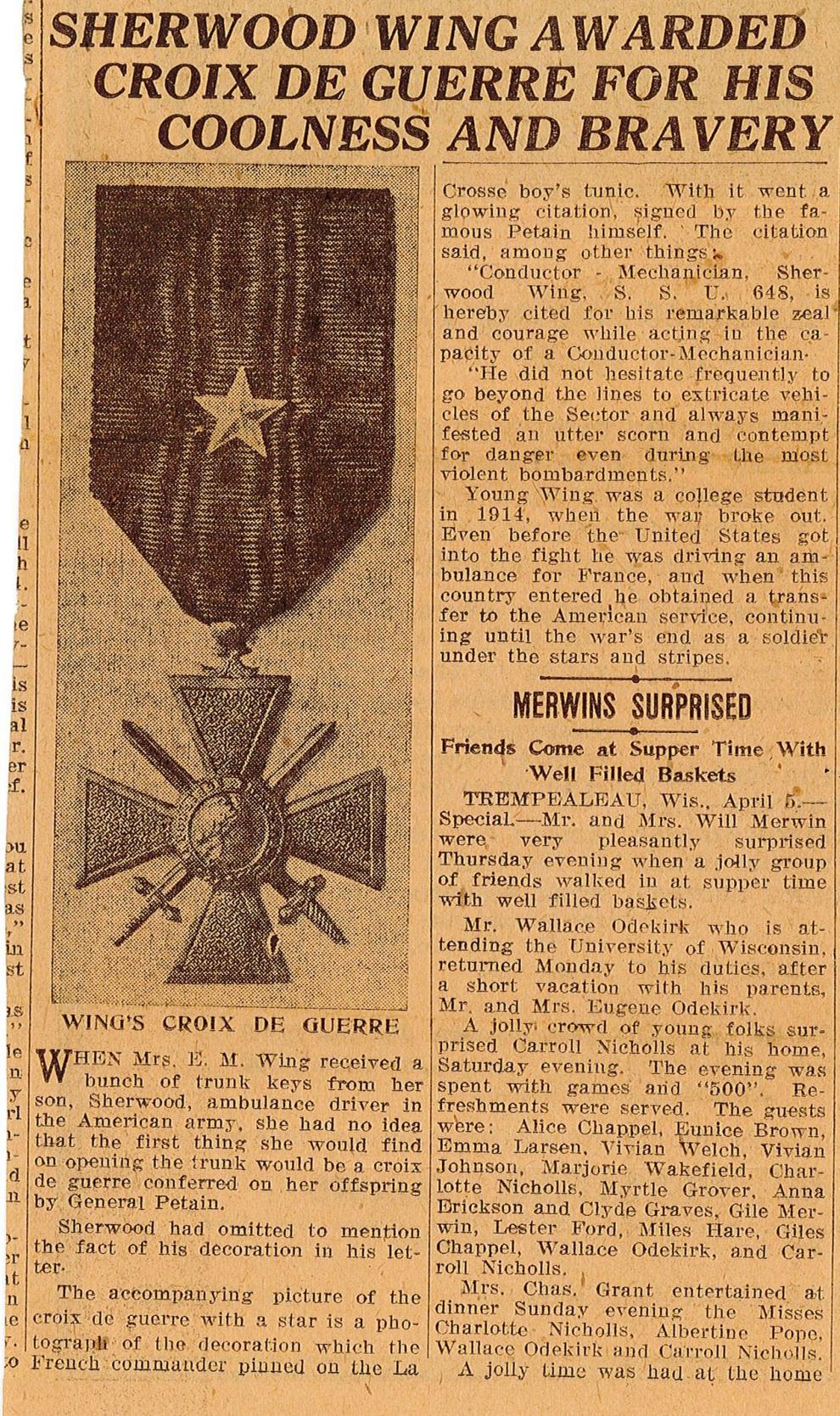 "He always said that he volunteered because he got tired of waiting for the American army to join the fight," granddaughter Elizabeth Wing Bashor said.
Getting over there
To join the American Red Cross in France, Wing went through a number of steps that U.S. doughboys were able to sidestep, courtesy of Uncle Sam. First, he had to submit four letters of recommendation, attesting both to his good character and his qualifications. At the time he joined, Wing was working for the La Crosse agent for the Overland Automobile Co.
"He is a young man of good character and ability, is a graduate of our local high school and has spent about two years at the University of Wisconsin," wrote attorney J. E. McConnell, chairman of the La Crosse County Council of Defense, in his June 13, 1917, letter.  
Wing then had to obtain a U.S. passport. According to the document, 22-year-old Wing stood 5-foot-4, had a high forehead, gray eyes, broad nose, medium mouth, round chin, brown hair, fair complexion and oval face. It also notes that he is travelling to France with "ambulance work" as the object of his visit. He obtained a visa from the French consulate in New York on July 5, 1917, and passed through customs at the Port of New York to board a ship that arrived in France on July 18.
Once he joined the ambulance corps, Wing served in a unit attached to the French army. It wasn't until Oct. 5, 1917, that he enlisted in the U.S. Army's American Expeditionary Forces in Noyon, France, according his soldier's pay booklet. His monthly pay was $40.20, with $6.50 deducted to pay for a $10,000 "War Risk" insurance policy. Though now an American soldier, his unit remained attached to the French army for the duration of the war.
Letters home
In December 1917, The Owl, a genealogical quarterly magazine published by the Wing family carried this paragraph: "Sherwood Ellsworth Wing, son of Mr. and Mrs. Edwin M. Wing of La Crosse, Wis., is now with the military organization known as the U.S. Ambulance Service, attached to the French Army. Under date of Dec. 23, he wrote his parents from the French front: "Nevertheless, we're happy. We're en repos, billeted around in groups of six or eight with a stove in every room. I'm in a cellar with six other fellows and very dry and warm in spite of the fact that there's six inches of snow on the ground and the weather has been below freezing for a week."
Among the items kept by Wing's family for the past century are two other letters he wrote from France, one to his father and one to his sister Dorothy.
In his letter to Dorothy, dated only Friday, the 7th, Wing writes that his unit may be quartered in barns, tents, old chateaux -- almost any shelter. "We have 20 Fiat cars of which 8 to 10 are on duty all the time, one Panhard carrion [apparently a truck] for the machine shop and one Delage touring car for the officers (the French lieutenant and the American chef)."
He notes that despite alerts for the past three nights of a gas attack, it hasn't materialized.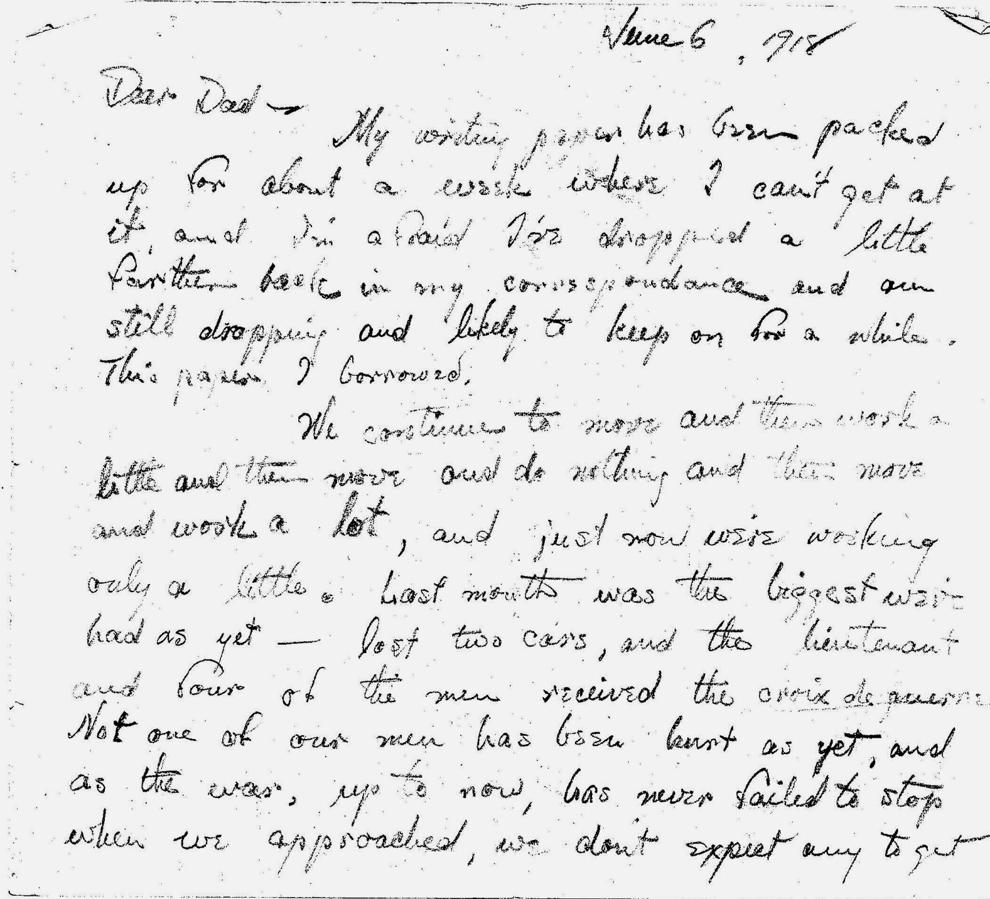 "Rumors are still rife that we're going to move ... we're hoping to go somewhere where there's more action, now that we're fairly well prepared for it ... We're hoping for Verdun or the Chermin-des-Dames for ourselves. I don't suppose the (French) Division has any desire to see any of those places, as most of the men in it have seen three years of fighting," he wrote. "With much love, Sherry"
In the June 6, 1918, letter to his dad, he writes: 
"We continue to move and then work a little and then move and do nothing and then move and work a lot, and just now we're working only a little," he wrote. "Last month was the biggest we've had as yet -- lost two cars, and the lieutenant and four of the men received the Croix de Guerre. Not one of our men has been hurt as yet ...
"Another section, which seems to hang right near us no matter what part of France we go to, has had three men killed, three captured, four gassed and one wounded in the last 2½ months, and practically all of their cars have been shot up a little. One of their men was coming in from post with some wounded and drove right through a town which the enemy held at that moment (he didn't know it until he got there, or course) and got away with it. So you see we realize our luck and appreciate it."
American Independence Day, 1918
One other document in the Wing family file is a hard-to-read copy of a general order to Division 365 issued on July 4, 1918, in which the commanding officer says "I am glad to take the opportunity of greeting affectionately my boys from the Sanitary [medical] section ... During the past month, they have always proved their remarkable skill; their never tiring devotedness; their utter contempt of danger.
Citing President Woodrow Wilson's pledge of "Everything for France!," the commander notes, "In fact it is not only for France or America that we fight, it is for the whole world, it is for Liberty, which enlightens it. It is for the everlasting victory of Justice.
"Long live our brothers from America who have been victorious at Bourresches, Cantigny, Chateau-Thierry and the Bois (woods) de Belleau, which has since been called 'Bois de Americains.'"
Returning home
After the armistice was signed, Wing remained with the French Army for several months. On Jan. 26, 1919, he was awarded the Croix de Guerre, something his mother only learned when her son's footlocker arrived back in La Crosse and she opened it, according to a yellowed but undated newspaper clipping kept by the family.
According to his honorable discharge papers, Wing was engaged in battles at the St. Suentin sector Nov. 3 to Dec. 5 in 1917; the Somme Defensive March 30 to April 6, Cuvilly sector May 9 to June 1 Montdidier-Noyon Defensive June 9-13; Compignon sector June 3 to Aug. 18; Aisne-Marne Offensive Aug. 8-27 and the Oise-Aisne Offensive from Sept. 11 to Nov. 11; all in 1918.
Wing collected his final pay in France on April 1, 1919, and sailed home from the port of Brest on April 12, arriving in Hoboken, N.J., eight days later. He was honorably discharged from the U.S. Army on May 3, 1919, at Camp Grant in Illinois, was awarded a bonus payment of $189.67, and returned to La Crosse. In 1921, he and his father Edwin M. Wing formed a financial firm called Wing and Co. He died Feb. 5, 1972, in La Crosse.
Vive la France!
Although his documents were filed away for safekeeping by his family, Wing brought home memories of life in France that he kept in his heart while passing them on to others.
"He used to tell us that the French were some of the greatest people in the world," recalled his granddaughter Elizabeth Bashor, who studied French in high school and college as a result of Wing's stories, his teaching her to sing "La Marseillaise" (the French national anthem) and his playing of Edith Piaf records for her as a girl. After her family moved to Denver, Sherwood Wing's wife died and he joined them out west.
"He took us out to dinner at The Normandy, the one French restaurant in Denver, because he had been in Normandy," Bashor said. "He was a bon vivant and always ordered Champagne for the table.
He also brought back another passion. "He always liked driving fast and always drove very fast with all of us grandchildren in his big car and it made my mom nervous," Bashor said. "But we weren't afraid -- he really knew how to take those curves."
This story is based on a collection of artifacts preserved by the family of Sherwood Wing. The Wing family moved to La Crosse around 1870.