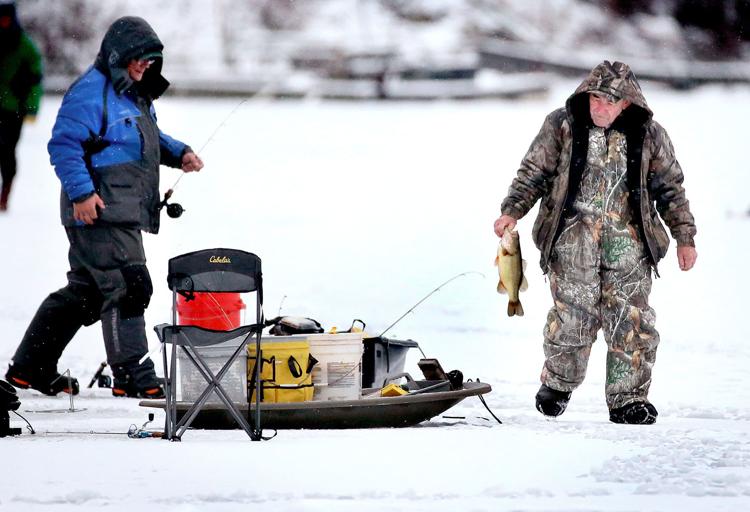 Increasing numbers of anglers are walking on water in the Coulee Region to take advantage of the early ice that is said to offer up some of the best catches of the season.
Safety conditions vary depending on where the anglers are — lake vs. river, swift current vs. calm backwater, shore vs. middle — but it wouldn't hurt to have a few more days' patience to avoid swimming with the fishes in some areas.
Jesse Griep and Brody Rundhaugen of Coon Valley were rewarded Monday with fair numbers of crappie and sunfish for their temerity in walking on half-inch ice that occasionally broke through to firmer ice a couple of inches below on Swift Creek on La Crosse's South Side. That scenario resulted from the fact that some ice had formed last week, then the warm weekend's mix of rain and snow added a layer of water on top.
Thus, Griep and Rundhaugen had to slog through slush to get to the spots where they drilled holes in ice 2 to 3 inches thick. Griep was fishing in 28 feet of water, and Rundhaugen 22 feet.
It wasn't even their first venture of the season, they said, having tempted fate in the same spot on Nov. 26. Swift Creek is a gut off the Mississippi River with a current — it's called swift for a reason — that could propel a person into the main channel faster than a bass inhales a spinner bait.
Even though a bit of open water was just a weak stone's throw away, Griep wasn't worried, other than to say some areas were "sketchy," and noting that the only time he has broken through while ice fishing was just one leg.
After another night of freezing temperatures, the number of anglers on Swift Creek had swelled to 10 on Tuesday.
Meanwhile, 6 miles north as the eagle flies, only two anglers were trying the thin ice in the middle of Lake Onalaska around 9 a.m. Tuesday. A village of trucks, cars and fishing shacks will sprout there in three or four weeks — Lord willing and the sun don't shine too hot.
But fishing action closer to shore is good on 2 to 5 inches of ice, said Mark Viner, owner of Emma's Bait Shop at N5610 County Road OT. The bait du jour is waxworms, although a few anglers have been using shiners, Viner said.
In addition to panfish, anglers have caught some decent bass and a few northerns, he said, noting that conditions for tip-up rigs aren't quite right yet.
Fishing conditions are better on lake chains to the north and in Trempealeau County, Viner said.
Twelve miles east-northeast of Onalaska, on Lake Neshonoc near West Salem, anglers "are starting to wander out," said Tonya Whitewater at Neshonoc Sports. Some caught a few walleyes below the dam last week, but not much since then she said.
Another cold snap should unleash a torrent of anglers, speculated Whitewater, who said the shop is gearing up for the season.
Clear, solid ice at least 2 inches thick usually is enough to support one person on foot, according recommendations from the Wisconsin Department of Natural Resources. The DNR advises waiting until the ice is at least 3 inches thick and making sure to go with a friend in case of a breakthrough.
The DNR also has several safety tips to avoid falling in, as well as what to do if you do take the plunge. As counterintuitive as this may sound, one tip is not to remove winter clothing because heavy clothes — especially snowmobile suits — can trap air, providing warmth and flotation.
The DNR website also offers illustrated plans to make ice claws to grip the surface and help pull yourself out of the drink.