After years of balancing two full-time jobs, running a business and raising five kids, Mary Wilbur found herself an empty nester last year, making it a perfect time to resurrect a longtime dream.
In late October, Wilbur opened the RootinCrown, a charity-based consignment store, on the South Side of La Crosse, fulfilling a vision conceived in 2010. Then the owner of a consignment shop in Coon Valley, Wilbur was overwhelmed by the challenges of overseeing dozens of booths and vendors. Looking for something more rewarding, she hit upon the idea of a resale shop with purpose, and opened a community depot within her shop, allowing community members to support local organizations through donations and purchases.
"People embraced it," Wilbur said. "It took off tremendously."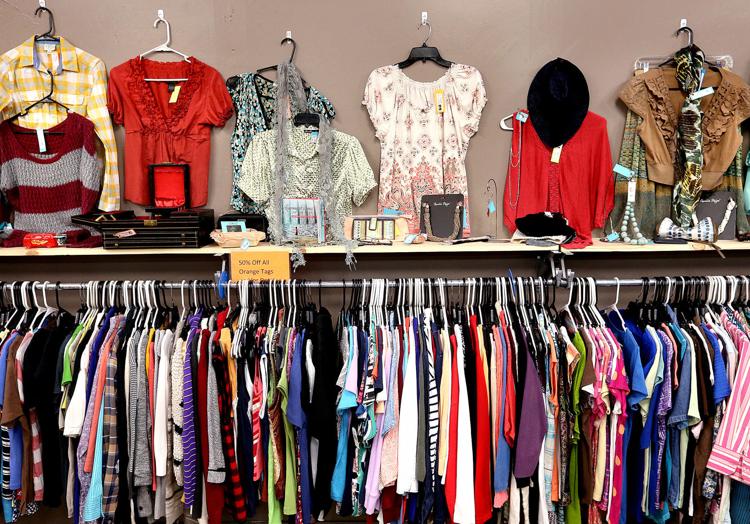 Despite the early success, Wilbur sold the shop just two months later after being divorced, the new owner shuttering the depot almost immediately.
Wilbur, a Realtor and owner of Elite Interior Cleaning, returned to the idea when her youngest child moved out, inspired in part by her mother's optimism throughout her battle with breast cancer.
"She was so positive, and I remembered how positive the community depot was," Wilbur said. "The seasons of life brought me here. It was time to do something a little more caring — time for a change, but I wanted it to be a good change."
The RootinCrown, named in reference to both "Rootin' for the organization" and serving as a support, works on a 50/50 consignment model, with donors earmarking their donations for a specific organization. When the item sells, half of the sale price is added to the organization's account, and checks are distributed quarterly during a "meet and greet" at the store, where recipients are encouraged to network and can shop at a discount.
Three dozen area nonprofits are currently registered, including Coulee Council on Addictions, Tabby Town USA, YWCA, the Hunger Task Force and Heart2Heart Pet Lifeline, which joined in January.
"We like the fact that RootinCrown is supporting charities in our community. They also provide a great way for individuals to donate gently used items and be a part of the community giving," said Marlene Bannen, secretary for Heart2Heart. "It's a win-win for those who donate and for the charities."
Organizations are encouraged to volunteer at the store, and receive an additional 10 percent once 20 hours of service are reached. Individuals are welcome to drop in as they please to help on behalf of the organization of their choice.
"Our volunteers work really, really well. People come off the street and say, 'Hey, can we help?'" Wilbur said.
Donations of clothing, books, home goods and electronics are accepted, with toys, sporting goods and recreational gear selling especially well. All items are cleaned, sorted and staged upon arrival, with new inventory stocked throughout the day. Items are sold at prices comparable to area thrift stores, with 10 percent discounts offered to veterans and service members, and their families.
All donations are labeled by organization, with some shoppers electing to focus their purchases on their preferred nonprofit.
Diane Spensley of Stoddard, who dropped in with her mother Wednesday afternoon, zeroes in on wares donated on behalf of the De Soto eighth-grade trip to Washington, D.C. Spensley has been a frequent customer, appreciative of the friendly staff and atmosphere.
"I love it here," Spensley said. "The people are really nice and I like the prices. And (Wilbur) gives free coffee, too."
The De Soto student trip has proven a popular fund, and each organization registered before the first quarter received a check at the first meet and greet.
"They were ecstatic," Wilbur said. "What they got was more than expected."
Each quarter, funds directed to the Comfort Blanket foundation, created by Wilbur's son Colton several years ago, go toward a local family or families in need. Currently, donations are supporting residents impacted by fires, including those who resided in the apartment complex on McHugh Road in Holmen, which was destroyed by fire in January.
Wilbur is pleased with the generosity the community has demonstrated, and continues to welcome additional nonprofits to join. A second RootinCrown location is set to open in Onalaska this spring, and Wilbur has plans to open several more stores in Wisconsin and Minnesota, eventually creating a franchise.
"People are seeing what we're all about," Wilbur said. "It's good vibes, from the donors to the buyers."
"We like the fact that RootinCrown is supporting charities in our community. They also provide a great way for individuals to donate gently used items and be a part of the community giving." Marlene Bannen, secretary for Heart2Heart