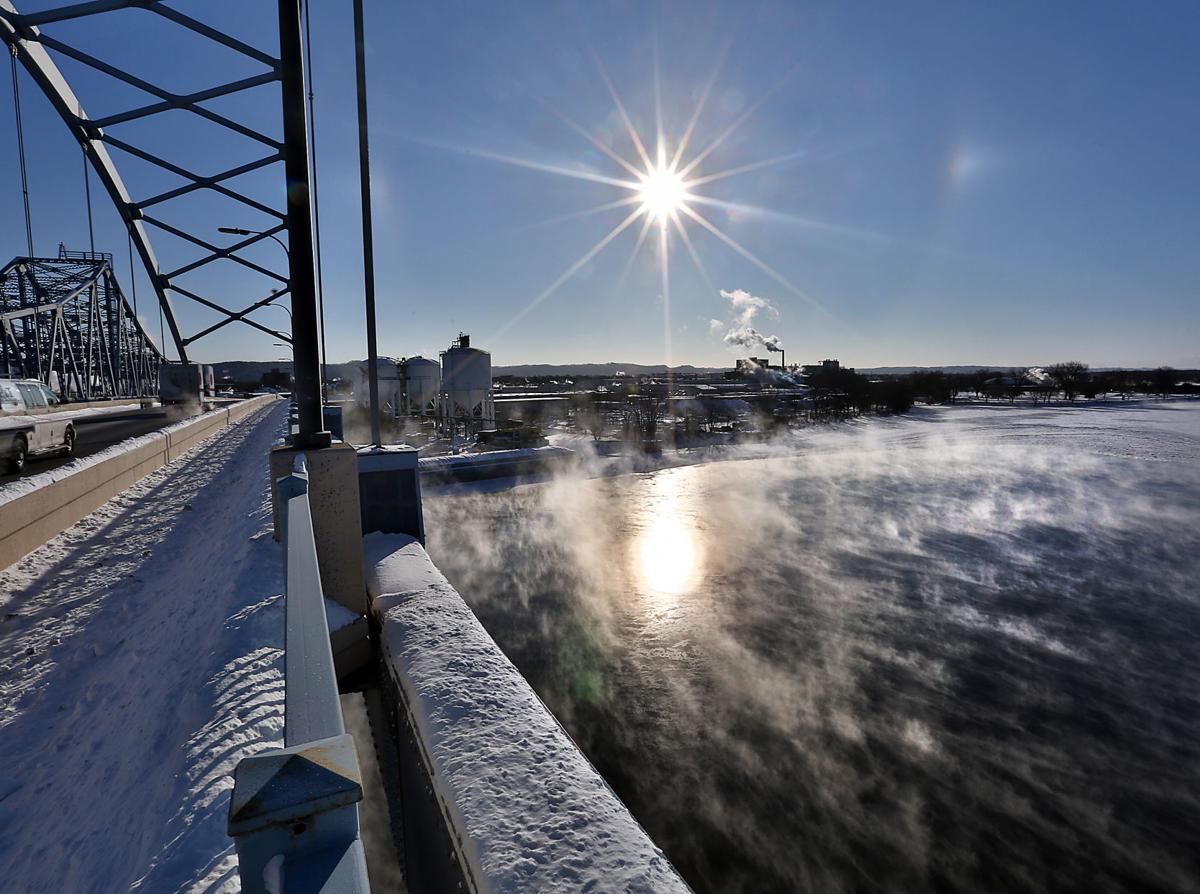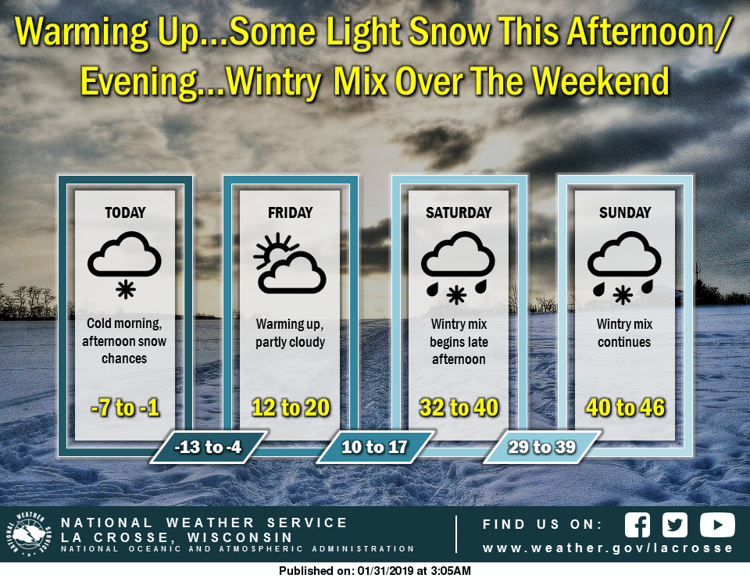 Brace yourself for one more arctic blast.
Temperatures early Thursday are expected to be colder than -30 and wind chills could reach 60 below, according to the National Weather Service, La Crosse.
Wednesday's high was -12, shattering the record for the lowest high temperature in La Crosse on Jan. 30 set inin '99 – that's 1899.
Temperatures likely won't quite reach zero on Thursday, but have warm thoughts: We could see a high of 21 on Friday, and temperatures could reach near 40 this weekend.
But first, it's one more day of disruption, closings and cancellation and a wind-chill warning that's posted until 10 a.m. Thursday.
The University of Wisconsin-La Crosse and school districts in La Crosse, Onalaska, Holmen and West Salem have canceled classes for Thursday, and many other La Crosse area schools also plan to stay closed until Friday.
UW-L officials announced the decision about 1:30 p.m. Wednesday, noting that several campus buildings — including the Student Union, Murphy Library and the Whitney Center — will remain open.
Thursday is the second consecutive cancellation for UW-L, which has not held classes since Tuesday afternoon.
Viterbo University and Western Technical College will resume classes at 12:30 p.m. Thursday.
Most schools and many businesses were closed Wednesday, as dangerously cold wind chills plunged the area into a week of extreme winter weather. Because of so many cancellations and postponements, it's suggested to call ahead before heading out again Thursday.
The bitter cold was tough of everyone — vehicles, too. The wait time for jump-starting your vehicle in La Crosse reached four to six hours Wednesday.
It was a bitter, busy day for folks who delivered everything from pizza to the La Crosse Tribune.
For some, closings proved difficult.
More than 1,000 people 60 and older who receive home-delivered meals through the La Crosse County Senior Nutrition Program or go to the program's congregate noon meal sites have been without that service this week because it operates on the same schedule as the La Crosse School District, said Carissa Pagel-Smith, section manager of the county's Aging and Disability Resource Center.
About 500 countywide receive home-delivered meals, Pagel-Smith said, and 550 go to congregate sites in La Crosse, Bangor, Holmen, Onalaska and West Salem.
"It's a little scary now, going without for four days," including Thursday, when the schools also will be closed, she said.
"We've reached out to a few people to see how they are doing," she said.
"We provide emergency meal packs in December or around the holidays with the hopes that they will save them for emergencies like this," Pagel-Smith said, although some of those who receive the two-meal packs yield to the temptation to use them as treats instead of emergencies.
Some of those who are at risk are under Family Care of the Wisconsin Department of Human Services, which helps frail elders and people with disabilities stay in their homes.
Another disadvantage of the temporary suspension of the meals is that delivery time is the only source of socialization for some recipients, and those who go to the meal sites also do so to interact with others, play cards and participate in other activities, Pagel-Smith said.
If the school district reopens Friday, the nutrition program is expected to resume.
You have free articles remaining.
The Mobile Meals program, which is not under county jurisdiction, has been delivering, although representatives of that service could not be reached for comment Wednesday.
Plumbing companies reported brisk business answering calls to repair broken pipes.
"We probably have had over 20 the past couple of days," said Bob Kellogg, owner of Advanced Plumbing Systems in La Crosse. "Normally, we would have very few."
Most of the calls have involved pipes within homes, often behind walls where there is little protection from the cold, Kellogg said.
Pepsi Cola of La Crosse adjusted its work schedule, giving route drivers the day off Wednesday "for the safety of our employees," vice president/general manager Greg Bartz said.
The bottler and distributor basically treated it like a holiday landing in the middle of the week, with increased deliveries in advance and catching up afterward, he said.
For example, people expecting to have to hunker down for Winter Storm Jayden probably stocked up in advance, so the company delivered more products in advance of the storm, Bartz said.
Most of the company's drivers will be working Saturday in the catch-up game, he said.
The goal is to keep stores well stocked in advance of Super Bowl LIII on Sunday, an important target because Pepsi is a major sponsor of the game between the New England Patriots and the Los Angeles Rams, Bartz said.
Also resuming service after a one-day closure are Wisconsin Division of Motor Vehicles Customer Service Centers, including the one at 9477 Hwy 16 in Onalaska, will reopen for normal business hours of 8:30 a.m. to 4:45 p.m. Thursday.
However, DMV officials advise people seeking service to check online before they venture into the cold, because many services can be done online, including changing your address, ordering replacement driver licenses or ID cards, renewing vehicle registrations and live chats or emailing.
The brutal cold brought out the best in some folks.
Sadly, it also brought the worst.
Businesses in downtown La Crosse felt the cold blast, too.
A number of storefronts posted closed signs Wednesday urging customers to bundle up and return when the deep freeze ends.
The Pearl Ice Cream Parlor didn't sell any ice cream Thursday.
Kroner Hardware on Pearl sold heaters and hand warmers.
And hotels and their restaurants kept busy – even with special discounts that factored in the temperature.