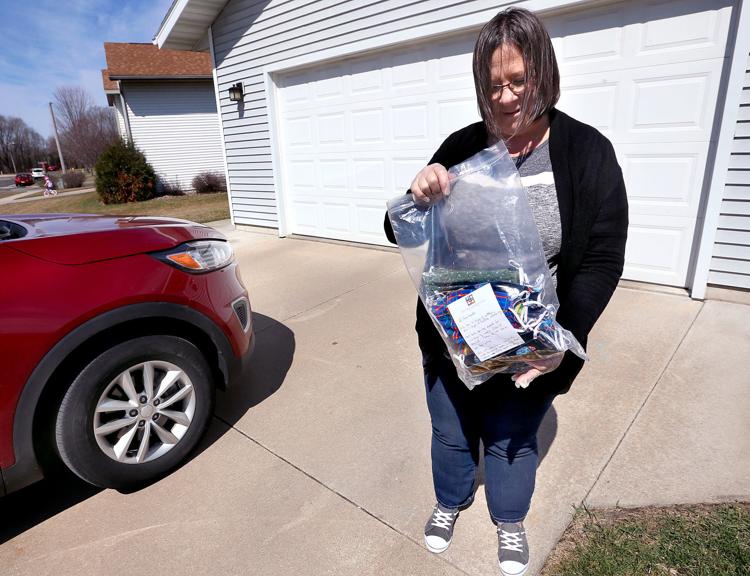 The COVID-19 outbreak has brought challenges to almost all sectors of any community. But it's especially challenging to the aging population, who are at a higher risk if they contract the disease.
Not only are facilities and groups who usually offer such programs as meals, transportation and activities to the aging community forced to shut down, but the community members they serve are likely having to isolate themselves from the rest of the world — more than they already do.
But groups in La Crosse are working to find unique ways to still reach the seniors of the area, while still protecting them as the at-risk population.
"People are telling us they're lonely, they're worried," said Heather Gilles, the executive director for the Coulee Region Retired and Senior Volunteer Program.
"We have to stay connected with these folks."
The group brings in and staffs about 500 senior volunteers around the area, who work events and odd jobs for nearby businesses and groups, which according to Gilles, saves the community "thousands and thousands of dollars."
But this group of volunteers — many at-risk themselves — also work with groups of more vulnerable seniors, who may have a lower income or fewer resources. They help with things like meals, groceries, transportation to appointments and sometimes simply being a companion.
The group is now being faced with the challenge of providing these essential needs to the community, while keeping everybody safe.
"It's definitely been interesting," Gilles said. "I think that there's a lot of them that would like to [volunteer] but they know of the health risks."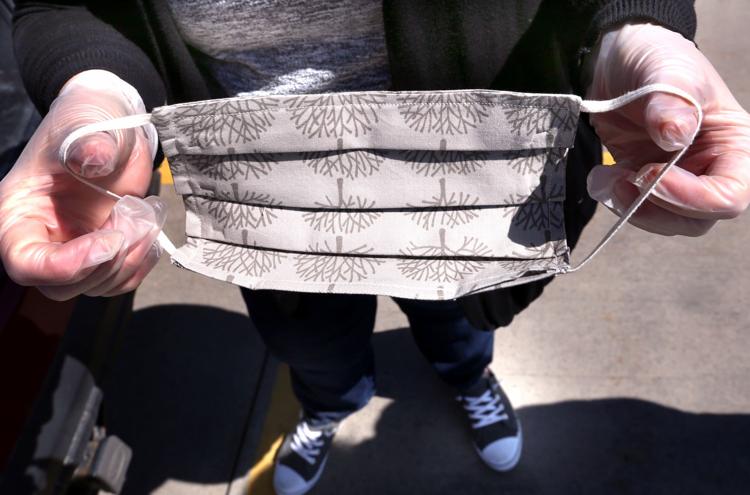 But they've found ways to be creative in helping the community, despite the challenges. One of those ways is by creating masks for health-care workers in the area.
"They're making them as we speak," Gilles said. Many health-care facilities in the area and around the country have seen mask shortages during the pandemic.
The staff at RSVP, just three of them, have been putting together kits for 30 to 40 volunteers to make the masks, and dropping them off on their doorsteps, minimizing the human contact.
On Monday, Ruth Kinstler, the volunteer coordinator for the group, traveled around Onalaska assembling mask kits, delivering them, and picking up any finished ones. She even stopped by her aging parents' home to drop off a hot dish and dessert, according to her mom.
"For many of them, we're really their connector to the community," Gilles said of the staff and volunteers at RSVP. "So I think the work that they do in the community is priceless."
Some volunteers are still helping with essential needs like meals and providing transportation to emergent appointments.
"I give them credit," Gilles said, "They could have just said, 'Oh, I want to stay home.' And they are. But they also called us and said, what can we do?"
But it's making a point to still provide whatever essential services the community needs, while still facing volunteer challenges.
"A lot of people we do usually rely on are staying home, which they should," said Carissa Pagel-Smith, the managing director at the county's ADRC.
Last week, the group had to close all eight of its congregate meal sites across the county and moved to just delivery.
Usually only delivering meals to its extremely limited and homebound aging population, it's now expanded the requirements to anyone who might be or become food-insecure and is 60 and older.
They're currently delivering to 260 seniors in the area, and the number will continue to grow, Pagel-Smith said.
To ensure safety, they've had to become creative, asking those who can to hang a bag or set a table near their door for volunteers to deliver meals to.
But an essential need that is often forgotten is social interaction, which the groups are hoping to still provide as well.
For the county's ADRC, its meal deliveries still require a doorbell ring or knock on the door so that they can do a wellness check for the senior. And to say hello.
"To be able to still talk with someone," Pagel-Smith said. "Actually now more than ever, having that connection is super important."
The group is looking at other ways to keep people connected, like holding a virtual fitness class for seniors and delivering activity kits to caregivers looking after an aging adult.
RSVP is looking at making the social interaction integral as well, calling of its registered volunteers to check in, and mailing handmade cards out as a reminder that they're being thought of.
"I think the community hasn't forgotten about the seniors," Gilles said.
The timing will be trickier for these programs than most, dealing with bringing at-risk communities back together too soon. But they're taking it day-by-day and listening to officials.
"Our hope is, by staying connected, that when this settles down we can get back to what we were doing. It will definitely be a slow start," Gilles said.
ADRC is aiming to reopen programs and buildings on April 30, but is monitoring that date on the guidance from the county health department.
Seniors and caretakers are encouraged to contact the groups and take advantage of the services they're still able to offer in the meantime.
"We're here to help connect people and provide these sources, even though our doors are closed," Pagel-Smith said.
Concerned about COVID-19?
Sign up now to get the most recent coronavirus headlines and other important local and national news sent to your email inbox daily.