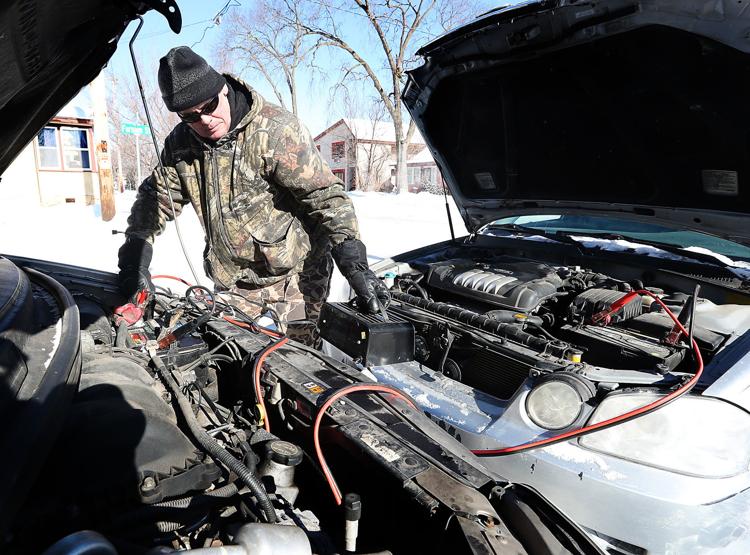 As temperatures dove to 30 below zero Wednesday, La Crosse-area towing companies were inundated with calls from motorists whose cars had stalled or failed to start.
"It's crazy busy. We just can't keep up with the phones," said Sue Redenbaugh, owner of Craig's Towing & Repair on Island Street in La Crosse.
Redenbaugh said Craig's had five employees responding to callers, most of whom wanted jump starts, but that wait times had still grown to five hours by midday.
"It's been a long time since it's been this cold," she said, encouraging people to stay indoors if possible. "It's just crazy weather. Next week, it's supposed to be 40 degrees."
It was a similar scene at Don's Towing & Repair on Monitor Street.
Owner Amanda Manock said wait times around noon were between four and six hours, and that the company had been forced to shrink its service area, so employees could get to more calls.
"What's happening is a lot of people are leaving work or going to work, and their cars are not starting. Some are stalling in traffic, and that's the biggest issue," Manock said. "We've also had a lot of calls from nurses and doctors. We're doing our best to make sure hospital employees are able to work."
You have free articles remaining.
Register for more free articles.
Stay logged in to skip the surveys.
Wind chills Wednesday and early Thursday were expected to reach 50 to 60 below zero, according to the National Weather Service. That kind of cold, experts warn, can cause frostbite in as little as five minutes.
Tim Domailly, service manager at Brenengen Chevrolet in West Salem, said his shop does not provide jump starts precisely because of days like this.
"It's really difficult to have somebody out there when a car refuses to start," he said. "They're out there, getting frostbite, and I'd rather have them working on vehicles in the shop."
Brenengen's tow truck was in hot demand Wednesday, Domailly said, and the shop itself was much busier than usual.
"Our cars are mechanical," he said. "When the weather turns cold, as well built as they are, they are going to have some issues. That does take a toll."
Below-zero days can be a boon for towing companies, but that boon can bring chaos.
Manock said she would prefer if people stayed indoors and avoided traveling, even if it meant less business. But she was bracing for another frenetic morning Thursday, when Mother Nature is expected to deal one last punch of arctic air before temperatures begin to rise.
"Days like these are what this job is all about," Manock said. "That's what we're here for."