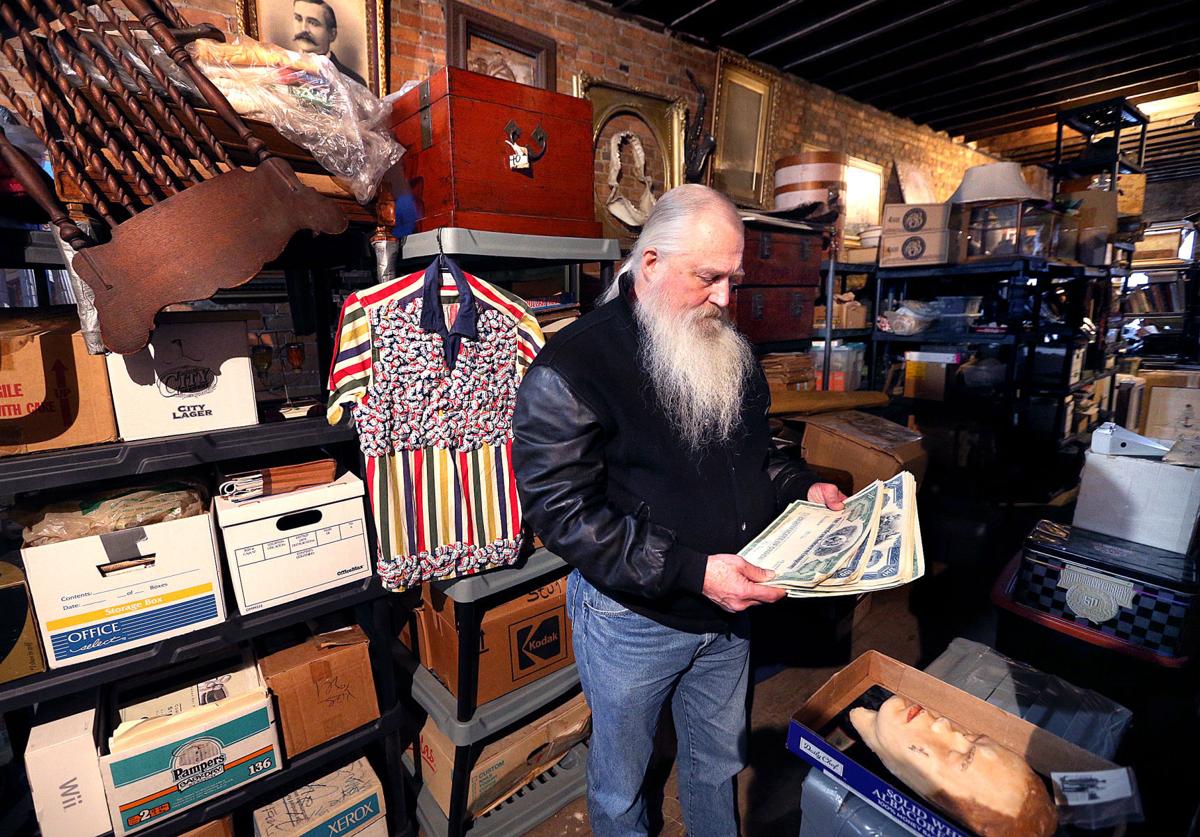 Heads up to viewers of "American Pickers" at 8 p.m. Monday on the History Channel: John Satory isn't spelling challenged. Rather, he christened his downtown La Crosse store Satori Arts Gallery for reasons of ancestry, archives and art.
"When my great-grandfather came to the United States in 1852, he changed the 'i' to 'y.' The name (with the 'i') is Zen Buddhist, meaning the highest level, enlightenment. And art is enlightenment," Satory explained during an interview about his TV appearance.
Asked how the "Pickers" picked his 201 Pearl Street gallery of fine art and historical artifacts when they often seem more inclined to roll the cameras on mishmash collections that look like hoarding, Satory laughed and acknowledged that the TV crew spent most of the time at his studio in another building, where he confessed to harboring a bit of disorder.
Satory, a history buff and collector since childhood, also has a connection with the show by virtue of his friendship with Frank Fritz, "Pickers" co-star with Mike Wolfe.
"Frank comes to Oktoberfest every year, and he stops in," Satory said, adding with a laugh that Fritz didn't realize until the crew arrived for the shooting in August that it would spotlight Satory for Episode 16 of Season 16.
The episode's title, "The Beer Factor," has less to do with the content than the location.
Like Satory's studio, Satori Gallery abounds with historical artifacts from La Crosse's history, including two concrete cones that once were atop the City Hall torn down in 1970 after its replacement had been built, brackets from tops of buildings long since removed to make way for new structures and one of two large Italian-imported, stained-glass windows salvaged from the old Stoddard Hotel, which closed in 1980 and was razed in 1982.
"I bought it for $250, and was offered $5,000 the next day. The guy who had the other one had it on eBay for $40,000," said Satory, who said he didn't know whether the seller pocketed that much.
The Stoddard, at the southeast corner of Fourth and State streets, was named after La Crosse's first mayor, Thomas B. Stoddard, and was considered the premier place to stay when visiting La Crosse, as well as the venue for all sorts of events, ranging from concerts to political gatherings and wedding receptions, according to the La Crosse Public Library Archives.
The Stoddard, billed as the only fireproof hotel in Wisconsin, hosted guests such as Presidents John F. Kennedy and Richard Nixon, Elvis Presley, Frank Lloyd Wright, Sinclair Lewis, Count Basie, Louis Armstrong and Tallulah Bankhead, among others.
Many items in the collections at the gallery are courtesy of people who have an artifact of their own or a relative's or friend's that they no longer have use for but don't want to toss out, said Satory's wife of 22 years, Beth, who runs the business side of the gallery.
"They know he'll take care of it," she said. "I call him Mr. La Crosse."
You have free articles remaining.
Sometimes, Satory buys artifacts that have been repurposed in novel ways, such as those two concrete cones from the old City Hall.
"I bought them from a guy who (turned them upside-down and) used them as planters," said the 65-year-old Satory, a former longtime city council member who served as president of the La Crosse County Historical Society and the city's Historic Preservation Commission.
"People look at La Crosse as a historic old town," he said, lamenting the fact that so many buildings have fallen victim to wrecking balls and expressing particular chagrin at the loss of the county courthouse and city hall.
Noting the county's recent sale of its administrative headquarters for redevelopment, he said, "That's one of the buildings I wish wasn't there."
The historical artifacts are only half of the story of Satory, an award-winning silversmith, artist and photographer whose works are for sale, along with items of world-renowned artists such as Salvador Dali, Peter Max and John Lennon.
Satory picked up his acumen for working with silver and other metals in a rather odd classroom: during his 20 years in the Army Medical Corps.
"In the Army, I did dental work, with dentures and fillings and gold crowns," he said. "The equipment I used then is the same I use now."
One particularly striking photo is Satory's interpretation of da Vinci's "Mona Lisa," in which her image is blurred.
"When you take a picture of somebody else's work, you need to make it your own," he explained. "I took the picture at the Louvre, and I purposely blurred it."
"People look at it and get dizzy," said Beth, who met her future husband when she was getting by on a teacher's salary and bought a ring on a time payment plan. The regular visits for payments must have kindled a spark that led to another sort of ring.
"I still owe the last payment," Beth said jokingly.
She taunts John about his continuing habit of stockpiling artifacts.
"If he keeps buying things, I tell him I'll bury them with him," Beth says with a smile. "When I see him looking at something, I tell him, 'Don't buy that — it won't fit in your grave.'"