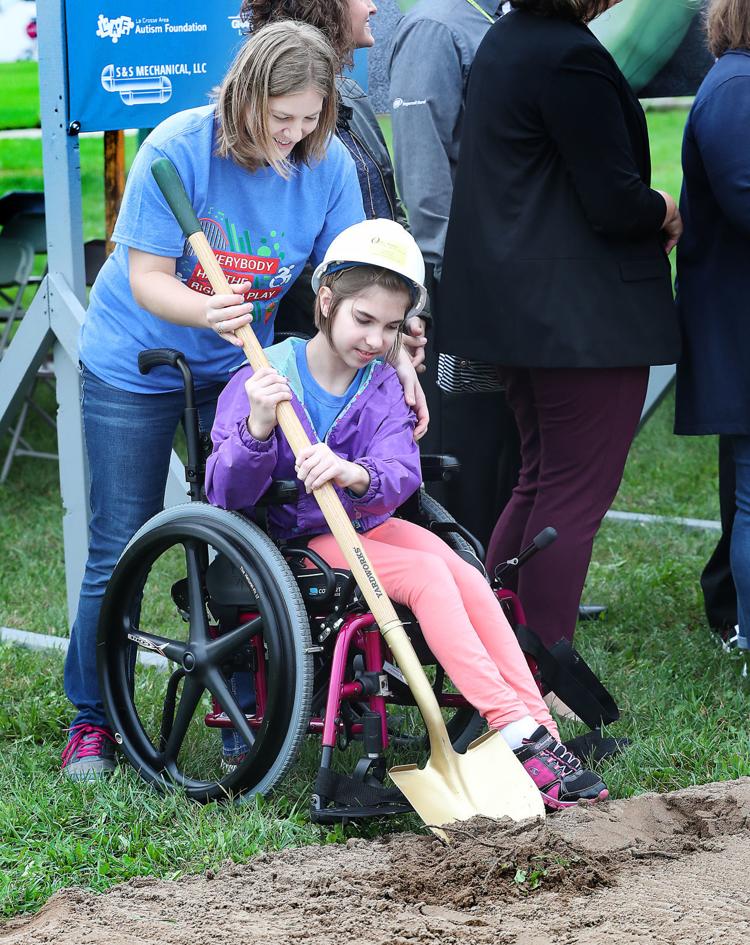 Amy Hendrickson of the All Abilities Trane Park Committee got choked up Wednesday morning as she recalled the group's beginning eight years ago.
"Our son Hudson was only 5 at that time. He'll turn 13 this week. It's a pretty great way to celebrate," Hendrickson said during a groundbreaking ceremony for the inclusive park on La Crosse's south side.
Work has started on the first phase of the $6 million project centered on the idea that everybody has the right to play. The project, which is expected to be completed next year, will turn Trane Park at 15th and Chase streets in La Crosse into a two-acre facility with seven sensory play zones and a variety of specialized equipment designed to let people of all ages and abilities socialize and play with one another.
"All Abilities Trane Park will be a beautiful learning space for our schools, childcare centers and mentoring programs," Hendrickson said.
She invited people to imagine healthcare professionals providing such services as occupational and physical therapy in a space that feels like fun, and to picture grandparents using equipment to strengthen their balance right next to their grandchildren.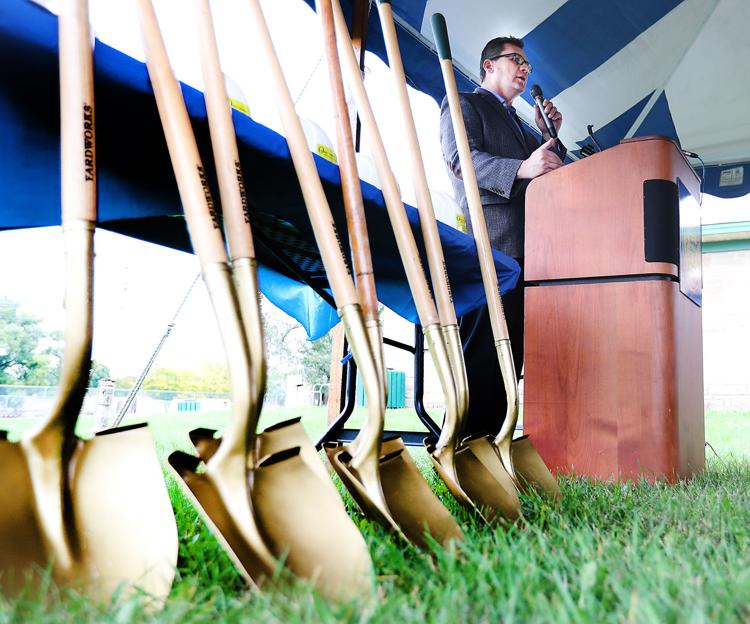 "Remember how it felt as a child when you went down a slide and had your hair blow in the wind. Now imagine a child who uses a mobility device having that feeling for the very first time," Hendrickson said.
That dream will become a reality as community organizations including the La Crosse Area Autism Foundation and Down Syndrome Association of Wisconsin partner with local governments such as the city of La Crosse, La Crosse County and town of Shelby and healthcare organizations including Gundersen Health System and Mayo Clinic Health System.
The committee has raised $3 million, including $1 million from the city of La Crosse, $250,000 from La Crosse County and $5,000 from town of Shelby, as well as large donations from the Altra Federal Credit Union Foundation, Dairyland Power and other donors. The city of La Crosse Finance and Personnel Committee will also discuss Thursday evening whether to allocate an additional $1 million in tax increment district funds through its capital improvement program for the park.
The decision to support the project was an easy one, say area elected officials who attended the groundbreaking, including U.S. Rep. Ron Kind, state Rep. Jill Billings, La Crosse Mayor Tim Kabat and Shelby chairman Tim Candahl.
"Once people understand and especially when they see the plans and hear from folks, they're like, 'OK, how can we make this happen?'" Kabat said. "This truly is an event of love and compassion, and I think it says so much about all of our community that we really do want to have a place where there are no limitations and people really can play."
La Crosse County Health and Human Services Director Jason Witt stressed that children grow and learn social skills they need to live full lives as they play together.
"With all of the advances ... of technology that we have at our fingertips, the most effective way to develop those social skills, to develop that confidence is play — play next to other children," Witt said.
Register for more free articles.
Stay logged in to skip the surveys.
Kind said the uniqueness of the project — it's one of only several all-ability parks in the U.S. — was incredible, yet he wasn't surprised to see the idea come from his hometown.
"You see a park like this and it just smacks of inclusiveness and welcoming. We as a community want to see all of our children have the chance to meet their full potential, regardless of what challenges they might be facing," Kind said.
The committee hopes to continue to educate and promote inclusivity and acceptance throughout the region, as well as celebrate the uniqueness of varying abilities.
"This project is an example of what makes our community exceptional and transformational," Hendrickson said.