Hundreds of La Crosse Central High School students silently filed out of class at 10 a.m. Wednesday to protest school shootings and to show solidarity with their peers at Marjory Stoneman Douglas High School.
Students held signs reading "Keep Our Schools Safe," "Am I next?" and "Fear Has No Place in Our School," among others, as they stood along Losey Boulevard South for 17 minutes of silence — one minute for each student killed in the Feb. 14 shooting in Parkland, Fla. They re-entered the building while chanting "Never Again."
Organizers of the event — including seniors Willow Tolle, Avery Laffey and Marley Richmond — said the walkout was to demonstrate that every student, every teacher and every faculty member should feel safe in their schools.
"I don't feel safe at school. I've made a plan for my escape route in all my classrooms, and I don't think that's a plan I should have to have," said Richmond, who missed her French class to participate.
"We're here today to collect everyone together and send a message that we need change in order to protect our right, our privilege to go to school," Laffey said.
The students said they shouldn't have to be concerned about dying while getting their education.
"I don't think students anywhere should be worried about their safety in a classroom. I think they should be worried about their performance, their tests, their grades," Richmond said.
La Crosse students were inspired by the Florida high school students who have made their voices heard nationwide after the shooting of their friends and classmates.
"They're students just like all of us. That could have been very easily been me or my little sister or my best friends," Tolle said.
She and 220 of her fellow Central students wanted to stand together with thousands of students across the nation and throughout the region in a show of support against gun violence.
"Students are uniting, and we don't want to die going to school. We want to just get our education and thrive and get on with life," Tolle said.
The 18-year-olds were blown away by the support they received from their fellow students.
"Students united have a voice. Students united will make a change," Tolle said.
A number of drivers beeped their horns as they went past, with some giving students a thumbs-up or a wave.
"It feels good that the community is standing in solidarity with us," Laffey said. "We feel supported."
While some people have questioned their actions, Laffey said high school students aren't too young to push for change.
"We're the ones legislation affects when it comes to violence in the school. We're the voices that matter in this situation because we attend high school, we attend the place where there is danger," Laffey said.
The organizers stressed that they weren't making a partisan statement, but rather one about safety.
"The young people will change the world," Tolle said.
While the district did not condone the event, the students were allowed to hang up fliers and make announcements sharing news of the voluntary protest.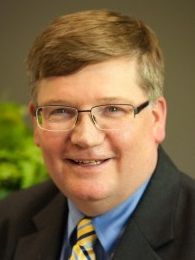 Superintendent Randy Nelson said district administrators worked with organizers of Central's event, along with a similar Logan High School event Tuesday where students gathered in the gym, to respect student voices.
"We really worked with our students to talk about how we can help get their voice, hear their voice they need to have in this situation," Nelson said, adding that it was important to hear all of the perspectives on a complex issue that needs a solution.
"If it were simple, we'd have solutions by now," he said.
School staff and the school resource officer accompanied the students outside, supervising the protest without participating.
"We were certainly monitoring the situation to make sure we felt the students were safe," Nelson said.
The school allowed students uncomfortable with the idea of going outside to gather in the gym.
Students who left the building were marked absent, which counted as an unexcused unless parents called in to approve it. More than 100 parents excused their children to take part in the protest.
Students' concerns were "absolutely" something Nelson had heard before, he said.
"Sometimes you do get that pulse from students. I think that the big concern we should all have about this is when students are feeling going to school is unsafe for them, we know that absolutely impacts their capacity to have a good academic school day," he said.
Over the past years, the district has spent millions of dollars on school safety, renovating entryways to make sure school officials have eyes on the entries and partnering with the La Crosse Police Department to put informed officers in the building to support and protect students.
However, Nelson said, the biggest thing they've done is work harder to build strong relationships with students and families, encouraging them to tell school staff when something doesn't seem right.
"That's something you don't always see," he said.