It was a moment that left Maria Martell in shock, and her friends sobbing.
The Central High School senior had accepted that her desired university was out of reach when word came in late April she had received a life-changing scholarship, a testament to her perseverance and ambition.
Martell, 18, is the recipient of the 2018 Hansen Scholarship, funded by the Mark and Anne Hansen Foundation and established by Central High School and its alumni association.
Each year, a student who has demonstrated drive and academic potential and needs financial assistance is selected to receive up to $25,000 to cover first-year tuition, room and board and textbooks at the college of their choosing, with the potential to have the scholarship renewed for up to three consecutive years, dependent on academic performance.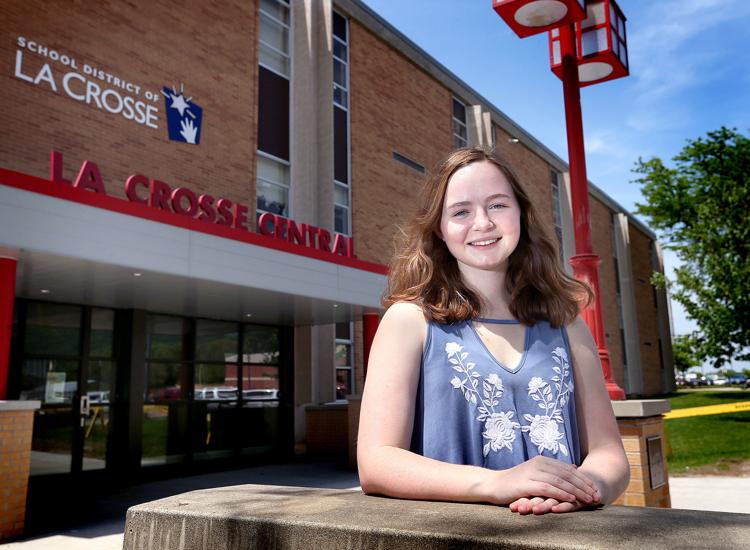 For Martell, who was awarded the entire sum, the scholarship has made it feasible for her to attend the University of Minnesota, her first choice due to program options and proximity to relatives. The first in her immediate family to enroll in higher education, Martell's parents had long stressed the importance of college to her but were honest about the financial obstacles she would face.
Her father, a jailer at the La Crosse County Sheriff's Department, and mom, employed by Shopko, raised Martell and her younger sister under "modest living circumstances," and after applying for tuition assistance at Minnesota, Martell was feeling confident. Then the financial aid statements came in.
"It was like, 'Oh crap, what do we do?'" Martell recalled. "I didn't realize how expensive it would be. I practically begged UW-L to let me submit a late application ... it was dream versus reality."
Still set on attending Minnesota, Martell — who also received scholarships from the Coulee Region Professional Women, the Shopko Foundation, and AAUW — submitted an application for the Hansen Scholarship in January, crafting an essay that revealed the struggles she had endured over the past year. Martell had entered her junior year riddled with anxiety and suffering from depression, spurred in part by an ordeal the previous summer.
"Looking back, I was involved in a car accident that I was at fault for," Martell said. "I had a lot of guilt about that. Then I returned to school and there were a lot of (academic) pressures ... friend issues, family issues that anyone comes into, but all of that together just spiraled out of control."
It wasn't until the end of her junior year that she received treatment, but she found an ally in teacher Hayley Moe, who had shared her own family's experience with mental illness and helped Martell through her essay.
"I could trust her," Martell said. "(I was) a little stressed about sharing but now it really doesn't faze me. I want people to know (it affects many)."
It was three months later when the Hansen Foundation contacted her, and, once she got over her initial shock, Martell was thrilled to hear she earned the scholarship, her parents perhaps even more so.
"My dad is a pretty tough guy, and he got choked up," Martell said.
The honor student has given her family many reasons to be proud, balancing her studies with school clubs, sports, music and volunteering, as well as working part time at Shopko. In her limited spare time, she goes running and hiking because exercise helps reduce her anxiety. She also follows politics and plays with her black lab, Leo.
Accepted into the biological sciences program at the University of Minnesota, Martell aspires to work in the medical field, possibly in internal medicine or endocrinology. With her younger sister a Type 1 diabetic, Martell understands the importance of the health care system.
Martell is admittedly nervous about the transition to college, but is determined to make the most of her scholarship, the honor having renewed some of the self-confidence she lost during her battle with mental illness. During a ceremony Thursday evening at Central, Martell would meet the scholarship's funders, and was trying to find the words to express her gratitude to Mark and Anne Hansen.
"What don't I want to say to them?" Martell said. "Nothing I can say can fully explain what this means to me. The best way I can show my appreciation is to take it seriously and accomplish things at college that show I am doing everything to succeed."
Central counselor Hannah Bertram believes Martell is an ideal choice to represent both Central and the Hansen Foundation, a hard worker who is humble about her many accomplishments, which include being a nominee for the YWCA Young Women of Tomorrow award and graduating in the top five percent of her class.
"Maria is kind, compassionate and motivated not just to succeed herself, but to help others succeed as well," Bertram said. "She is definitely a leader in this school.
"Central pride is definitely schoolwide and we care about all students here, and I think Maria lives and displays that in everything she does."
Martell, who officially graduated from Central on Friday, approached the ceremony with sadness for closing one chapter of her life but eager for the future. She hopes to encourage others to persist when college seems out of reach.
"It's not fair that some people have to settle for less than their potential," Martell said. "But if you work hard you can make it. It kind of gives me faith in the American dream. It is possible if you're willing to put in the work."
---
A school-by-school look at 2018 high school graduates in the La Crosse area