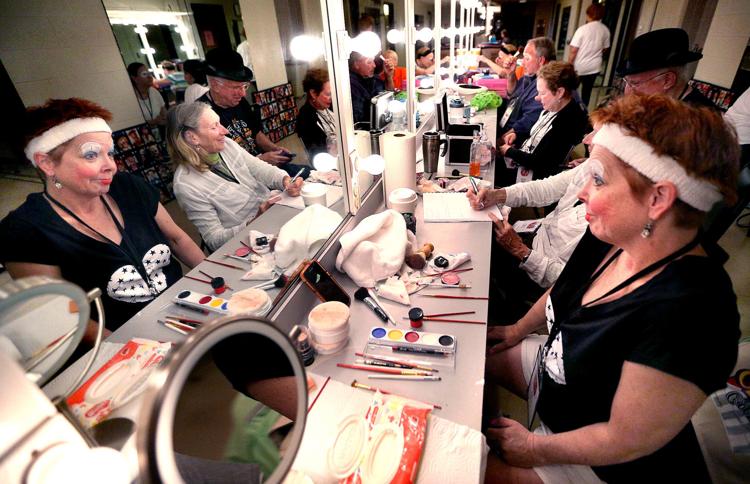 Caking on the makeup and slipping into rainbow bib overalls, Keenan Chalmers is his most confident self.
"People say it's like putting on a mask — you're still you, just bigger and more colorful," said Chalmers, a high school freshman from Rochester, Minn., one of more than 100 people attending Clown Camp at Viterbo University this week. "My dad said I never used to talk in public before becoming a clown. Now, I'm much more comfortable with it."
La Crosse has hosted Clown Camp since 1981 — a chance for both locals and visitors to learn the ins and outs of tying balloon animals, improvising, making a tutu, performing card tricks, miming and holding the attention of an audience.
The annual event returned in 2016 after a five-year hiatus.
"Clowning is alive and well, especially for people who love and are passionate about learning, creating and interacting with people," said Kenny Ahern, the camp director and a longtime clown himself. "People only see the performance part of it, and that's just the tip of the iceberg. Everything underneath that is the hard work and practice you need to put in to get to that point."
Clowns from all over and of all skill levels are attending this week's camp, either as teachers or students, or a combination of the two.
Naomi Shafer, executive director of Clowns Without Borders, an organization that sends clowns to perform in refugee camps and conflict zones, took a class on cane tricks Tuesday but taught a class Monday about movement and improvisation.
A natural performer who had a speech impediment as a child, Shafer got into clowning after seeing a mime act and realizing she could entertain an audience without saying a word.
"Most people think of clowns as big, bold and bright," Shafer said. "For me, it's all about being present and vulnerable with the audience. It's that contradiction where your goal is to have people looking at you, but it can feel so awkward."
While some classes lean academic, like a dive into the history of clowns, others are more hands-on.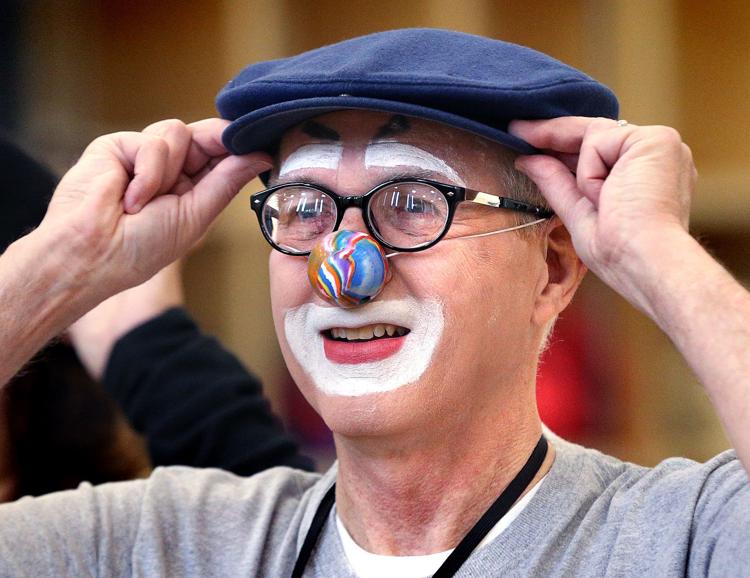 You have free articles remaining.
Register for more free articles.
Stay logged in to skip the surveys.
Ken and Juli Krivitz spent Tuesday morning painting and powdering their faces in a makeup basics class — Ken going with a ghost-white look, Juli going with red lips and rosy cheeks.
The couple, who drove up from Madison, got into clowning a few years ago, before they got married.
Juli was in the hospital, sick, and mentioned that she had dabbled in clowning when she was younger. Ken went home and researched the craft, obsessing over it.
Now, the couple scours thrift shops for wacky pieces of clothing, and regularly performs at parades, hospitals and nursing homes.
"If you've ever been to a nursing home or memory-care center, it's like a place where the people have been forgotten," Ken said. "When you see a clown, the nose, you just smile. Forget Alzheimer's — they know something is about to happen."
After a week of classes and live performances, those attending Clown Camp will leave with the ability to juggle (kind of), to bring a puppet to life and to twist some latex into a classic balloon dog.
They also leave with an awareness that these tricks are not for everyone — that some people, seemingly more than ever, are downright terrified of clowns.
"It's like country music or any other art form — it's subjective, and you either dig it or you don't," Ahern said. "It's not our role to make everyone like clowns."
The Krivitzes do their best to win over any holdouts they come across.
If they sense that particular person, especially a child, is afraid or hesitant around them, Ken and Juli try to act even more afraid. It helps the child feel a little bit braver, they said, and it helps to break the ice.
"If I'm afraid of them," Juli said, "then how scary can I be?"