The chaos and fear surrounding COVID-19 has brought out the worst in some people, with news clips showing adults screaming and pushing over the last package of toilet paper and racial slurs being graffitied on Asian restaurants.
But in the Coulee Region, this time of panic has overwhelmingly brought out the compassion in people, with residents turning free time into Facebook tutorials and putting their spare change toward a "safety net" for service workers, many out of employment during the precautionary shutdown.
"It is the silver lining of this dark, horrific cloud we are under to have so many people and organizations adapting, coordinating, giving and helping," says Avery Van Gaard, a member of Coulee Region Volunteer Corps, an organization behind several current efforts to assist. "It is through that giving and coordination that we will help each other get through this and adapt."
Below, some of the ways community members have stepped up to help their neighbors and spread some cheer in a tumultuous time.
Virtual Tip Jar
Inspired by a movement in Madison, the local version of the Virtual Tip Jar fundraiser kicked off March 18, with community members able to donate to baristas, waiters, bartenders, hair stylists and others employed by businesses considered non-essential under the Safer at Home mandate. Employees from Three Rivers Cafe, Bean Juice, Buzzard Billy's and more are listed at tinyurl.com/vtjlax, with all donations to go directly to the individual's Venmo or PayPal account.
"It puts the power of being able to support those who are out of work into the hands of those who are able to help," says Van Gaard. "It's a conduit to connect people."
Donators should note the Virtual Tip Jar is based on "goodwill and trust," and individuals who sign up to benefit from it are not verified.
Coulee Region Mutual Aid and Coulee Region Volunteer Corps
At a time when schools, and many businesses, are closed, students who rely on free lunch and adults living paycheck to paycheck have been hit especially hard. As Van Gaard puts it, "Those who were barely hanging on before are falling through the cracks."
Thankfully, local schools have continued to prepare and distribute complimentary meals for students, and eateries are whipping up plates for those in desperate need.
The Coulee Region Mutual Aid web document and corresponding Facebook page serve as a digital library of local entities offering goods and services, such as food pantries, restaurants donating meals, housing assistance and child-care help. There are also links to COVID-19 related information and updates from local schools and health-care organizations, and those with resources to contribute can post to the document.
People are also raising their hands to run important errands for individuals for whom isolation is paramount to their health. Whether picking up a prescription for an elderly neighbor or dropping off milk and bread at the door of a sick friend, many are more than happy to lend a hand.
Through the Coulee Region Volunteer Corps page, community members willing and able to help sew face masks, provide emotional support via phone or deliver groceries can sign up for a single time or recurring task.
"I am so grateful to have a community that is willing to step up and help one another," says Van Gaard. "Especially in a time where being safe means being separate, it is so important that people help one another and share and come together in whatever ways they can."
Virtual music lessons
With schools closed, many students are missing favorite classes. To infuse a little education and fun into the day, Viking Elementary School teacher Beth Wauldron has set up a YouTube channel, posting five- to 10-minute videos with karaoke challenges and musical performances for kids to watch and virtually participate in.
Michelle Elliott, associate concertmaster for the La Crosse Symphony, has converted her free violin lesson classes for Boys & Girls Clubs students to ZOOM tutorials, with those who don't have their own instrument able to borrow one through the Play it Forward Education Program during the duration of the isolation period.
"Michelle is offering a gift of growth for these students in a time of uncertainty and isolation," says Eva Restel, executive director of the La Crosse Symphony Orchestra. "Michelle is another example of teachers and community members helping children during this pandemic."
Great Teddy Bear Hunt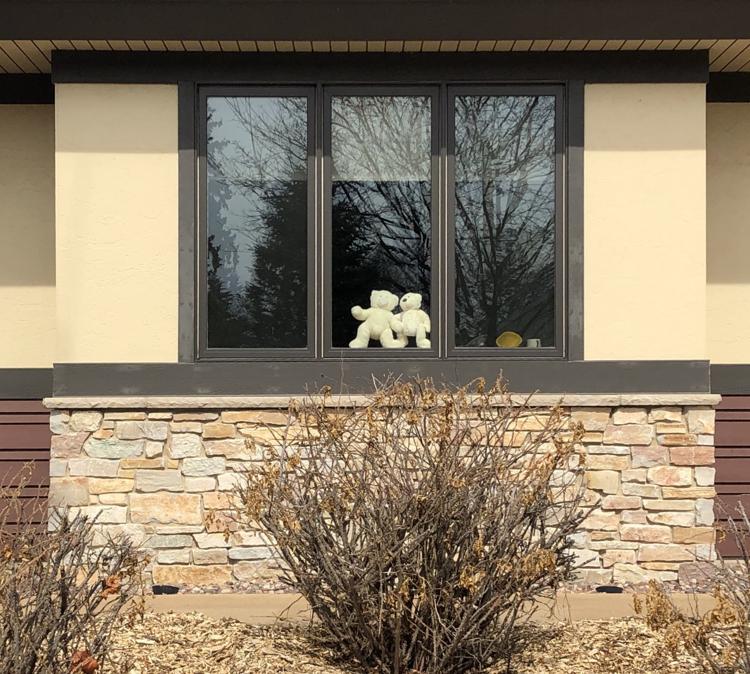 As social distancing continues, youth have seen their routines disrupted and favorite activities put on pause. Play dates, playgrounds and trips to the Children's Museum are off the docket for weeks, or possibly months, to come, and cold and rainy weather hasn't helped relieve the pent-up energy and frustration that comes with being cooped up.
Thankfully, under Safer At Home members of the same household are still able to venture outside for some fresh air and physical activity, and with increasingly warmer temperatures it's the perfect time for a stroll.
Adding a dose of whimsy to neighborhood excursions is the Great Teddy Bear Hunt, in which community members citywide are participating. Placed in front windows or propped up on porches, stuffed teddies big and small are popping up all over, with kids encouraged to keep their eyes peeled and keep count.
Families can check Nextdoor.com for a "cheat sheet" of teddy bear locations, such as 24th and Vine, where a 70-year-old teddy named Clark is sitting on the sill, or the 900 block of Redfield, the location of a motley trio, including a pink bear with a single eye.
Said a Logan-Northside resident, "(The Teddy Bear Hunt) is my son's favorite thing to do."
Christmas lights
In an effort to lift spirits and infuse some physical light in an emotionally dark time, some community members have been breaking out their Christmas lights nine months early. From trees wrapped in twinkly lights to doorways decked with colorful bulbs, families can seek out a little brightness during an evening drive.
Cards for seniors
More than 500 community members age 55 and older regularly commit to offering rides, doing home repairs, tutoring students or checking in with elderly via phone through Coulee Region RSVP. Many of these dedicated volunteers are of the age group considered high risk for severe cases of COVID-19, and are largely unable to continue their service due to social distancing and home isolation.
To show appreciation to these thoughtful individuals, those who have been assisted by RSVP members, or anyone with a few minutes and some stationary to spare, are encouraged to write a note of thanks. Cards can be sent to Ruth Kinstler, 31477 County Road 1, La Crescent, Minn., 55947, who will mail them directly to RSVP volunteers.
Concerned about COVID-19?
Sign up now to get the most recent coronavirus headlines and other important local and national news sent to your email inbox daily.