La Crosse County is nationally known for the success of its battle against mosquito-borne disease, especially the mosquito that carries the virus that causes the strain of encephalitis named after the city. Dave Geske, the vector control manager largely responsible for that success, is retiring Jan. 2, and he has some advice for people: "It's probably time to invest in Off (mosquito spray) or some other material for next year."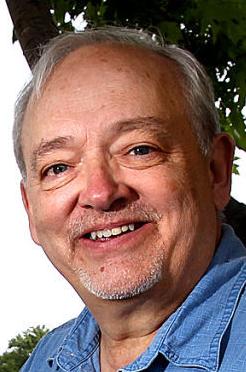 The 2018 county budget, which goes to public hearing before the La Crosse County Board on Monday, proposes a large cut in spending on mosquito control, eliminating treatment for "nuisance" varieties while shifting vector control responsibilities outside the county Health Department, contracting for services in the private sector.
The ramifications go well beyond county borders as entities outside the county — 11 other counties, two cities and a tribal nation — have long had contracts with La Crosse County for mosquito control services.
While county mosquito control is a tradition that goes back 40 years, it's actually pretty unusual among Wisconsin counties. Outside of La Crosse County, only Milwaukee and Dane counties have programs for mosquito surveillance and abatement. The state has no requirement that county or municipal health departments do anything about mosquitoes, disease-carrying or otherwise.
"We are by far going above and beyond what other counties do in vector control," County Administrator Steve O'Malley said.
But state law does require the county to have an animal control program, and county officials are cutting mosquito spending to shift more resources to animal control after one case of animal cruelty/neglect in the town of Onalaska saddled the county with up to $130,000 in unbudgeted costs this year to care for the animals, which included horses, sheep, dogs, cats, rabbits and rats.
Forty years ago when Geske started working for the county, there were 40 cases of La Crosse encephalitis within a six-county area, and over the 10 years before there were an average of 27 cases per year of the disorder, which can cause severe brain damage. "These were clinically diagnosed cases. There were probably many more cases," Geske said. "I've seen these cases. It's a horrible disease."
The good news, though, is that since Geske began his vector control work, there have not even been a total of 27 encephalitis cases in that whole time.
Looking at cases of mosquito-borne illness during the past 13 years across the state, O'Malley noted that it's hard to find evidence that the county's vector control program is making a big difference anymore. There's no significant difference between the incidences of mosquito-borne illnesses in La Crosse County compared with other counties around the state that don't have such programs.
Roughly 80 percent of the county's mosquito control spending has gone into treating for pests not known to cause diseases, and there have been many times when the treatment has not been enough to combat the nuisance mosquitoes. "We can never get ahead with nuisance control," O'Malley said.
Still, while Geske's efforts could never eliminate nuisance mosquitoes, they did have a marked effect. "I'd be awful disappointed if people didn't notice if we weren't doing it anymore," Geske said. "But sometimes you have to make tough decisions."
This year's county budget involves a lot of tough decisions. The county's state-imposed levy limit rose a healthy 2 percent thanks to new construction, but that nearly $500,000 in additional property tax revenue was almost entirely taken up by increased costs and decreased revenue involved in operating the county jail.
The proposed county budget calls for spending $40,000 next year for the revamped vector control program that will focus on controlling disease-causing mosquitoes in La Crosse County. This year's budget included $163,183 for the program.
Meanwhile, the budget for animal control tax levy for 2018 will be set at $52,681 in hopes of creating a program that would cut down on animal abuse and neglect and reduce the county's exposure to major expenses like those incurred in this year's town of Onalaska case. The full animal control budget is $185,000, but about $132,000 of that will be offset by revenue from dog licenses. In past years, dog licenses fully funded the animal control program.
In animal control, La Crosse County also goes above and beyond, said health department director Jen Rombalski, noting that most county health departments only focus on rabies control. Rombalski emphasized, however, that there is value in doing more animal control activities because there can be a link between animal mistreatment and child neglect.
In addition to being vector control manager, Geske also has been in charge of animal control, but that was not a big focus for him. His passion and training is in bugs and biology, and the county contracts with the Coulee Region Humane Society for much of its animal control program. While Rombalski and O'Malley praised the humane society for its work, they said the system will need to be revamped.
"It's too gray and it needs to be more black and white in terms of who's responsible for what and who's paying for what," Rombalski said.
"We've got to pay more attention on how to prevent high-cost animal cases from impacting our budget," O'Malley said.
Although no county officials expressed explicit support for having more nuisance mosquitoes next summer, almost all voted for a resolution dealing with the health department's vector and animal control at committee meetings Tuesday and Wednesday. The county board's Executive Committee, which is made up of board members who chair standing committees, voted unanimously for the resolution Wednesday morning. Only one member of the Health and Human Services Board, Dr. Cheri Olson, voted against it, arguing that bites from "nuisance" mosquitoes can result in medical issues, too. "There are also consequences we don't know yet," she added.
For Geske, letting go of the reins is going to be tough. "It's a big change. I really believe in what we've been doing for 40 years," he said. "I think you've got to put the priority on disease control. ... I just really hope they're able to orchestrate the money it takes to do it well."