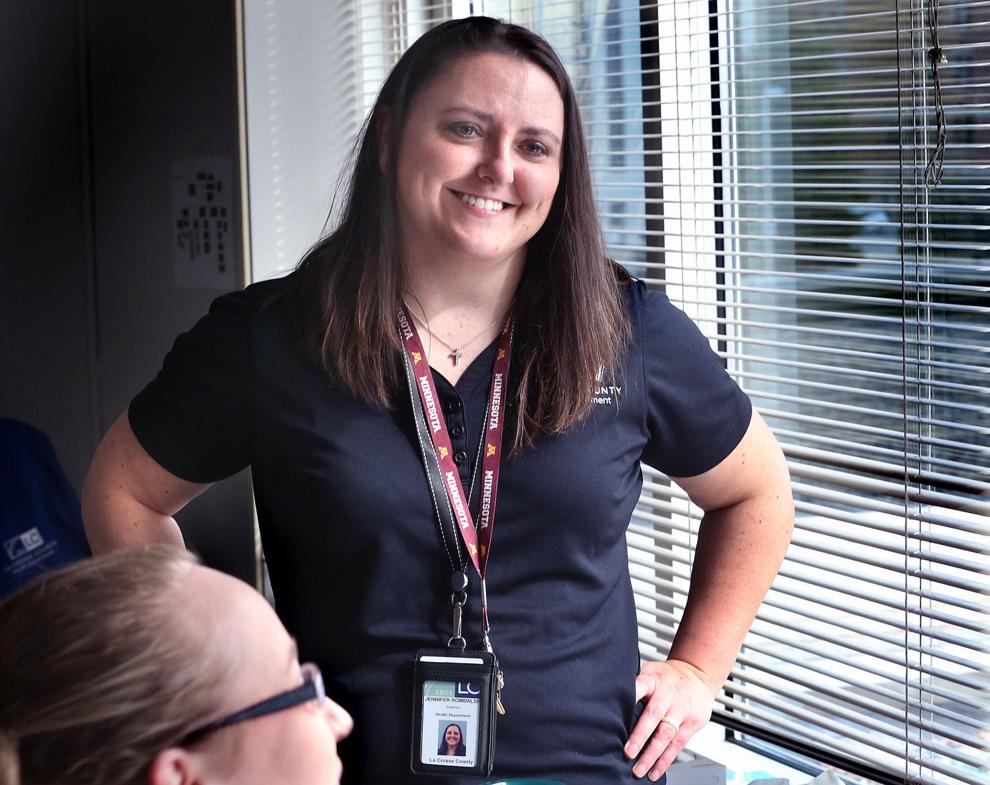 During her some 17 years in the health care field — including the past four as director of the La Crosse County Health Department — Jen Rombalski has never had just one topic on her daily agenda, much less on her weekly planner.
But since the coronavirus infiltrated the state in early February, and the Coulee Region last week, Rombalski has had one focus.
"There is nothing else on my calendar right now than COVID-19," says Rombalski says. "There's no other work right now in three-quarters of our department since COVID-19."
In the midst of an global pandemic, Rombalski, formerly a nurse and then public health director of Chippewa County, has become the go-to source of information, the leader of action and the face of calm for the Coulee Region.
"We take our role very seriously," Rombalski says of staff at the La Crosse County Health Department.
Rombalski has always been a diligent and dedicated worker, priding herself on community connection and partnerships — in fact, the level of collaboration in the Coulee Region was a big part of what drew her here.
The mother of three has taken on many ambitious endeavors since taking on the local health director position in January 2016, kicking off a five-year Community Health Improvement plan that summer. In fall 2016, the La Crosse County Health Department earned national accreditation from the Public Health Accreditation Board.
"Thinking about the words that come to mind reflecting on working with Jen these past four years — what comes to mind are encouragement, energy, innovation and knowledge," says Paula Silha, health education manager for the county Health Department. "She encourages staff to work together through challenges, she has lots of positive energy and easily shares that with her team. She is innovative in addressing department or community challenges, which the HUB and Alliance to HEAL demonstrate, and she has great public health knowledge. She is also genuine."
Among Rombalski's greatest feats is the Great Rivers HUB, a system created to bridge the gap between health-care delivery and the social service sector to help save in costs, improve health outcomes and engage community members.
"I'm very excited about the HUB. It's really helping a lot of people," says Rombalski, who is chair of the steering committee. Among those served by the HUB are veterans, youth, individuals with disabilities, those who are impoverished and families affected by natural disasters.
The development of the Alliance to Heal, which tackles the opioid crisis with the assistance of Gundersen Health System and Mayo Clinic Health System experts, and the implementation of smoke-free laws for Downtown La Crosse have been other big wins.
"I think that's a really big deal," Rombalski says of the tobacco ban in buildings and on grounds. "We need to be leading by example."
Recently, Rombalski had been working on a new community health endowment fund through the La Crosse Community Foundation. Honing in on inclusivity, the project would prioritize "raising up youth of color" and looking at health concerns that particularly impact black and Hispanic populations.
"I've been working in public health for 12 years, and Jen is the most visionary leader I've ever worked under," says Jacquie Cutts, public health nursing manager for the La Crosse County Health Department. "She is responsive to staff ideas and thinks at a very high, strategic level to ensure that we are as inclusive and effective as possible at impacting public health. She cares immensely about the public and her staff, and prioritizes our wellbeing so that we can be effective. I am grateful for her leadership, her example and her investment in our community and our team."
Though close to coming to fruition, Rombalski has had to put the health endowment fund on pause as COVID-19 became not just an international worry but a local one.
Rombalski, who has followed coverage of the virus since it was first detected in the Wuhan region, says she had immediate concerns about the lack of travel evaluations and airline precautions being taken.
"If you're not screening and trying to contain it right away in a strategic way, it's going to spread," Rombalski says.
Preparations for the inevitable reach of the virus on local soil began in late February — a few weeks after the first positive case in the state — with Rombalski holding a discussion with Cutts on Feb. 24.
For the next several days, Rombalski worked on developing communication and an incident command system, followed up by meeting with local school district administrations the first week in March to go over precautions and potential scenarios.
On March 12, about a week before La Crosse County had its first positive COVID-19 test result, the health department launched the incident command system, setting up two-day objectives and soliciting travel history information from community members as well as fielding calls and questions from concerned residents.
Rombalski is used to pressure and a swift pace in her field of work, but since the Health Department began tackling COVID-19 "full swing," the fluctuations have been rapid and relentless.
"Never has something been to this level where multiple times a day it changes," Rombalski says of staying abreast of the constantly updating advice from the CDC and national and state government.
Trying to maintain consistent guidelines and messaging about regulations, testing qualifications and quarantine requirements has been a challenge, with the Health Department and local hospitals and health-care facilities making every effort to stay on the same page.
Right now on a two-day operational period, meaning plans are drafted for a 48-hour period, Rombalski every morning consults with incident command team members in person or virtually and touches base with operations management, liaisons and health and safety officers. Every other day, she checks in with logistics and finance.
"Jen is doing a fantastic job," says Carol Drury, environmental health and lab manager for the La Crosse County Health Department. "She has to stay on task for the response to what is going on with this disease. She has multiple communications going on at all times. But also, there are still daily operational tasks of the Health Department that she has to manage, and she is juggling all of the balls with the support of her Incident Command team and her Leadership Team at the Health Department."
During daily joint operations center meetings, Rombalski connects with members of the local police and fire departments, as well as leaders from Gundersen and Mayo Clinic Health Systems, to coordinate needs and maximize reach.
Post meeting, Rombalski is briefed on current data and prepares for the daily COVID-19 press conference, broadcast via Facebook to the public at 2:30 p.m. Monday through Friday. The conference is followed by a situational report briefing meeting and preparation for the next day.
The workload is a weighty one, with Rombalski on the clock seven days a week during the pandemic. Her colleagues too are being stretched thin, tired but motivated to support the health and wellness of every member of the community.
The incident command team has a member dedicated to ensuring staff are taking care of their physical and mental health, and there are backup supports if someone needs a lunch break or time to relax in a quiet room.
"Over the past few years, Jen has intentionally prepared us to handle high-stress situations with wisdom, calmness and clarity through trainings on subjects such as emotional intelligence, resiliency and Trauma Informed Care," says Jennifer Mullin, interim fiscal manager for the La Crosse County Health Department. "In addition to caring for the health of our community, she has taken extra steps to ensure health staff are able to be there for each other by offering us professional mental-health support and finding ways to monitor and mitigate our stress levels. Jen also begins and ends each day by expressing gratitude for her team and encourages us to provide her open feedback. This experience has and continues to test us in many ways. I'm grateful that Jen is leading us."
For Rombalski, the incident command system team's fine-tuned chain of operations has been a sanity saver, with calls and queries being filtered so she only receives those requiring her attention and expertise. On the weekends, she fields calls and emails from home to squeeze in every possible minute with her husband and kids.
"What is important to me is to spend time with my family," says Rombalski, who has a seemingly magical ability to find some semblance of work-life balance in a time of unprecedented instability.
Level-headed and patient, Rombalski is perhaps the best possible person to be at the local helm during the coronavirus crisis, with a genuine passion for the job and no sense of frustration despite fielding queries, many of them the same, minute after minute and day after day.
"If people have a question, we're just glad they're asking," Rombalski says. "We'd rather they be getting and sharing accurate information."
Social media has been an integral way of keeping the community abreast of case numbers, protocol changes and mandates, and Rombalski says she hopes the transparency and responsiveness of the department has demonstrated its dedication to the public, some members of which have been skeptical of trusting government officials and entities.
"We're here for the right reasons," Rombalski says. "We all want to serve our community. This has given us a chance to show when we are needed most we'll be here in full force."
Rombalski implores residents to adhere to social distancing, sanitation and isolation guidelines as COVID-19 numbers continue to climb, and reminds people "you don't need a test to know what to do: stay home."
Among the most common questions and complaints to the Health Department and area hospitals is the testing criteria, which Rombalski stresses is to the benefit of the community at large.
The availability of testing for those at high risk for severe cases of the virus, including the aging population, and those employed in "essential" roles like health care, is crucial to preventing rapid spread. Rombalski also fears testing gives people a false sense of invincibility, as negative results don't mean you are in the clear for contracting the virus.
"What we tell you to do doesn't change based on having the test," Rombalski says.
Rombalski says one of the things that initially impressed her about the La Crosse area was the level of caring and contribution, qualities that have shone bright in recent weeks as families hunker down in their homes for the safety of their neighbors, grocers work to keep their stores clean and shelves stocked, and people volunteer to pick up prescriptions or provisions for their elderly acquaintances.
People are scared, Rombalski says, but they are still expressing appreciation for the efforts of others and doing their part to flatten the coronavirus curve.
"I'm most proud of our community," Rombalski says. "We have a great community, and COVID-19 has just brought that out more."