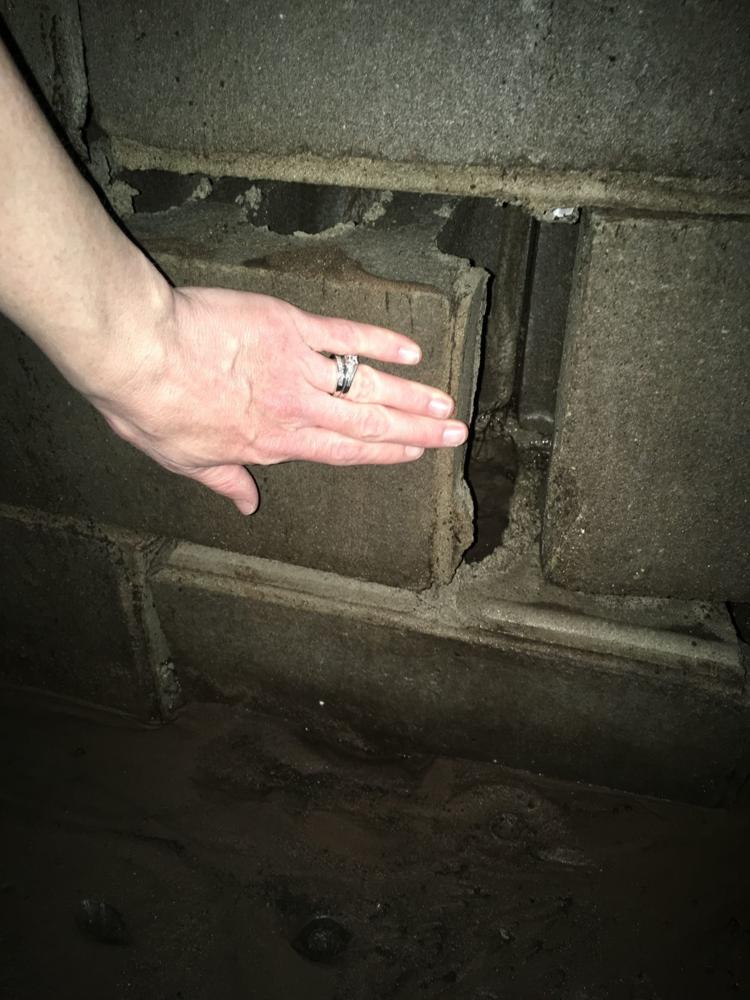 When Craig and Stacy Masters of La Crosse bought 314-316 Liberty St. on the North Side, they were looking forward to fixing up the duplex and renting it out.
Within just a few months, they were just hoping it would stay standing.
"It was terrifying, absolutely terrifying to go through this. I was scared that our house was going to fall down," Stacy Masters said.
The Masters are the first recipients of an expanded city of La Crosse floodplain relief program this week after a city committee changed the parameters to better help residents deal with issues caused by living in the floodplain, agreeing to pay 90% up to $10,000 of projects to fill in the basements of houses in the floodplain.
While the Masters had expected to pump some water out of the basement, no one could have predicted the effect the wet spring would have on the basement of the duplex.
"Within two weeks our front wall bowed seven inches," Stacy said. "Certain doors won't shut anymore because of how the house shifted."
The couple called Badger Basements, paying the company $10,000 to install six steel beams to push the wall back and a second pumping system to keep the water out, but what they thought would permanently hold the foundation in place became just a temporary measure.
"It's crazy that we're dealing with this. We don't know what to do," Stacy said.
The couple started working with the city after getting a letter from the inspections department ordering them to stop pumping into the street. They've been attending Floodplain Advisory Committee meetings for months to try and find an affordable solution that would keep their property standing.
Council member Andrea Richmond, who is a member of the committee, was sympathetic to their needs, saying problems like the Masters' hurt the city as a whole, tying up money in flood insurance and leading to property damage that lowers property values.
"There are a lot of people who are suffering because of damages to their properties," Richmond said.
Those damages are expensive to fix, and with that damage, properties become nearly impossible to sell.
"You can't really sell a house with all the issues they were having," Richmond said.
The city has offered floodplain relief grants since 2016 through a program that uses tax increment financing to pay a portion of the bill for projects that bring properties out of the floodplain.
Under the program, the city worked with lenders and property owners to reimburse residents of the city's special flood hazard area for 50 percent of any building improvement to raise a structure out of the floodplain, up to $20,000.
In order to take advantage of the program, the planned improvements must result in a letter of map revision from FEMA. However, the program — intended to ease the financial burden of flood insurance — didn't have as much of an impact as hoped, according to environmental planner Lewis Kuhlman.
"They ended up being more expensive than initially anticipated," Kuhlman said.
Three $20,000 grants have been awarded during the past three years, despite having $250,000 from Reinvest La Crosse and $300,000 per year for six years from TIF 13 available for floodplain relief.
You have free articles remaining.
Register for more free articles.
Stay logged in to skip the surveys.
The Floodplain Advisory Committee has been exploring options during the last few months to expand floodplain relief, both on the North Side and in the Ebner Coulee area on La Crosse's South Side.
"The reason for the expansion is to allow more people to qualify," Kuhlman said.
The committee decided to lend a hand to people willing to fill in their basements, which Kuhlman said will help a little, but the benefits citywide would be limited.
"Very few people are willing to give up their basements," he said.
It was a difficult decision for Stacy Masters, who had 2 feet of water in her basement Thursday.
"If it were my personal home, I would have a really hard time just filling it in," she said.
But because it's a rental, her tenants don't have a large need for storage, so they can handle losing the space by filling it in with 3 or 4 feet of gravel and topping it off with concrete.
"I don't want to deal with the stress and going through this another year," Masters said.
She also got a good deal from Badger Basements. Between the help from the company and the city, she said they'll be OK.
"Without them, I'd probably be sick," Masters said.
She was glad the committee was willing to help others as well, saying she knows her neighbors have similar issues.
"That area is just getting hit hard right now," Masters said.
Richmond and Kuhlman said the committee is looking at other options, including creating a full-time position for floodplain manager — which is currently only a part of Kuhlman's duties — and adding a property acquisition program.
A full-time position would be in the best interest of the city, Richmond said, because floodplain issues are complex and time-consuming, tying together issues related to the environment, redevelopment and the economy.
"It all works together and we need that person who can focus their time," she said.
The committee has held off on the acquisition part of the program because it is looking into options for funding and how those funds would affect the future use of the property, Kuhlman said.
While the Federal Emergency Management Agency has funds available to purchase property in the floodplain, if the city uses FEMA funding, the property would have to remain vacant. Purchasing property with city funds would allow the city to sell it and get it redeveloped, Kuhlman said.
While the floodplain relief program isn't settled, Richmond encouraged people to contact the city if they need help.
"They need to come to the city. Lewis Kuhlman and Jason Gilman are trying to do the best job to help people who are really in crisis mode," Richmond said.