On a fall day in 1987, Lisbeth Reynertson rushed home during her lunch hour, popping two turkeys in the oven before heading back to work. That evening, about 30 students from around the world would gather for their first taste of roast turkey, celebrating what would become known as the Harvest Thanksgiving Dinner.
Thirty years later, both the guest list and the menu have expanded, with 135 members of the La Crosse Friends of International Students joining in the celebration at Faith Lutheran Tuesday evening, feasting on a buffet of traditional Thanksgiving dishes and desserts. While most of the dinner was catered to accommodate the crowd, many host families brought a dish to pass, some cooked together with their students.
About 150 international students, enrolled at UW-La Crosse or Viterbo University, and 75 host families are currently involved in LFIS, founded by Reynertson when she worked at UW-L as international student adviser. The program was formed to encourage interactions between foreign students and community members, helping provide a smooth transition and positive experience for those new to the U.S. While students do not live with their hosts, they are included in family activities and outings, with most meeting up once or twice a month for shopping, sight-seeing or a home-cooked meal. Many are also in frequent contact by phone or email.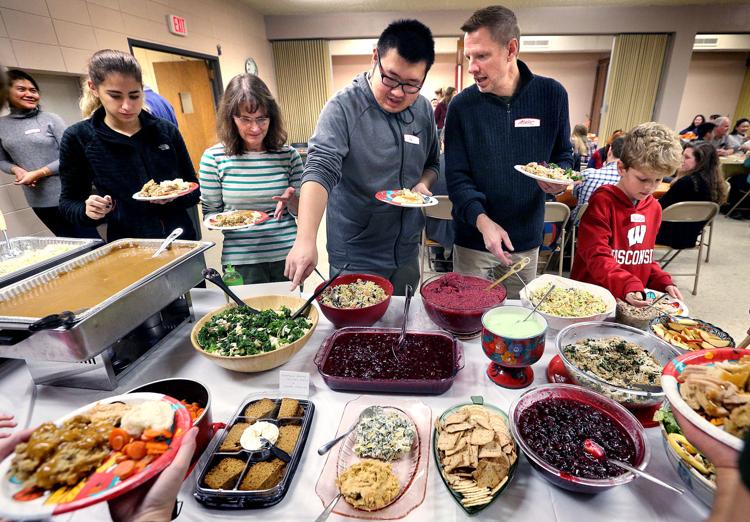 "For so many of the students, this is what they remember about La Crosse," said Reynertson, who with husband Dick is hosting three students, including Emma Svendsen of Norway and Ted Lee of South Korea, this semester. "I think when they go home, they leave with a really good impression."
"It feels a little like a home away from home," said Svendsen, a UW-L freshman. "They always ask if we need anything."
Svendsen experienced Thanksgiving for the first time last year, while in La Crosse as a high school exchange student. The self-described lover of holidays was thrilled to have a bonus celebration, and quickly latched on to mashed potatoes, though sans gravy.
"The gravy was kind of like, 'ehh,'" Svendsen said. "I didn't like it, but I love the pumpkin pie."
UW-L senior Lee was prepared to try "all the foods." Lee celebrates Chuseok, Korean Thanksgiving, in his home country, which is similarly centered on food, thanks and harvest, though the star dish is songpyeon, a rice cake steamed over pine needles, and Asian pears are the fruit du jour.
Yukari Kawashima of Japan, attending UW-L for fall semester, set her sights on the pie, having recently made her first pastry with her host mom, while Zoey Millership of England, already familiar with the foods, was up for anything.
"I've been in classes all day, so I'm a little hungry right now," said Millership, whose only experience with the holiday was "what I've seen on TV and movies and stuff."
Faith Lutheran Pastor Paul Mundinger, a LFIS board member, helped students understand the origins and meaning of Thanksgiving during a brief talk before the group dug into the rolls, stuffing and ever polarizing cranberries, usually approached by the students "with a bit of trepidation."
"They can probably relate to Thanksgiving more (than a religious holiday)," said Michelle Strange, an LFIS member of 18 years and currently hosting five students from China, India and Brazil with husband Tom. "Food is kind of an international language."
Strange, who has no children of her own, has formed lifelong friendships with her past students, attending their weddings and celebrations around the world, and brings her new students to Harvest Thanksgiving Dinner each year.
"It really enriches our lives, during the time they're here and even after they leave," Strange said. "I think this is something everyone should experience."
For more information on La Crosse Friends of International Students, visit www.lfis.info.