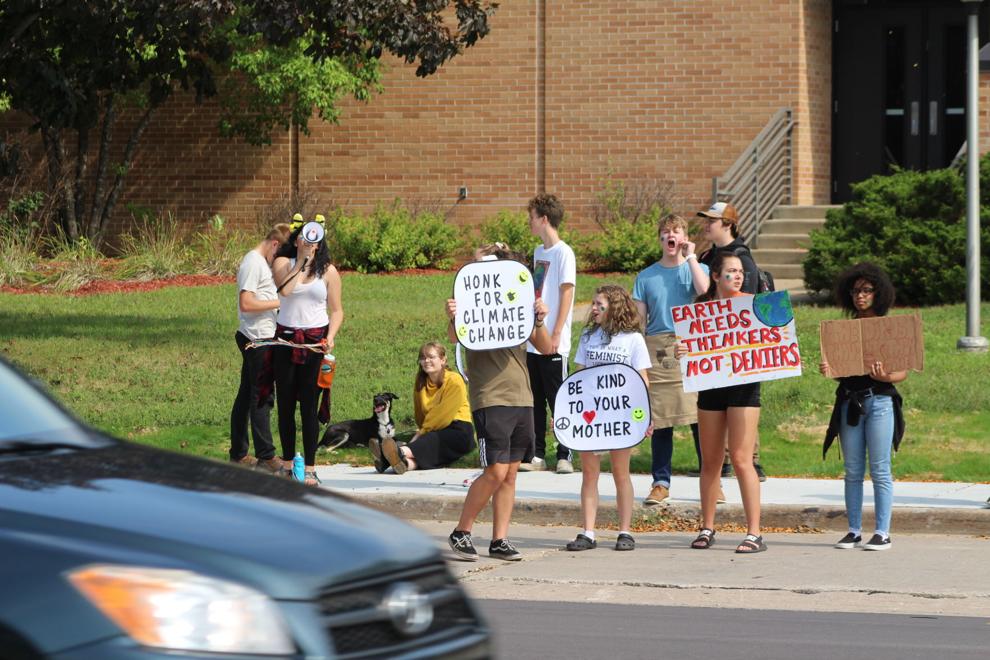 The school bell rang, but the forty-some students outside Central High School stayed outside. They held cardboard signs that read, "S.O.S" and "The planet is not for sale." They cheered when cars honked as they passed.
Across La Crosse Friday, people of all ages gathered in a call for climate change action: on street corners, at the University of Wisconsin-La Crosse campus, at a Franciscan Sisters of Perpetual Adoration morning prayer service and a march at the end of the day to U.S. Rep. Ron Kind's office demanding that he support the Green New Deal.
Their actions were echoed around the world by young people demanding in their hometowns that their leaders take action on climate change ahead of a United Nations summit Monday to strengthen emissions reduction goals set in the 2015 Paris climate accord.
Sixteen-year-old Swedish activist Greta Thunberg — who has skipped school on Fridays since August 2018 to protest climate inaction in front of the Swedish Parliament — inspired what has become a global movement called #FridaysForFuture. Nationally, the strikers' demands include a just and equitable phase out of fossil fuels and the transition to 100% clean, renewable energy by 2030, respect for indigenous land and sovereignty, environmental justice, biodiversity protection and restoration, and sustainable agriculture.
The La Crosse high school students started a local chapter in July to call for climate action outside City Hall. Now that school has started, they're still striking on Fridays during a designated class period and their numbers have grown.
A Vernon County pre-teen, also inspired by Thunberg, has also been striking in downtown Viroqua since March.
Lily Bendel, a junior at Central High School, is very clear about the need for urgent climate action to stave off the most devastating and "irreversible" consequences of the climate crisis.
"We all want our dream careers and we all want things in our futures," said Bendel, who wants to become a music teacher and have a family. "To people who say we should be in school and not wasting our future, we say, they shouldn't waste ours."
Some of the adults have told them their protest "isn't going to change anything," said Anna Durall, a senior at Central High School and student coordinator for the La Crosse global climate strike. "But if we do it all together, we can make a difference." Durall added that most of her peers want to act and make a difference, but they don't know how.
"We're giving them an outlet to do something about climate change," said Emma Ehlers, also a senior.
"We need change at a higher level than what we can do here," Durall said. "But it can start with us."
Most of the teachers have been understanding about the strike, said Payton Haug, a senior holding a sign with a picture of the Lorax, a Dr. Seuss character that "speaks for the trees." Some teachers have adjusted their teaching schedule or changed homework deadlines to account for striking students, Haug said.
There weren't any teachers out striking with the students around 1 p.m., though the principal did come out earlier to remind students about safety, Haug said. Haug added that she wished that some of the teachers would come out to support them.
"Students who left the building during scheduled class time would have received an unexcused absence unless a parent or guardian had contacted the school in advance to approve of the absence," said Nick Marcou, communications coordinator for the La Crosse school district, by email. "Parents of students who participated but did not contact the school in advance are still able to contact the school after the fact to have the unexcused absence changed to an excused absence."
Christine Damrow, parent of a Central High School alumnae, joined the students on the curb.
"I love the activism happening right now," Damrow said. "It's the most critical issue that we're facing and we're not getting the leadership to make the difficult choices."
Julie Sandvick, who lives across the road, came to take pictures to send to her husband.The students and the honking cars are rather noisy, but she said she understands why young people feel compelled to act on climate change.
"We should have done it years ago, but we need to start now and make changes," Sandvick said. "Now all we have to do is convince Washington to do something about it, because this is their future."
At UW-L, about 75 students clustered around Hoeschler Clock Tower to hold an 11-minute strike during which student organizers read out the fears young people have about the consequences of climate inaction.
irreparable damage to ecosystems and species extinctions

The kind of future their children and grandchildren will inherit

war and civil unrest over food, water and other natural resources

food shortages (that) lead to further class division and a world where those in power can eat while the rest cannot

Increased fighting over borders, jobs, waters and places to live as sea levels rise, storms surge, and people are displaced.
Josie Talbert, a student organizer with Wisconsin Conservation Voters, said she feared that climate change will increase the number of natural disasters and exacerbate the breakdown of infrastructure and other social, economic and ecological systems. "If I don't do everything (I can) to improve the world," Talbert said, "it will feel like I'm not doing enough."Climate change isn't stoppable at this point, said Talbert, a senior majoring in geography within an environmental science concentration. "Now it's about making ourselves more resilient and slowing it down."
The number 11 references the 11 years to avert irreversible and catastrophic climate change impacts, as highlighted in media coverage of a United Nations special report on the climate.
So while some argue against the framing of a strict "do-or-die" timeline, the urgency remains real.
Megan Hickinbotham, a UW-L senior studying geography and environmental science, said she was excited by the turnout.
While she shared similar fears as Talbert, she said she was not as scared as angry "that we're the ones that have to deal with this and it's on our generation to fix this."
The Franciscan Sisters of Perpetual Adoration held a morning prayer service for climate action that included the reading of the Laudato Si, Pope Francis' 2015 encyclical calling Christians to protect and care for creation.
FSPA also invited fourth-graders from Blessed Sacrament and second-graders from Cathedral School to take part in the morning service.
"I think it's important for all of us to understand that our children are firmly rooted in all the knowledge of creation," said Kay Berra, principal of Blessed Sacrament.
The school updated its science curriculum to better understand how humans interact with the environment, and includes modules on the greenhouse effect and manmade climate change from burning fossil fuels, Berra said.
"We know that the information goes home via the children and they're the ones that spark the discussion, maybe bring a call the action," Berra said.
And there's another reason why she organized this particular field trip: the school wants to establish a closer intergenerational relationship with the Franciscan sisters, who have long caretakers of the environment.
"Birds can't take care of themselves," said Luanne Durst, FSPA. "Trees can't take care of themselves. We're responsible for much of the natural degradation in this world and it's not even healthy for us, much less for the environment."
"It's amazing that these teenagers are standing up to members of Congress," said Carrie Kirsh, FSPA. "Because they're the ones that have to live with this. They understand and see these things."
Jennifer Lu is the La Crosse Tribune environmental reporter. You can reach her by phone at 608-791-8217 and by email jennifer.lu@lee.net.