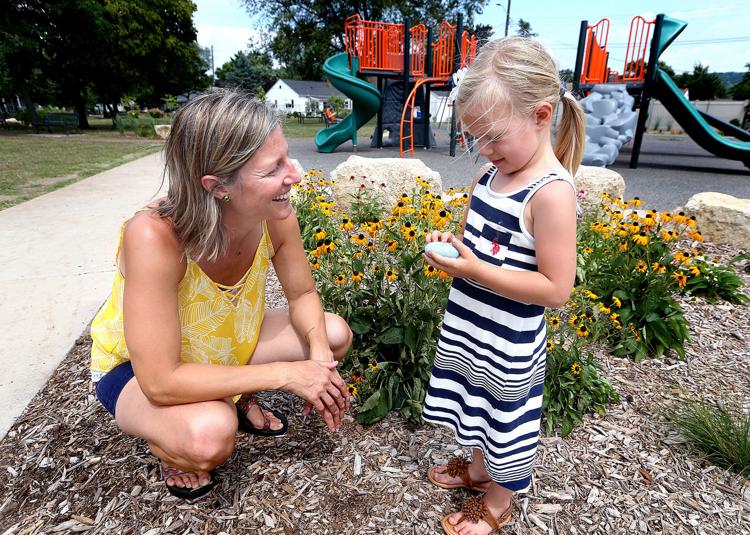 Roundup kills weeds, but after evidence connected it to cancer and raised concerns among local community members, La Crosse will no longer be using it in city parks.
The La Crosse Parks, Recreation and Forestry Department switched to an organic compound known as Finalsan after a group of local women, including Pam Hartwell, Kristy Du Chateau and Noelle Weber Strauss, asked the department to reconsider using Roundup, Bayer AG's glyphosate-based weed killer.
The idea grew out of a Facebook post about Roundup that got the women talking about people getting sick from it and what sorts of things local people can do to prevent its use where it could potentially harm people or the environment.
A federal judge in California — Alameda County Superior Court Judge Winifred Y. Smith — ruled in July that Monsanto, the parent company of Bayer and Roundup, made efforts to impede scientific inquiry into whether the herbicide was safe for humans, after a jury awarded a couple that blamed Roundup for their non-Hodgkin's lymphoma $2 billion in a federal lawsuit. Smith lowered the judgment to $86.7 million, but wrote in the July 25 order, "The evidence was disputed, but there is substantial evidence to support the jury's findings that glyphosate can cause NHL and did cause each of the plaintiffs to develop NHL."
Bayer has lost three U.S. jury trials connected to Roundup and is appealing the decisions.
Bayer denied any safety concerns tied to Roundup in a statement to the Tribune.
"There is no evidence that local municipalities who choose to move away from glyphosate for amenity weed management are enhancing safety. Leading health regulators around the world have repeatedly concluded that Bayer's glyphosate-based herbicides can be used safely as directed and that glyphosate is not carcinogenic, based on an extensive body of science spanning more than 40 years, including more than 100 studies EPA considered relevant to its cancer risk analysis, and more than 800 safety studies overall submitted to regulators," said a Bayer spokesperson.
Bayer said studies including the National Cancer Institute-supported Agricultural Health Study, the 2019 Leon Agricoh Consortium study and the 2019 North American Pooled Project support its positions.
"Significantly, the largest and most recent epidemiology studies, which are the most relevant research for assessing exposure effects in the human population, each found that there was no association between glyphosate-based herbicides and NHL overall in real-world use when adjusted for the use of other pesticides," said Bayer.
The federal judge determined Monsanto conducted studies about glyphosate, then didn't pursue it further when it showed there was cause for concern.
"In this case there was clear and convincing evidence that Monsanto made efforts to impede, discourage, or distort scientific inquiry and the resulting science," Smith wrote.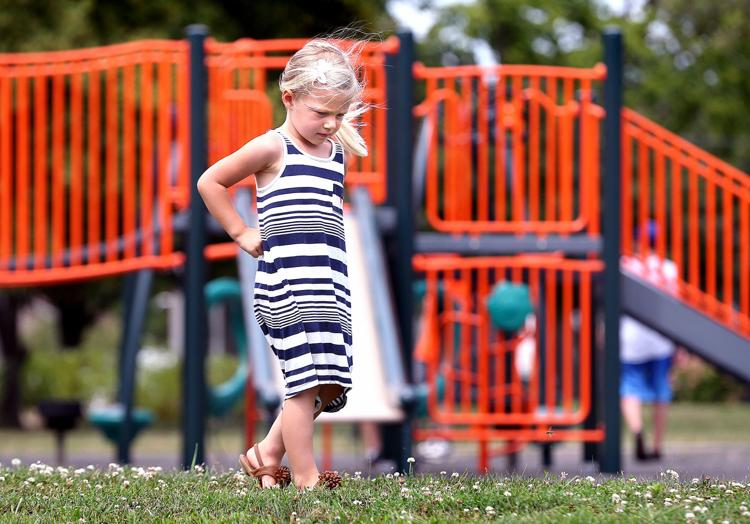 Local parents aren't convinced Roundup is safe.
Du Chateau likes to take her daughter outside and keeping her away from areas that had been sprayed, including those where they set up the flags warning people, was a challenge.
You have free articles remaining.
"They're not as aware as an adult. A white flag doesn't mean anything to her," she said.
With Du Chateau being a garden educator at Spence Elementary School who avoids the use of toxic chemicals, she was well-aware of the alternatives available.
Ultimately, they decided to take it to the city's parks department to see if they'd consider changing up which herbicide they use.
"Why not go ask why we can't do this?" Hartwell said. "It never hurts to ask."
According to Trussoni, the city had used Roundup on sidewalk cracks, in parks, around fence lines and sometimes in the median of roads like West and Copeland avenues. They deliberately avoided using it around water.
Hartwell, the former director of Hillview Urban Agricultural Center, and Du Chateau were blown away by how willing Odegaard and Trussoni were to try something else.
"He was so willing to hear us. He was very receptive to what we had to say," Du Chateau said.
Trussoni said they had also heard of the lawsuit involving Roundup, so it didn't take much convincing to try an alternative.
"In an attempt to do what's best for the community, we thought 'Why not? Let's give it a shot,'" Trussoni said.
The plan is to try out Finalsan for a year and see whether the city needs to make some more adjustments, he said.
So far, it's not as effective, requiring the city to spray 10 or so times in areas where Roundup would take weeds down with one treatment.
"It'll kill the weed that it's sprayed on it, it won't kill anything around it," Trussoni said.
The city will revisit the decision next year, possibly looking into other organic compounds, he said.
"It really was a very easy win and a nice opportunity to start the conversation on what kind of herbicides and pesticides we use in the city of La Crosse and in our schools," Hartwell said.
---
Protect monarchs with native milkweed
Monarch butterflies are fussy eaters that dine only on milkweed, so to boost their dwindling numbers, gardeners have been busy sowing milkweed plants in their yards. Now there's news that some milkweeds are more hindrance than help, according to Ron Vanderhoff, general manager of Roger's Gardens nursery in Corona del Mar and a board member of the Orange County chapter of the California Native Plant Society.
The most common milkweed in gardens is a non-native known as tropical milkweed (Asclepias currassivica), which blooms profusely with rich orange flowers the monarchs love, but also harbors microscopic protozoans that survive on the plants during winter and sicken the caterpillars who eat them in the spring.
The Xerces Society, an invertebrate conservation group, recommends that home gardeners plant native milkweed species instead, such as narrow-leaf milkweed (Asclepias fascicularis), "a relatively showy plant reaching about 3 feet in height, with pale pink to cream-colored flowers."
Unlike the tropical variety, the native plants die down to the ground in the winter, so overwintering critters aren't an issue, Vanderhoff says. If you must keep your tropical milkweed (which have more showy flowers), Vanderhoff says gardeners should cut it to the ground in December, and once more in February, to ensure no nasty protozoans survive.
Act now to eradicate mosquito hangouts
Wet springs are a boon to garden plants but also create a lot of watery nooks for mosquitoes to breed. The voracious skeeters need ridiculously little moisture to reproduce, so take time to wander your estate to look for any sources of standing water, no matter how small.
Be sure to check shallow drip saucers under your garden pots, discarded cans or tires, and even big-throated plants like bromeliads, which accumulate water in their centers. Toss the trash and keep the saucers emptied (it's not good for your plants to stand in water anyway). But don't tear out your bromeliads. Instead, try washing out the tank — a.k.a. the center — where water accumulates, and add a few drops of cooking oil to suffocate any larvae.
Another option for water troughs, bird baths and even bromeliads is a product such as Mosquito Dunks, which uses BTI (short for Bacillus thuringiensis subspecies israelensis), a biological or naturally occurring bacterium found in soils. According to the Environmental Protection Agency, BTI is lethal to mosquito larvae, black flies and fungus gnats but does not harm humans or other animals (including honeybees) or plants.
Encourage stink bug doom with nectar-producing plants
Is there anything more frustrating than an army of shield-shaped stink bugs sucking the strength out of your tomatoes or zucchini? One day your plants look healthy, and the next they are decimated by this aptly named garden pest. (One good squish and you'll know what we mean.)
There haven't been many deterrents aside from dousing them with chemicals or picking them off by hand, said Glynn Tillman, a U.S. Department of Agriculture scientist in the Agricultural Research Service.
Happily, Tillman and her ARS colleagues have found a promising parasitoid champion. The heroes are tiny wasps, such as the Trissolcus japonicus, a.k.a. samurai wasps, which lay their teensy eggs on stink bugs eggs. When the samurai larvae hatch, they eat up the stink bug larvae inside, crawl out of the eggs and then fly away to start the cycle anew. Some species even lay their eggs on the backs of stink bugs, Tillman said, so their larvae feed on the living bug until (shiver) the bug is living no more. These non-stinging wasps are smaller than gnats, so they're hard to see, but they're prolific and extremely effective at killing stink bugs, Tillman said. The trick is attracting them to your yard.
Turns out parasitoid wasps have a serious sweet tooth: "They have to have sugar to reproduce," Tillman said. So farmers and gardeners can lure the wasps by planting nectar-producing flowers among their crops. If you plant the right flowers, the wasps will come, she said. Their favorites include wild milkweed, alyssum, buckwheat, sunflowers and two herbs, dill and cilantro, which should be allowed to flower.