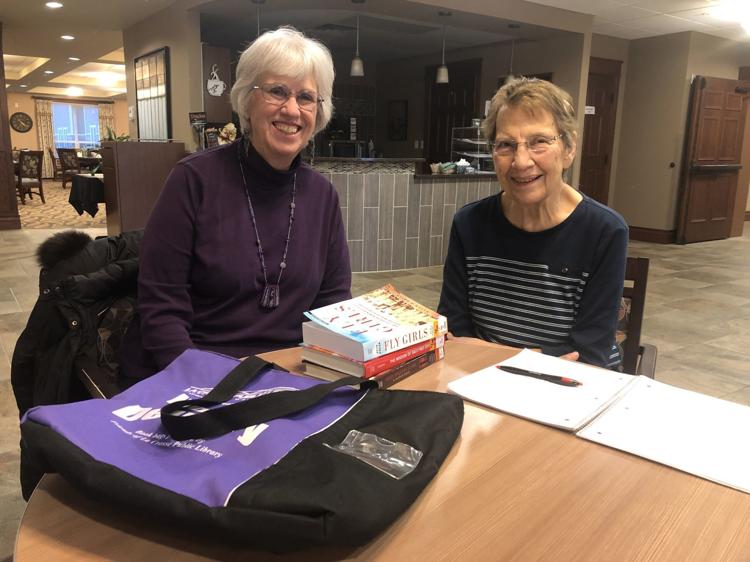 In the dining area of a retirement home, two women sit with a stack of books between them. Without knowing, you'd think they had been friends for years by the way conversation flows so easily between them. But one just delivers books to the other.
The women met through the La Crosse Public Library's home delivery service, in which readers who are unable to get to the library on their own can have reading and listening materials brought to them.
The service was started in 1995, and has been "very successful" ever since, said Mary Dunn, the readers advisory librarian, who started the program 25 years ago.
The free program is volunteer-based and is just as unique as its clientele.
Its clients vary widely in age and ability, including retirees, those battling temporary and long-term health issues, and even a young girl who is her mother's main caregiver. The delivery service is offered to anyone who lives within the city limits of La Crosse and is homebound.
They're matched with volunteers through an interview process, who then learn their interests, like favorite authors or genres.
People request all types of reading materials, according to Dunn — from woodworking books to hobby magazines to books on tape — and they can have them delivered as often as they'd like. Readers can request specific things or have their volunteer choose for them. One volunteer even brings her client in to choose for herself.
The library delivers to about 20 to 25 people in an average year, said Heather Miller, the library's volunteer coordinator. They both say one of the key aspects of the program is that it helps bridge the gap of accessibility, helping people who can't travel during the winter, who have had a medical setback, or are homebound indefinitely for any number of reasons.
"Let's say you're a lifelong reader," said Dunn, who is retiring in February after 45 years with the library, "and all of a sudden you can't get out of your apartment. It really shrinks your world."
But the program bridges other gaps for its readers as well.
"It's one of our more meaningful volunteer opportunities," Miller said. "Sometimes they do form a friendship and a bond — it's not just dropping off a book."
Friendship sparks over books
Friendships like that of Marilyn Domke and Nora Knapik, who are sitting with the stack of books that were part of their latest delivery, and a notebook where Domke logs all of the books she has read since 2007.
You have free articles remaining.
Domke has been using the delivery service for the past year and a half, when she and her husband moved into Eagle Crest Communities, a retirement home, and quit driving due to health reasons.
A lifelong reader, Domke said she always made time for books, even if it was just reading to her students after recess at St. Charles School in Genoa. Being unable to drive to the library put up a barrier for her to continue the hobby.
In comes Knapik, who started volunteering with the library's program 2½ years ago, after selling her bed-and-breakfast in Soldiers Grove.
"I appreciate Nora," Domke said of her deliverer. "I always enjoy it when she comes."
The pair often discuss the books they've both read, and when they first met, Domke let Knapik look through her notebooks to compile a list of must-reads based on the synopsis she'd written. And she wasn't afraid to be frank about the ones she didn't like.
"That's how Marilyn is," Knapik said. "She's a voracious reader."
For Kapnik, volunteering started as way to slow down after an intense job as an inn owner. But the program brought her more than that.
"A book is a great venue for conversation. So it's just a way to open up a conversation and get to know people," Knapik said.
She said she tries to bring new books to Domke's perspective, too, a fan of historical fiction.
"That's one of my favorite genres, especially when they're about women. So I tend to bring her stories about women," Nora said. "It seems like in this age, people are discovering these strong women from the past that weren't noticed."
The library staff sees these relationships as one of the impressive parts of the program.
"It's a mutually beneficial relationship," Miller said.
Looking ahead, Miller and Dunn don't think much will need to change with the program, except for adding more clients.
"It's a winning formula," Miller said. "It's just one of the wonderful, almost hidden gems of the library."
"Let's say you're a lifelong reader, and all of a sudden you can't get out of your apartment. It really shrinks your world." Mary Dunn, La Crosse Public Library readers advisory librarian
"Let's say you're a lifelong reader, and all of a sudden you can't get out of your apartment. It really shrinks your world."

Mary Dunn, La Crosse Public Library readers advisory librarian