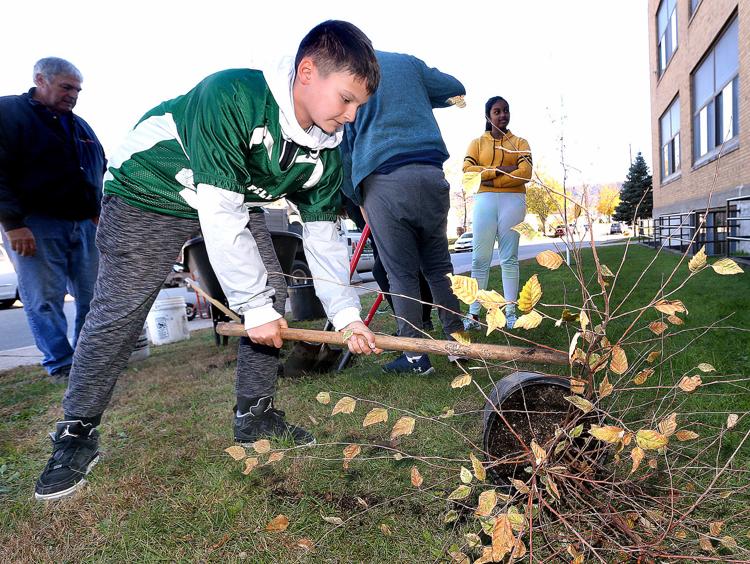 Longfellow Middle School had a grand total of three trees on its campus — two if you don't count the dead one.
But that was before students in Liz Ramsay's science class spent Tuesday morning planting a range of saplings, including a golden curl willow and an autumn blaze maple, as part of a "tree walk" project meant to enrich minds and enhance the campus.
"It will be this great learning space where students, neighbors and the community can come not just to enjoy the beautiful trees, but to learn about the range of species," Ramsay said. "As much as we think kids are all about their digital devices, they really do have a sense of their surroundings, of the beauty of nature."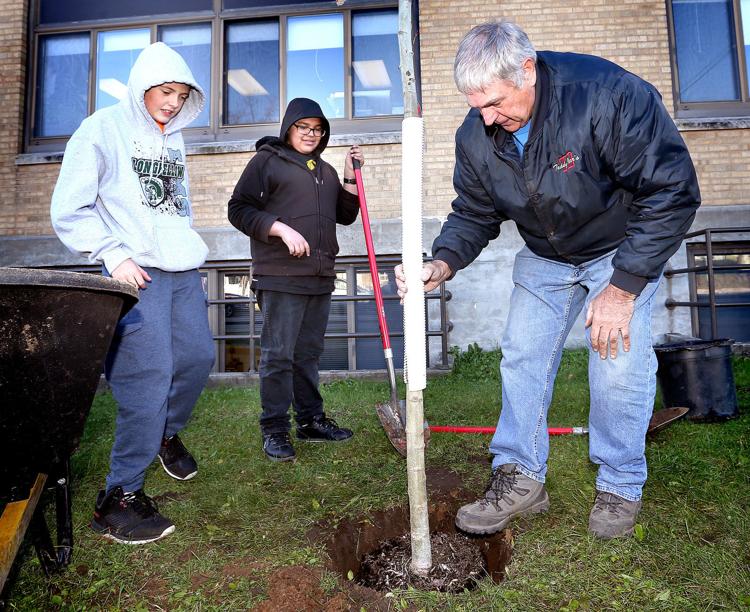 Ramsay's seventh-graders have spent the past few weeks researching different types of trees, considering which would grow best. They settled on the willow and the maple, plus an aspen and a river birch — all provided by Christen Farm Nursery.
On Tuesday, finally, they got to planting.
Students dug shovelful by shovelful into the black earth, stopping only to roll up their shirt sleeves or, reluctantly, let someone else take over.
They'd displace about two feet of dirt and then plop a sapling into the hole, putting down roots that will span years, generations.
"My little brother will be here in a few years," said Areanna Winchel, 12. "It'll be cool to come back here and see the trees, and take a walk down memory lane."
Added fellow 12-year-old Carson Jones: "I'm excited that students and neighborhood people will be able to enjoy the calm, relaxing feeling. This is going to be here for generations."
Students say they look forward to watching the trees through the seasons, to seeing the blaze of orange in the fall, and the first hints of green in the spring.
They'll monitor changes to bark and leaves, note the birds that find homes in the branches, and use the trees as a learning space, a sort of outdoor classroom.
"Willows are my favorite tree ever, because of how they sway down," Winchel said. "I'm excited to go under there and read."
Ramsay lamented the previous lack of trees at Longfellow, a city school built in 1939. She thanked the La Crosse Public Education Foundation for a $700 grant that supported the tree walk, which wouldn't have come together without the funding.
They're just trees, Ramsay said, but they offer all kinds of opportunities.
"It's impossible to know what the effect will be," she said. "These students might not grow up to be environmentalists, but maybe they'll plant a tree in their backyard, or maybe they'll be more likely to go outside in the future.
"This is much more than four trees going into the ground."