One of the 2018 operating budget scenarios that La Crosse Mayor Tim Kabat will need to prepare in coming weeks must begin with the assertion that the property tax rate will not increase, despite early estimates showing anticipated expenses exceeding revenue by about $465,000.
"We're in a bit of a hole to start with," Kabat said.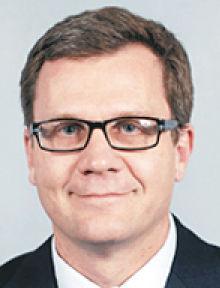 The Budget Parameter Committee voted unanimously this week to instruct the mayor and department heads to develop a budget recommendation for the Board of Estimates. Kabat can present more than one option, but must include the no-tax rate budget among the various scenarios.
The Board of Estimates will host public hearings on the budget no later than Sept. 10, according to the city website. The Common Council will take citizen input, and before the third Tuesday in November, approve the operating budget.
The shortfall is coming from expense and revenue estimates done with a number of unknown variables, such as the impact of the unsettled state budget and the result of police and fire contract negotiations, according to Kabat's presentation to the Budget Parameter Committee Monday.
Whether library and other city employees will receive a cost-of-living pay increase is also yet to be determined.
Preliminary budget assumptions presented by Kabat indicate the city's 2018 expenses could exceed anticipated revenue by about $465,000. That takes into account additional revenue from new construction. It also includes $373,000 for four police officers whose salaries had been funded from a now-expired grant.
At a personnel and budget committee meeting of the Library Board on Tuesday, Library Director Kelly Krieg-Sigman was supportive of retaining the Neighborhood Response Officers program despite the end of the grant. "I can't tell you how valuable that Neighborhood Response Officer program has been," she said.
She told her board that she will be presenting them with a budget that maintains the library services as is.
That doesn't mean there won't be changes in how the staff handles duties. With the departure of the longtime acquisitions librarian, the staff will take time to see how responsibilities can be shuffled.
"We would like to try to absorb the position," she said. "Given the pressures we are all under, we think we might be able to move things around."
The position could return in a lower-cost iteration.
City operating budgets and supporting materials can be found on the city's website.
The adopted 2017 operating budget included $69,184,174 in expenses. That was down from the 2016 budget of $71,704,608.